Pay As You Go Mobile Broadband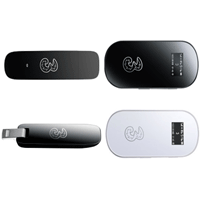 PAYG mobile broadband allows you to access broadband on the go without entering long contracts. If you are not a heavy user and make a fewer downloads occasionally, you can choose a suitable pay-as-you-go mobile internet plan or one month contract options instead of letting yourself to be bound by a lengthy 12, 18 or 24 month contract.
With pay-as-you-go option, you will need to pay for the dongle that usually comes free with Pay Monthly mobile broadband packages.
Unlike contracts, PAYG plans do not have set monthly download limit for which there is a fixed monthly tariff. Some of the pay-as-you-go dongles come with certain amount of pre-loaded data which should be used within validity period and afterwards you will need to buy top up before using further.
There are also pre-paid mobile broadband plans which offer certain amount data for a day or a week or a month after paying an upfront fee. For example, T-Mobile's pay per day top up is available for just £2,