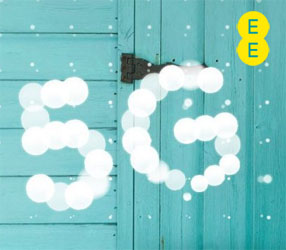 The UK's largest 4G mobile provider EE is set to launch the next generation, 5G mobile service in six major UK cities including Edinburgh, Birmingham, Manchester, Belfast, London and Belfast by this month end.
The new, ultra fast, service will be available in the busiest parts of these cities from 30th May 2019, said EE which also confirmed the launch of its own customized, 5G devices like OnePlus 7 Pro 5G, Oppo Reno 5G, LG V50 ThinQ and Samsung S10 5G.
The provider will soon launch 5G data plans that include 5G devices on pay monthly package and a few options to choose such as Gamer's data pass, exclusive BT Sport HD HDR TV shows and device warranty. It will cost between £54 a month and £74 a month and will offer up to 120GB data every month.
EE also plans to launch 5GEE home WiFi router with an external antenna by June 2019.
Which are EE 5G cities?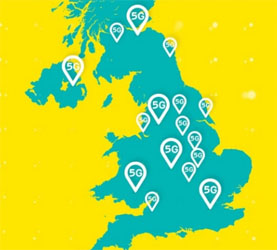 EE's 5G service will be rolled out in 16 cities in 2019. Along with six cities which get 5G access from 30th May, other cities that get the new service include Bristol, Coventry, Glasgow, Hull, Leeds, Leicester, Liverpool, Newcastle, Nottingham and Sheffield.
According to EE, the roll out is moving on rapid phase with 100 sites being upgraded to 5G every month.
In 2020, 10 additional cities will benefit from EE's 5G roll out. They include Aberdeen, Cambridge, Derby, Peterborough, Plymouth, Portsmouth, Southampton, Worcester and Wolverhampton.
During phase 1, when EE's core 5G network is  not fully developed, EE will use both 4G and 5G to enable its 5G customers get an average 100Mbps+ speed wherever they are, however, the top speed of 1Gbps is quite achievable by some customers, depending on their location, EE said.
With growing availability of 5G radio spectrum from 2020, EE is more likely complete its core 5G network by 2022 and this will help EE improve its 5G network's coverage and capacity during phase 2, as well as introduce new features like convergence of fixed, mobile and WiFi to benefit the customers.
According to the operator, its 5G roll out will reach phase 3 by 2023 when the service will get super-tech features like Network Slicing, Ultra-Reliable Low Latency Communications (URLLC) and faster speeds that exceed gigabit speed per second.
What is 5G and how EE customers can benefit from 5G?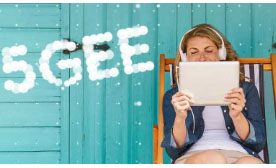 5G is the fastest mobile broadband which uses the next generation technology and specific radio spectrum like 700MHz and 3.6-3.8GHz to provide excellent coverage, ultra-fast speeds and better reliability.
While 4G is fast enough for most online activities,  5G is multiple times faster than 4G and is the best option for mobile gaming online and other high bandwidth applications like health monitoring, more responsive network etc.
According to EE, 5G will create a new kind of experiencing, make life easier and help customers launch new businesses.
By taking 5G smart plans which come live from next week, EE 5G customers also get some exclusive benefits including roaming pass, music data pass, BT Sport app and gamer's data pass.
Earlier, Vodafone unveiled its 5G service roll out plans for  the UK, confirming its customers will get access to its ultrafast mobile service from July 2019.