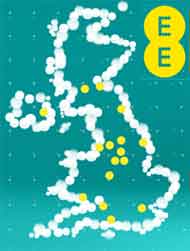 A latest survey helps us to know what speeds the 4G broadband from EE actually delivers to its customers.
According to a series of speed tests conducted by the firm RootMetrics in three cities (Sheffield, Liverpool and Cardiff), the top, average speed of 16.2Mbps was recorded in Cardiff, followed by 14.4Mbps in Liverpool.
During the tests, the reception of signals often fluctuated between 4G and 3G which reduced the average speeds to 11.8Mbps in Cardiff, 9.4Mbps in Liverpool and 7.9Mbps in Sheffield.
The 4G reception and coverage was best in Cardiff where 4G signal was received for nearly three fourths of the session. Tests in another towns showed that the connectivity slipped to 3G for half of the time.
However, when it comes to downloads, the 4G performance in UK is really good and in line with other launches, according to Bill Moore, the CEO of Rootmetrics.
The LTE technology can deliver much faster speeds and provide better service by improving the network, he said.
"There are some notable variations like people in Cardiff getting a better service than those in Sheffield, despite paying the same" he pointed out.
Currently, more than a third of UK population can get 4GEE from Everything Everywhere which sets to expand the coverage to 55% by ths summer and 97% by 2014.