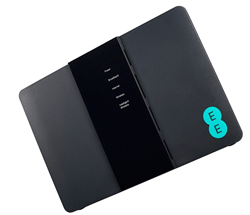 EE has just unveiled the superfast version of its BrightBox wireless router which can support the latest WiFi 11ac standard and fibre optic broadband connectivity (VDSL2).
Operating in dual frequencies ((2.4GHz and 5GHz), EE BrightBox 2 wireless router can handle speeds of up to 1.3Mbps, boost wifi signal strength and reduce drop-off in speed, thanks to the new 802.11ac technology, according to EE.
The new wireless router comes with one gigabit LAN port and three Ethernet LAN ports plus one USB port. Compatible to various wifi standards (802.11a/b/g/n/ac), BrightBox 2 can be used for best wireless performance at home, connecting to ADSL 2+ or fibre broadband.
Other usual features include Intelligent Wireless, WEP/WPA/WPA2 security and wireless access control.
While the launch date and pricing have not yet been revealed, the new router is likely to be supplied free with new fibre broadband sign ups soon after the launch.
EE fibre broadband packages currently offer up to 38Mbps or 76Mbps speed and unlimited downloads with prices starting from  £7.50 a month plus line rental. T-Mobile and Orange mobile customers and 4G subscribers can get  £5 off per month, when they subscribe to standard or fibre plans.