February 4, 2018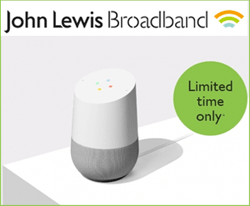 Popular retailer John Lewis which sells broadband that is delivered via Plusnet network, has announced the free offer of Google Home smart speaker  of worth £100 with new subscriptions of  its standard and fibre packages.
New customers who sign up online for unlimited ADSL or up to 38Mb Fibre or up to 76Mb Fibre extra packages can claim the compact speaker which will be available till 27th February 2017.
Award winning broadband supplier, John Lewis offers UK based customer support, BullGuard internet security, free wireless router and unlimited usage with all of its products.
All John Lewis packages include free evening and weekend calls to UK landlines and 12 month contract applies.
Currently, Unlimited ADSL plan (up to 17Mbps) costs £22.50 a month for 12 months.  Fibre broadband which offers up to 38Mbps speed  costs £32.50 a month for 12 months.
Ultra fast Fibre Extra comes with up to 76Mbps speed and costs £36.50 a month.