February 9, 2017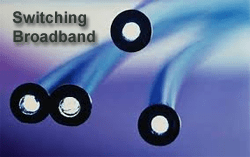 Switching providers after the end of contract, can help customers save as much as 40% of the cost of their broadband, phone and TV services, a latest study on UK broadband pricing has revealed.
By staying with the same provider for another contract, customers just end up paying more for the same service, as the welcome discounts are mostly withdrawn by the end of initial contract.
By contrast, new subscribers just save more than £100 using the price discounts and introductory offers.
For instance, the customers who join major providers such as BT, Virgin Media, Sky and Virgin Media pay just two thirds of the standard price for up to 18 months, depending on the reduced price offers.
However, the higher standard prices come to apply for the subsequent contract terms.
The uSwitch analysis also reveals that standard ADSL prices have gone up by 38% while fibre packages have become costlier by 20% in the last five years.
Along with, home phone line rental has also been hiked from just £13 a month to £19 a month between 2011 and 2016,
Customers who remain with their providers for several years are more likely to be hit harder by the price hikes, according to the report.
Monthly prices during the first contract are still in the cheaper range in 2017, with a rise of just £1 on ADSL and less than £1 on fibre broadband in the last five years.
Despite the availability of cheaper deals, nearly 80% of Brits do not switch their telecom service providers on yearly basis, according to the regulator Ofcom which has reduced the hassles related to broadband switching.
Standard prices of the packages have become a bit difficult to find on ISPs' websites, especially after the regulator ASA has obliged them to show line rental inclusive all-in-one prices on their adverts.