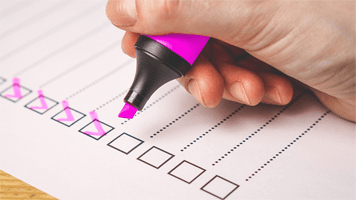 The UK ranks 10th for digital connectivity among 28 EU nations, according to the latest EU report. The Digital Economy and Society and Index (DESI) report also shows that UK has slightly improved its ranking for broadband coverage & take up in 2019 (up from 6th in 2018 to 5th in 2019)
The UK lags behind other EU nations like Netherlands, Belgium and Denmark, when it comes to ultra fast broadband availability and take up, the study revealed.
Over-all, the UK ranks above many EU nations in terms of fixed broadband coverage & take-up as well as fast broadband coverage (30Mbps+ speeds) & adoption, the research shows.
Fast broadband, Ultra fast broadband and 4G mobile service in the UK
Around 83% of EU homes can get access to fast broadband, also known as Next Generation Access (NGA), while the UK with its 95% coverage, ranks 7th for NGA availability. More than half of the households in the United Kingdom (53%) have subscribed for fast broadband services, compared to 41% take up in the EU.
However, ultra fast broadband (100Mbps+ speeds) coverage and subscriptions are much higher in many EU nations as the UK ranks only 24th for ultra fast broadband coverage and 18th for take-up of these faster services. Only half of the UK homes can get 100Mbps+ services which are usually offered by a few providers like Virgin Media and FTTP services from BT, EE and Hyperoptic.
4G mobile service has 98% UK coverage and the nation ranks 11th for 4G availability. 4G take up in the Uk also reached 99% making it ranking 10th in 2019.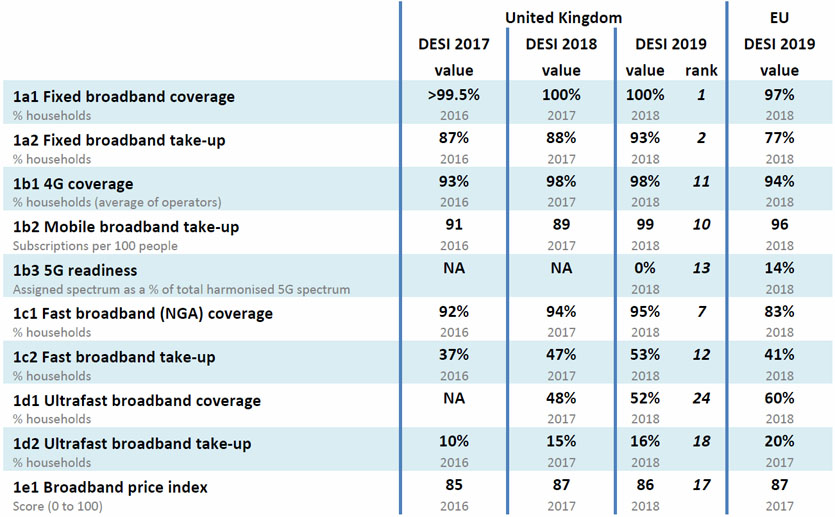 On going ultra fast broadband projects in the UK
The widely available, ultra fast internet provider Virgin Media currently offers M350 fibre (362Mbps average speed) and M500 fibre broadband (516Mbps average speed) to its customers using its cable network which is being upgraded to deliver faster, fibre speeds in the coming years.
BT Openreach also has revealed its full broadband or FTTP (fibre to the premises) deployment plans to connect more than 15m households to offer gigabit speeds (up to 1Gbps speeds) by 2025.
There are also some providers like CityFibre and Hyperoptic which offer FTTP broadband with speeds up to 900Mbps in urban areas. Gigaclear is the only rural based FTTP provider and it covers 60k+ premises in the UK.
Currently, the superfast broadband availability is expected to reach 98% of the UK by 2020 while the Government aims to provide full fibre broadband service to all UK homes by 2033