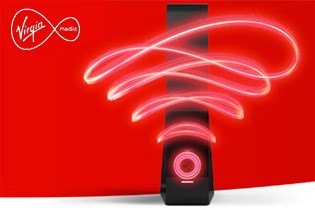 Virgin Media has announced price cuts on selected broadband bundles that will be available to new customers till 30th September 2019. The special offers apply to broadband & phone packages and triple-play bundles, according to the cable ISP.
New Offers (Expires on 30th September 2019)
M50 Fibre Broadband and Phone
This plan comes with average download speed 54Mbps and also includes weekend UK calls. Now, it will cost just £26 a month (usually £33 a month). Also get our exclusive £75 online discount when you apply online.
M100 Fibre Broadband and Phone
Offering 108Mbps average download speed and free weekend UK calls, it is great option for your household with 5 to 10 users. On the latest offer, it will cost £27 a month (usually £33 a month).
M200 Fibre Broadband and Phone
This is an ultrafast fibre broadband plan for busy households. Get average speed of 213Mbps and weekend calls. Monthly price is now reduced to £32 a month (usually £38 a month)
M350 Fibre Broadband and Phone
Currently the fastest plan available to Virgin Media customers, with average download speed of 362Mbps. Also includes weekend UK calls for no extra cost. Monthly price: £37 a month (usually £43 a month)
Big Bundle (TV, broadband and phone)
With M100 fibre broadband (108Mbps average speed), 121 TV channels and free weekend UK calls, the Big bundle is currently is available for £30 a month (usually £33 a month). 5 movie channels and 48 entertainment channels are included.
All the above bundles and packages come with Virgin Media Hub 3.0 wireless router while TV bundles include V6 TV box (1TB storage). 12 month contract and £35 one-off setup fee apply.