February 10, 2017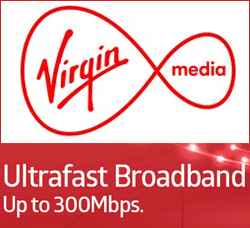 Virgin Media has just started offering faster download speeds than the speeds specified on the packages, though, it would benefit the customers of selected plans that come with advertised speeds of 330Mps and 200Mbps.
For instance, Full House, VIP bundles and VVID 200Mb broadband & calls packages will enable customers get up to 230Mbps provided the access speeds are not affected by other factors such as line quality and network congestion.
The top download speeds on VIVID 200 Gamer broadband could also peak to 230Mbps speeds due to the extra bandwidth set by the cable operator.
Likewise, the ultra fast, 330Mbps fibre packages could deliver maximum download speed of 345Mbps to the users.
However, Virgin Media has not boosted upload speeds which currently range between 3Mbps and 20Mbps, depending on the product.
By contrast, BT Infinity service offers faster average speeds of 9Mbps even on the starter level package. Infinity 2 broadband comes with up to 20Mbps upload speed.
However, Virgin Media fibre broadband has offered the fastest average speeds to its residential users across the UK (51Mbps – 193Mbps), according to the latest Ofcom report.
The cable based quad-play operator has 60% broadband coverage and offers TV and fibre services using the most modern infrastructure and digital technologies.