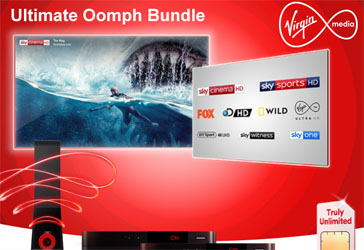 Virgin Media has changed the names of its broadband packages including bundles with an aim to clarify what the deal offers, so customers can focus on what matters and choose the right package.
The brand name 'VIVID'has been dropped and it has been replaced with 'M', so its broadband products will be known as M50 fibre (average 54Mbps download speed), M100 (average 108Mbps download apeed), M200 (average 213Mbps download speed) and so on. Its fastest M500 fibre whose old brand name was VIVID 500, offers an average speed of 516Mbps and top speeds of up to 575Mbps.
Likewise, triple-play bundles like Full House and Player are renamed to Bigger bundle and Big bundle respectively. Its top end, quad play bundle (V.VIP) has been re-branded as Ultimate Oomph bundle which includes the exclusive M500 fibre (516Mbps average download speed) and unlimited 4G SIM.
Additionally, Virgin Media will also offer unlimited 4G mobile data for free of cost for up to seven days, to its customers who suffer from broadband outages or connection issues. The provider promises to fix the issues soon, when the customers use the option of getting the next-day engineer appointment, according to Virgin Media
Mixit and Maxit TV packs
Virgin Media also lets us know TV packs titles, to make it easier to identify the channels within each TV bundle such as Big and Bigger bundles.
There are two basic TV packs – Mixit TV and Maxit TV – that you get within the bundles.
For instance, Big bundle includes Mixit TV which is nothing but a pack of 110 most-watched channels, mostly freeview channels.
Bigger bundle (formerly, Full House) comes with Maxit TV pack of 230 top channels including BT Sport and top Sky channels.
You can have additional channels like Sky Sports, Sky Cinema and Kids pack that would cost extra.
However, telly lovers can choose the Ultimate Oomph which includes all these sports and movies in HD and an extra V6 TV box.
The new Virgin Media Oomph bundles
Virgin Media allows you to get faster fibre speeds and a Virgin Mobile 4G SIM with the new Oomph bundles.
There are packages like Big Oomph and Bigger Oomph which you get when you want to upgrade Big and Bigger bundles by hitting 'Óomph' button. Now, the bundles become quad play and include M200 (average 213Mbps download speed) instead of M100 (average 108Mbps speed) and a 2GB data 4G SIM.
What else you need to know?
Setup fee and 12 month contract
A set up fee of £25 applies to all dual, triple-play and quad-play deals from Virgin Media. The minimum contract length still remains 12 month which is shorter than 18 month contracts from BT, Sky and TalkTalk.
Promotional offer on Big bundle
Virgin Media has also launched a limited time cheap offer on the Big Bundle which would cost just £29 a month (usually £33) and this deal is available till 14th July 2019.
Virgin Media Student broadband offers
Along side, the cable broadband provider also launches student broadband deals which will be available till mid-October 2019.
All the dual plans including M50 and M200 (54Mbps and 213Mbps speed respectively) will be available on student offers, with or without phone and the prices start from £28 a month.
Along with 12 month standard contract (£25 setup fee is payable), 30 days rolling contract is available with free setup.