Deal Information
Packages
Download speed
(average)
Upload speed
(average)
Cost
Sky Broadband Ultrafast
18 month contract
145Mbps
27Mbps
£35 /month
Free setup
Sky Broadband Ultrafast Plus
18 month contract
500Mbps
60Mbps
£45 /month
Sky Ultrafast broadband and Ultrafast Plus speeds
Sky Broadband Ultrafast
Sky Broadband Ultrafast plan offers average download speed of 145Mbps and average download speed of 27Mbps.
When compared to the regular FTTC fibre broadband, Sky broadband ultrafast fibre is more than two times faster and also more reliable as it is delivered via the advanced G.fast fibre network.
Sky ultrafast speeds are ideal for connecting more devices for bandwidth intensive activities like gaming, streaming and quicker downloading.
Sky Broadband Ultrafast Plus
Sky Broadband Ultrafast Plus is full fibre plan (FTTP) and offers an download speed of 500Mbps and an upload speed of 60Mbps.
Ultrafast Plus is as fast as Virgin Media M500 broadband and is great for 4K streaming and online gaming on multiple devices at the same time.
Is Sky Broadband Ultrafast unlimited?
Sky broadband ultrafast is totally unlimited without any hidden data caps. To ensure that you get the best experience all the time, Sky does not reduce the speeds during peaktimes as no traffic management rules apply.
Sky Broadband Ultrafast Router
Sky broadband ultrafast service includes Sky Broadband Hub (SR203) which is designed for ultrafast fibre and for more reliable WiFi in every room.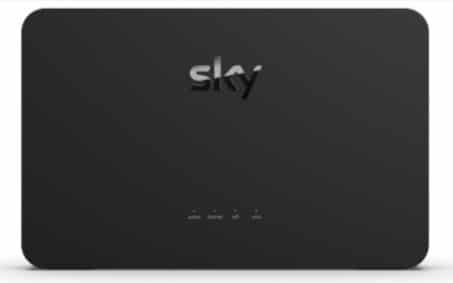 Sky App and Boosters help you optimise home WiFi and fix the issues of blackspots around your home.
Pay As You Go Calls
Sky broadband ultrafast includes home phone with pay as you go calls package. You can make national and international calls at specified rates.
Alternatively, you can upgrade home phone to add anytime calls and international calls.
What is speed guarantee?
Sky offers speed guarantee for all superfast and ultrafast fibre broadband services. Speed guarantee ensures that you get promised speeds or you can claim money back
What is WiFi Guarantee?
Sky Broadband Boost subscription which costs £5 a month is needed to get WiFi guarantee which ensures that all devices get faster speeds in every room of your home.
Sky will provide boosters to boost the WiFi Speed and check your connection on daily basis to help you get the best service. You can also get engineer visits at any time to fix the line issues.
Extras
Sky offers free extras with all the broadband and ultrafast services:
Sky Talk Shield helps you stop the unwanted calls
Sky Broadband Shield is provided to protect all the connected devices and to ensure safe browsing.
Sky WiFi allows unlimited access and helps you stay connected when you on the go.
More deals from Sky
Prices include line rental