Price: £30 a month
Average Speed:


11 Mb/s
download
1 Mb/s
upload
Unlimited downloads
PAYG calls
Monthly: £30
Upfront: £9.95
Total contract: £549.95
18 month contract
Overview of Sky Broadband Essential deal
Delivers 11Mbps average download speed and 800Kbps average upload speed
Truly unlimited usage, no data caps and no fair usage policy
Includes pay as you go calls
Includes the latest Sky Q hub wireless router
You can optionally add Sky broadband boost and get WiFi Guarantee
Sky Essential Plus package includes Sky broadband Shield protection on your devices.
Get free, unlimited access to Sky WiFi hotspots across the UK while you are on the go.
Features
High speed broadband and no monthly usage cap
With Sky Essential Plus, you get an average download speed of 11Mbps which is perfect for browsing, email, catch up TV, downloading and online shopping.
It also offers truly unlimited internet usage means no traffic management applies. You can make as much downloads or uploads as you wish. Your speeds remain faster all the time, including peak times.
Free Sky Q Hub wireless router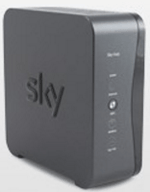 Sky Q Hub is the latest WiFi router that is bundled with this package. it's is powered by Smart Signal Technology which enables it to pick the strong WiFi signals to boost performance and speeds of internet access.
Free access to the Cloud WiFi hotspots
Sky WiFi is a vast network of public wifi hotspots across the UK and you can access to them to go online for no extra cost. You can register up to 6 devices for free WiFi, including iPhones and smartphones.
UK based customer support and Sky Tech Team
Sky is one of the providers which offer UK based customer support plus it has a dedicated Tech Team of Engineers to fix all broadband issues over telephone or online.
According the latest Ofcom report (2020) on broadband ISP complaints, Sky was the least complained about broadband provider, when compared to its rivals.
Sky broadband shield online protection
Sky broadband shield is free online protection that helps you protect your family and devices from online threats such as malware and phishing. It also includes parental controls that help you block unsuitable sites for your children.
More deals from Sky
Prices include line rental