Last updated on March 4th, 2021 at 09:55 am

Price: £26 a month.
Exclusive Offer: Free setup + £80 voucher. Ends 7th March 2021.
67 Mbps download
17 Mbps upload
Unlimited downloads
PAYG calls

Monthly:
£26
Upfront:
£4.95
Total contract:
£472.95
18 month contract
Features
67Mbps average download speeds and 17Mbps upload speeds
TalkTalk Fibre 65 plan is much faster than most of the starter level fibre packages from other providers including 54Mb Virgin Media fibre broadband.
Such lighting speeds are ideal for streaming HD videos without buffering, TV shows,playing games online and downloading large files in no time.
Need to connect more than 5 devices at the same time and yet get the speeds you need for superfast streaming? This is one of the ideal speed plans at the right price.
This plan offers much faster upload speeds when compared to 38Mb fibre plans or ADSL plans. Fibre 65 comes with 17 Mbits/s average upload speed means you will need not wait so long when you upload tons of photos, files and huge volume of data to the internet. Everything is done much more quickly than earlier.
All TallkTalk broadband plans offer consistently faster speeds all the times means you need not be concerned with slow downs or traffic shaping during peak hours (8pm – 10pm)
Totally unlimited monthly usage
With TalkTalk fibre broadband, you get unrestricted access, speeds and truly unlimited monthly usage allowance.
There is no set monthly download limit which means you can stream unlimited number of videos or download tons of files or play online games for as many hours as you like and this won't increase your bills any way.
No inclusive call plan
No call plan is included, however, you can make free calls to other TalkTalk customers at anytime. You are allowed to make PAYG calls means you would need to pay only for the calls you make.
However, if you want to make more regular calls, you can buy more flexible call boosts like anytime calls or international call plan
Affordable prices to suit your budget
Fibre 65 plan comes with free setup and our exclusive voucher offer. You will receive your eGift after 90 days once you have completed your purchase and it has been validated by TalkTalk.
No price rises during the entire 18 month contract.
Fixed Price Plus option not only allows you to pay fixed price until the contract expiry but also guarantees that the price rise will be minimum even when you renew the contract.
30 day connection guarantee
You can try Fibre 65 for 30 days and you can cancel the service within 30 days from the date of sign up with no penalty or without any exit fee.
Freebies / Extras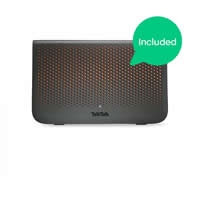 Fibre 65 package includes some essential features for no extra cost:
Wi-Fi Black Hub
The latest WiFi Hub router is included at no extra cost. This is a dual band router with multiple gigabit connections, USB port and advanced wireless security features.
SuperSafe Security
While the basic level HomeSafe is a normal web filter that helps you block the websites which are unsuitable for your kids, the advanced SuperSafe (F-Secure internet security) protects all your devices from viruses, malware and other online threats.
Callsafe
When enabled, Callsafe feature helps you screen all home phone calls and avoid & block unwanted calls.
More deals from TalkTalk
Summary
Reviewed by
Date
Provider
Rating
Package
TalkTalk Fibre 65 Broadband