Package
Average speed
download / upload
TV
channels
Cost
(Monthly / contract)
TalkTalk 35 TV
18 month contract
38Mbps
/ 9Mbps
88
£23
/ £414
TalkTalk 65 TV
18 month contract
67Mbps
/ 17Mbps
88
£25
/ £450
TalkTalk 150 TV
18 month contract
145Mbps
/ 25Mbps
88
£31.95
/ £575.10
Offer:

Free setup + up to £85 voucher till 26th January 2022
What do you get with TalkTalk broadband and TV packages?
All TalkTalk TV and broadband bundles include broadband, PAYG calls, freeview channels & optional TV add-ons.
TalkTalk offers all the broadband plans – Fibre 35, Fibre 65 and Fibre 150 with TalkTalk TV.
TalkTalk fibre broadband plans come with absolutely unlimited downloads, minimum guaranteed speed and ample speeds for high quality streaming and connecting multiple speeds.
TalkTalk TV includes free YouView box which can pause and rewind live TV channels. It comes with popular on demand players such as ITV player, BBC iPlayer and All4
Seven days catch up TV
TalkTalk Fibre 65 with TV
TalkTalk Fibre 65 broadband offers an average download speed of 67Mbps speed which is great for streaming 4K content on a big screen.
Fibre 65 includes advanced WiFi Hub router for reliable fibre speeds for watching TV shows and movies in high resolution. .
TalkTalk Fibre 35 with TV
You can include TalkTalk TV and Fibre 35 broadband in a bundle.
TalkTalk Fibre 35 offers decent speeds (38Mbps) and allows you to stream live TV and videos on one or two devices. For 4K streaming, it is better to upgrade it to Fibre 65 or Fibre 150.
TalkTalk Fibre 150 with TV
TalkTalk Fibre 150 offers perfect speeds for 4K streaming and online gaming too. Fibre 150 comes with average speeds of 145Mbps and allows a couple of devices to stream ultra HD 4K tv shows and videos simultaneously.
Utrafast speed of 100Mbps+ is ideal for connecting multiple devices, watching live TV in 4K and playing bandwidth hungry multi-player games.
TalkTalk TV Box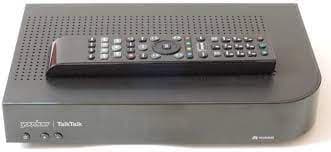 TalkTalk TV set-top box is basically a YouView box which comes with basic features like pause and live TV shows. It is packed with popular streaming apps – Netflix, Now and Amazon Prime Video.
You need aerial to be connected to the box to watch freeview channels.
TalkTalk TV comes with RJ45 Ethernet connection and you can connect broadband to it to stream the videos. It also comes with a HDMI connection.
However, TalkTalk TV box can not record live TV shows which is the biggest disadvantage with it.t
For multi-room TV, you can get additional TV box which would cost extra.
TalkTalk TV channels

TalkTalk TV comes with a basic set of TV channels which include 80+ free view channels, 15 HD channels and 30 radio stations.
Freeview channels include BBC One, itv, BBC Two, BBC News and Sky News and more.
However, you can add premium channels Sky Cinema and Sky Sports by subscribing to Now TV membership.
You can also buy Netflix and Amazon Prime Video subscriptions to watch your favourite movies and TV contents.
All the add-ons come with flexible, one month contract so you can can cancel them at any time and change them every month..
Extras
Talk2Go app and TV2Go app
TalkTalk TV and broadband packages include these free apps which you can use for making cheaper landline calls or watching TV on your mobile devices like tablet or smartphone, when you are on the move.
Free HomeSafe and Online security
TalkTalk broadband includes HomeSafe which helps you block the specific websites while the advanced, Supersafe feature protects all your devices from viruses and malware.
More deals from TalkTalk
Prices include line rental