Price: £89 a month for 18 months. 
Average speed


630 Mbps
download 
41 Mbps
upload
Unlimited downloads
Weekend calls 
230+ TV channels
Monthly: £89
Upfront: £35
Total contract: £1,637
18 month contract
Overview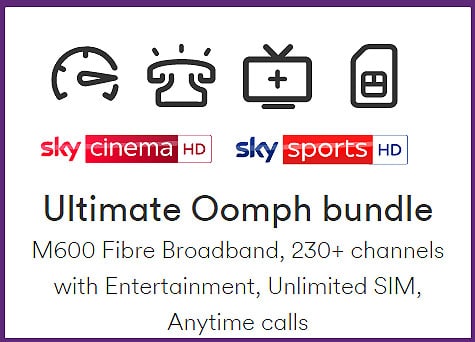 M600 fibre broadband
Virgin Media Ultimate Oomph bundle comes with M600 fibre optic broadband which offers an average download speed of 630 Mbps and an average upload speed of 41Mbps.
Currently, M600 is the fastest, widely available broadband which is exclusively available with Ultimate Oomph bundle.
M600 fibre broadband offers 120Mbps speed boost, when compared to M500 (516Mbps).
With the lightning speeds of M600, you can download a large size file of 50GB in 10 minutes. M600 also guarantees reliable speeds for 4K streaming and online gaming.
Talk More Anytime Calls
Ultimate Oomph bundle includes Virgin Phone line with Talk More Anytime call plan which offers unlimited anytime calls to UK landlines and mobile numbers of any network.
The inclusive Anytime calls plans is ideal option for busy homes with regular usage of home phone.
All inclusive TV package
With Ultimate Oomph bundle package, you get a premium TV service which is powered by the new, 4K enabled and HDR Ready Virgin TV 360 box which can record 500 hours of TV contents.
Ultimate Oomph bundle comes with the bigger Maxit TV pack which includes 250+ digital TV channels including 62 HD channels.
In addition, Ultimate Oomph bundle includes Virgin's Sports and Movies add-ons at no extra cost.
These premium add-ons allow you to watch Sky channels, Sky Cinema HD, Sky Sports HD, 4 BT Sport channels in 4K and Kids Pack.
Along with Virgin TV 360 box, Ultimate Oomph customers will get a Mini box to watch TV in another room in your house.
Unlimited Mobile SIM
The free unlimited 5G SIM that is included for no extra cost is obviously the best feature of Ultimate Oomph bundle.
You can make unlimited calls from your mobile and this SIM also offers unlimited 4G or 5G data, depending on the availability and unlimited texts.
How this deal saves your money?

Price discount for 18 months
Line rental inclusive all-in-one pricing
Equipment

Virgin Media Hub 3
All Virgin Media broadband plans include the latest Virgin Media Hub 3.0 wireless router which is powered by Intelligent WiFi technology. Hub 3 comes with 4 gigabit connections, five antennae and advanced security settings.
Intelligent WiFi automatically selects the right channel with less interference and fixes the issues when the speeds drop.
Further, you can use Virgin Media Connect app and WiFi extenders to boost the speeds in blackspots in the home.
Virgin Media TV 360 Box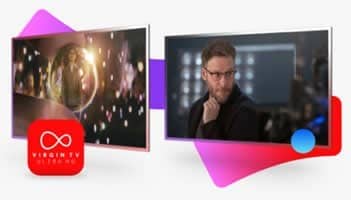 Ultimate Oomph bundle Includes the latest Virgin TV 360 box which can record 6 channels and store 500 hours of TV content from live channels at the same time.
Mini Boxes allows multi-viewing which means you can watch TV in different rooms.
Free Extras
Virgin Media packages include free parental controls & WebSafe filters plus F-secure internet security for all your devices.
Virgin Media Connect app helps you make calls from your mobile devices and manage WiFi and TV box using WiFi
Using Virgin TV Go app, you can watch live TV channels on tablets or smartphones when you are on move.
Virgin broadband customers get free Virgin Media WiFi on the London Underground
Frequently Asked Questions
Can I get Virgin Media Ultimate Oomph bundle in my area?
Virgn's cable network covers 60% of the UK and you can check the availability using our postcode checker.
How fast is M600 fibre broadband?
M600 fibre comes with the UK's fastest, widely available fibre broadband (630Mbs average speed) and it is 9 times faster than the fibre packages (67Mbps) from BT and Sky.
Do I get a different WiFi router with M600?
You get WiFi Hub 3.0 which is optimised to offer the fastest speeds, reliable signal, the widest wireless coverage and the most secure connection
Is Virgin TV 360 box any good?
Virgin TV 360 box is ultra HD TV box enabled with HDR so you can watch 4K TV shows and videos online. It comes with 1TB capacity so you can save 500 hours of TV shows (or 100 hours of HD content). You can pause and rewind TV channels and record shows from 6 channels while you are watching the 7th channel. It comes with built-in WiFi so you can stream TV shows and videos using WiFi, 3G or 4G.
How the Ultimate Oomph TV bundle is different from other Virgin Media TV bundles?
Ultimate Oomph bundle includes Maxit TV pack and top premium channels. It includes all the Personal Picks such as Family Picks (kids & baby picks), Entertainment Picks (Lifestyle, Drama, Documentaries and Sport Light Picks), Premium Picks & Sport Picks ( Sky Sport, Sky Cinema, BT Sport, Netflix, Racing TV and Box Nation. You can watch BT Sport and the latest popular shows in 4K UHD.
What calls are included in Talk More Anytime?
Talk More Anytime includes unlimited anytime calls to numbers that begin with 01, 02 and 03 and, 0845 & 0870 numbers and unlimited Calls to Virgin Mobile numbers.
What is QuickStart self-install?
If your home has ever been serviced by Virgn Media in the last 3 years, you can opt for QuickStart self-install with no need for engineer assisted installation. Under this pack, Virgin Media would deliver everything to your home, including the kit and step-by-step instructions.
Finally, is Virgin Media Ultimate Oomph bundle worth the money?
Virgin Media Oomph TV bundle, though expensive, is a great quad-play package for households that look out for a premium bundle that includes ultrafast broadband for 4K streaming, online gaming and quicker downloads, anytime phone calls, 300+ TV channels including premium & Sports channels and truly unlimited 4G SIM.
Compare other deals from Virgin Media
Note: Prices include Virgin phone line rental