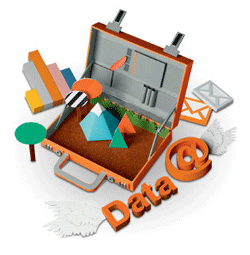 Business broadband is designed to cater the specific needs of small & medium sized businesses (SME), large businesses and the individuals who run their firms at home or prefer to work from their homes.
Business grade broadband service ensures you get speedier and more reliable internet to meet office requirements as well as  24/7 UK based customer support all year round.
We feature UK's most reliable, business broadband providers with their latest packages and exclusive offers.  Also find our guide related to features, ISPs and tips to find the best deal that suits your needs.
Business broadband providers UK
Major boadband providers in the UK such as BT, Plusnet, TalkTalk and XLN Telecom offer a wide range of business packages to their customers.
The packages include features such as free wireless support & high end wireless routers, free webspace, advanced internet security tools,  premium customer service and wi-fi hotspot access.
BT Business
BT offers extensive range of packages which allow customers to get capped or uncapped usage or add call plans that can best suit their requirements.
Standard plans which come with 'up to' 17Mbps download speed and 10GB/unlimied usage allowance are ideal for start ups & small firms and for those who work at home.
Business fibre packages (Infinity) offer standard speed of 'up to' 76Mbps (up to 19Mb upload speed) and unlimited usage/50GB with options to add call plans  or broadband only deals.
One free static IP is included in premium Infinity packages.
BT also offers leased lines, an expensive ultra fast service to large firms which can get up to 10Gbps download/upload speeds and unlimited usage.
TalkTalk Business
TalkTalk Business offers broadband, calls, VoIP, mobile and hosting services to small, medium and large firms at industry leading prices.
All  broadband packages come with unlimited usage, free installation, 7 day UK based customer support and advanced WorkSafe online protection.
Business fibre plan offers 'up to' 76Mbps download speed (up to 20Mbps upstream) and option to get up to 4 static IP addresses and SuperRouter.
Calls include unlimited UK landline and mobile calls and Talk2Go is also included.
XLN Telecom
XLN is an ideal provider for small firms that look out for low cost business broadband options with essential features like 24/7 UK based technical support and online security.
Totally unlimited broadband usage, faster upload speeds, inclusive UK landline and mobile calls, free email and fibre broadband availability are some of the best features of XLN business service.
Plusnet Business
Plusnet offers faster speeds of up to 18Mbps on its standard package to business users.
Unlimited broadband packages in affordable range, flexible call plans and 24/7 UK based customer support have made Plusnet quite popular among business ISPs in the UK.
Its service also includes fibre broadband with 'up to' 76Mbps download speed and VoIP calling feature for the growing companies to meet their internet and phone needs.
Why business broadband?
Broadband for business usually comes with different features, specification and pricing, comparing to home broadband packages.Generally, business broadband package is preferred for the reasons like reliable, faster connection speeds, better security features and prompt technical support.
You may like to consider a business broadband service, when:
Your business, its functioning and growth require a more reliable broadband service than what you are using now.
Your business is growing – many employees, lot of clients – and you want to ensure that you are able to communicate with your partners, employees, clients daily or whenever you need to.
You are running an online business with a large back-office infrastructure and you cannot imagine a single minute without broadband connectivity.
You need to upload or download large amounts of internet data, such as for web publishing needs.
Features of business broadband
Speeds
Download speeds 2Mb, 8Mb and 24Mb are available for business users. Business ISPs use special type of broadband technology (SDSL) to offer better upload speeds (1 – 2 Mb) as you may need to upload large amount data to the web during office hours.Fibre-optic broadband offers faster speeds than what is offered through old copper lines. Most business broadband providers have upgraded their services to this technology.Other factor you need to look is the network contention of your broadband line which means how many users will be allowed to share the line's bandwidth. Low contention like 20:1 or less ensures faster speeds and is ideal for a growing business.
Download limits
If you need to transfer large files over the internet, business broadband packages offer excellent usage allowances or you may just choose the best deal among the unlimited broadband plans.
Network support
Networking multiple computers to share resources and information is vital for growing businesses.Business broadband packages allow you to network, but a limited number of computers n your office. Depending on the size of your business and workforce, you may choose the specific package that suits your needs.If your provider offers wireless networking support (wireless router), you get an additional feature of using wireless broadband network in your office space. You can setup multiple computers apart without cables, yet connecting and using broadband internet.
Bundling VoIP call services
If your business has many overseas customers, making VoIP calls is better option than using landline phone or mobile for this purpose.
Some business broadband packages come bundled with VoIP which offer not only cheaper calls to international destinations but also offer absolutely free call service to selected locations.
Static IP address
One of the features that you would find useful with business broadband service is free Static IP address. With a static IP, you can setup your own email addresses with domain name to give unique identity to your business. Your emails are directly received here, unlike using yahoo or gmail.
Most business broadband providers also offer free web space along with free static IP so you may launch a professional website to promote and expand your business operations.
Emails
With this feature, you can setup email addresses for your employees, various departments for efficient interaction and communication purposes, apart from its giving a unique identity to your business among your competitors.
Advanced Internet Security
With business broadband deals, you usually get complete internet security features like anti-virus software, anti-spyware, spam filters etc. Some premium packages also offer advanced levels of security like extra firewalls and online data back-up facilities.
Customer support prioritized
While offering 24/7 free, customer support, business ISPs also ensure that your calls are prioritized means there is less waiting time. Seeing the importance of broadband internet for your business, providers usually give assurance to fix the problems within a time-frame.
Price
Comparing to home broadband deals, business broadband packages may sound more expensive. However, the higher cost is certainly justified, when we look at the extra features that come with business broadband.
Price is also an important factor when you compare business broadband deals. Make sure that the best offer includes all the features explained above.
Business broadband buying tips
When you plan to go for a business broadband service:
Choose the right speeds and download limits.
Look at the contention ratio. Lower contention of 20:1 or less is fine. It means fast speeds. (Home users get 50:1 broadband line)
Check out how many users can access broadband from their devices. See that you get wireless features. i.e., wireless routers
Make sure that you get free static IP option.
Check to see that your business broadband ISP offers free webspace
Check to see how many email addresses you can setup
Can you get free 24/7 customer support with assurance to fix your problems within a timeframe? How long do you need to wait when you try to contact the ISP customer support team? Make sure that your get prioritized support to ensure that your calls get promptly attended in emergency.
Finally, price. After analyzing your requirements and checking the features of business broadband packages, compare the prices to find the best offer.