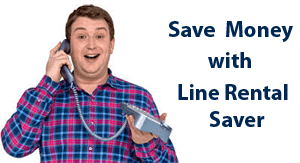 To shock every broadband user, all internet service providers, without exception, have hiked their home phone line rental prices.
The standard line rental now ranges between £15 – £19 a month, which is more than 20% rise, when compared to 2012. It means broadband & phone customers (including home phone only) need to pay around £216 a year just for line rental charges.
To get the total cost of a broadband & phone bundle, for example, the monthly price of broadband and other costs, if any, need to be added. Currently, all broadband providers need to show the total price on their adverts and websites as per Advertising Authority regulations.
Latest line renal saver prices
 Provider
Standard Line rental
(monthly)
Line Rental Saver
(upfront)
Annual Savings
BT
£18.99
£17.09
£22.80
Virgin Media
£19
£16.33
£32
Post Office
£16.99
£14.99
£24
TalkTalk
£18.95
up to 15% discount
Plusnet
£18.99
£16.49
£30
EE
£18.50
£16.58
£23.04
SSE
£13.49
 N/A
N/A
John Lewis
£15.50
N/A
N/A
Sky
£18.50
 N/A
 N/A
Cheap broadband but expensive line rental
When you take a look at current broadband prices (excluding line rental), they are not bad at all. They may differ sharply, depending on the package, whether ADSL or fibre, but still you can find a cheap broadband plan that fits your budget. It's great to find unlimited ADSL broadband (up to 17Mbps) from £18.95 a month (including line rental) or a super-fast broadband (up to 38Mbps) deal from just £20 a month. (line rental inclusive)
Broadband cost is further reduced with introductory offers for the new customers that include discounts, vouchers, gifts and free broadband, however, the expensive line rental is bad news for customers who are on tight budget.
What is Line Rental Saver?
So, what are the options available for customers who want to cut down the cost of line rental?
Line rental saver is one such option that can reduce what you pay on line rental by up to 20%. Instead of paying standard line rental every month which is quite expensive, you can opt for upfront payment for one year in advance. This actually makes you eligible for some discount available with line rental fee.
Most of the major ISPs including BT, Virgin Media, EE, Plusnet and TalkTalk offer line rental saver or annual line rental option to their customers.
BT Line Rental Saver
As you see on the table, BT charges more than other phone providers, when it comes to standard line rental which is £18.99 a month.
However, line rental discount is available when you pay £205.08 (for 12 months in advance) using credit or debit card. Thus the £17.09 a month equivalent would help you save £22.80 a year.
If you have more phone lines in your home, discount will apply to one of them.
You can also renew line rental saver by contacting BT.
No calls are included.
Virgin Media Line Rental Saver
Standard Virgin Media cable phone line rental is as expensive as BT's at £19 a month.
However, Virgin Media customers can save £32 a year when they pay £195.96 for 12 months' Line Rental (£16.33 a month equivalent) by debit or credit card.
It is refundable, only when you cancel within seven working days.
Weekend calls are included.
Plusnet
The low-cost broadband provider also offers cheap standard line rental at £18.99 a month.
With line rental saver, you can save £30, when you pay £197.88 for 12 months. It is now line rental equivalent to just £16.49 a month.
No calls are included.
Post Office HomePhone Line Rental Saver
Post Office offers the cheapest line rental, whether you pay every month or for 12 months. It is £16.99 when you pay monthly, or you can pay  £179.88 for 12 months with line rental saver, the equivalent to £14.99 a month.
No calls are included.
TalkTalk Value Line Rental
TalkTalk line rental comes at a standard monthly price of £18.95 which is slightly cheaper than BT's.
However, with TalkTalk Value Line Rental, you can get 10% off, when you pay line rental for 12 months in advance through card payment.
If you opt for upfront line rental for 18 months, you are eligible for 15% off, means more savings.
No calls are included.
EE line rental discount
EE's standard line rental was too hiked to £18.50 a month.
However, EE offers line rental discount when you pay 12 months upfront which is £198.96 (or £16.58 a month equivalent).
PAYG calls are included.
Broadband with cheap line rental
SSE offers comparatively cheaper line rental at  £13.49 a month which includes free weekend UK calls with selected broadband and phone packages.
Some business broadband providers charge less for their phone line service. For example, BT Business has standard line rental at £15.90 a month, while Plusnet Business' charges are even cheaper at just £10.50 a month.