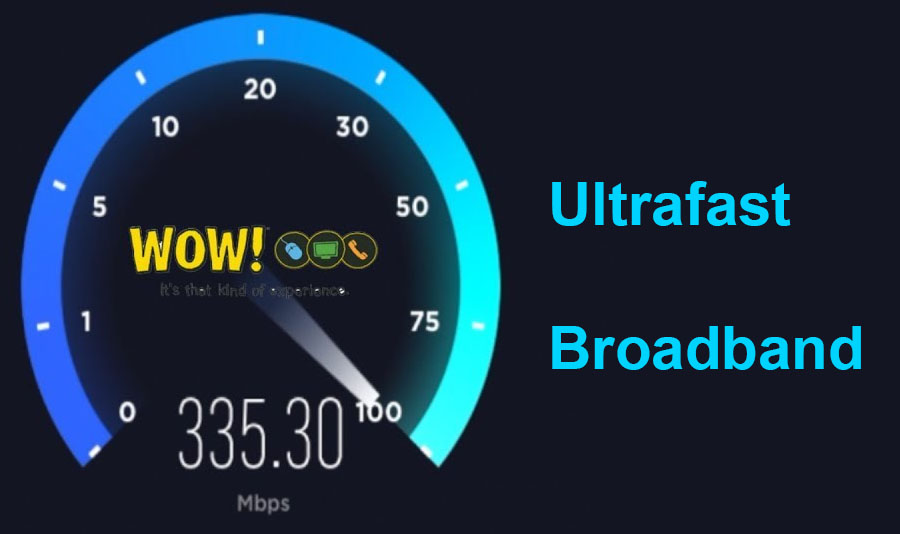 Ultrafast broadband is lightning fast broadband which is ten times faster than superfast broadband.
According to the regulator Ofcom, a typical superfast connection in the UK offers download speeds above 30Mbps.
It is generally accepted that any internet service, whether it is delivered via fixed line or 5G mobile network, which is capable of offering speeds that range between 300Mbps and 1000Mbps comes in the ultrafast tier.
However, the ultrfast broadband with 1Gbps+ speeds is termed as gigabit broadband which is usually delivered by full fibre network (FTTP lines).
Ultrafast broadband speeds
Defined loosely, ultrafast broadband also refers to services that offer 100Mbps+ speeds. As such, these are the speeds that you can with ultrafast broadband services available in the UK
Providers
Average
download speed
BT, Vodafone, Virgin Media
100Mbps – 120Mbps
BT, Sky, TalkTalk, EE, Hyperoptic
150Mbps
Vodafone, BT, Virgin Media
200Mbps – 250Mbps
Virgin Media, BT, Hyperoptic
300Mbps – 500Mbps
Virgin Media, Hyperoptic
600Mbps – 900Mbps
It should be noted that most of the starter level ultrafast speed plans (100Mbps – 300Mbps) use FTTC (fibre to the cabinet) network or hybrid cable service (Virgin Media) which means you usually get faster download speeds than upload speeds.
If you need symmetrical speeds, only full fibre broadband (FTTP) such as Hyperoptic and BT full fibre service can deliver same upload speeds as download speeds.
The benefits of ultrafast broadband
A broadband plan with 300Mbps+ download speeds is amazingly fast. It helps you do everything faster while you are connected to internet.
Although, it's not must-have for most UK homes, ultrafast broadband is ideal for super-busy homes where multiple devices are connected to download large sized files, stream 4K videos and play online games.
Quicker downloads
With 300Mbps speed, you can download a 40MB file in a second or a 4GB movie in less than 2 minutes.
If your connection comes with symmetrical download speed and upload speed, you will get the same upload speeds which will help you make rapid uploads.
Ultra HD 4K streaming
You will need very high speed broadband, preferably with 100Mbps+ speeds for high quality streaming of 4K videos
Although, you can stream in 4K using superfast, fibre broadband (67Mbps), the ultrafast broadband can do it better when you need to connect 3+ devices that will stream videos in 4K simultaneously.
Especially, when the mid-tier superfast broadband plans struggle to get the minimum bandwidth for online streaming of 4K content without buffering, you can try an ultrafast service which will provide the speeds you need.
Online gaming
For the best experience of gaming, you will need a broadband connection that can deliver ultrafast download speeds and very high upload speeds.
If your home have two or more gamers and they play all at the same time, ultrafast broadband is essential for very fast, reliable internet speeds on all devices.
Most gamers prefer full fibre broadband service which offers symmetrical speeds and low latency connectivity.
For connecting multiple devices
The ultimate benefit of ultrafast broadband is its capacity to help more users in the home go online. All the users will get enough bandwidth and will not experience any lag or drop.
It is a great solution when several devices like laptops, smartphones, tablets and games consoles need to be connected to home WiFi at the same time.
Ultrafast broadband providers
All major broadband providers including BT, Virgin Media, Sky, EE and TalkTalk offer a range of ultrafast broadband packages.
In addition, small providers like Hyperoptic, CityFibre and Gigaclear which own their FTTP network offer ultrafast services in selected areas across the UK.
Among these providers, Virgin Media has larger coverage than its competitors. Its ultrafast packages which offer speeds from 108Mbps to 630Mbps are available to more than three-fourths of the UK homes.
Hyperoptic is a city based provider which offers cost-effective ultrafast plans, however, in selected cities.
BT Full fibre broadband is delivered to the homes which are within the reach of its FTTP networks.
The Openreach based broadband providers like Sky, TalkTalk, Vodafone and EE also have a range of ultrafast products which are being extended to more cities and towns.
Currently, around 16% of the homes are within the reach of Openreach's full fibre network.
Ultrafast Broadband Deals
Ultrafast broadband continues to be available at reasonable prices starting from just £20 a month. You may need to sign up for longer contracts like 24 months to get price discounts.
As these services are not available in many areas, you will need to check the availability by using our postcode checker.
Here are our featured deals:
Package
Average Speed
(down / up)
Monthly
cost
Hyperoptic
Superfast
150Mbps / 150Mbps
£20
Vodafone
Superfast 100
102Mbps / 102Mbps
£24
Virgin Media
M200
213Mbps / 20Mbps
£33
TalkTalk
Fibre 150
145Mbps / 25Mbps
£29.95
Hyperoptic
Ultrafast
500Mbps / 500Mbps
£30