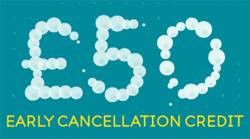 Broadband users who want to quit their providers early and switch to EE Home broadband can now take advantage of the latest £50 early cancellation credit offer from EE.
EE which offers standard and fibre broadband now gives away £50 credit to new switchers to EE broadband while the existing contract expiry is not over.
After the sign up and activation, new customers will need to send their final bill that shows that were in contract with another provider when they ordered EE home broadband and showing any early termination charges.
'We'll credit customers broadband account with £50' said  EE and the special offer applies to 'up to' 17Mb unlimited broadband & weekend calls as well as 'up to' 38Mb/76Mb fibre broadband packages.
EE broadband with free weekend calls packages cost from just £1 a month, while fibre deals cost from £9.95 a month. EE monthly line rental which costs from £15.75 a month also applies.
Check the latest prices and offers of EE here
Please note that this is an offer from EE and contact EE for further information or if you have any issues related to early cancellation credit.