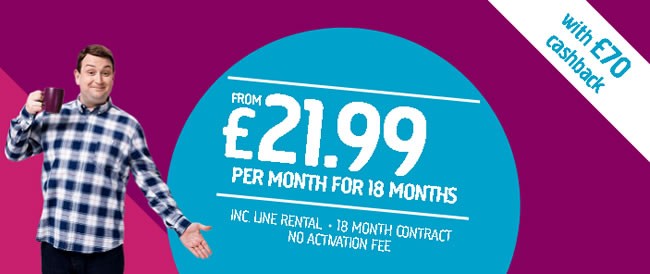 Providers Plusnet and Post Office have announced sharp cuts in their fibre broadband prices to help new customers make great savings during the first contract term.
Along with price discounts, both the ISPs also offer free setup while Plusnet additionally offers £70 cashback additionally for the best savings by the end of this year.
New offers apply to Post Office unlimited fibre broadband which comes with 38Mbps average download speed, unlimited data and pay as you go calls for a monthly price of £20.99
By comparison, Plusnet unlimited fibre package which costs £21.99 a month offers 36Mbps average speed, unlimited data and pay as you go calls.The £70 cashback which applies to this plan makes it one of the cheapest fibre deals available in the market.
For faster fibre speeds, Plusnet Unlimited Fibre Extra is quite an ideal plan which comes comes with 66Mbps average download speed and unlimited data and a special offer of £70 cashback.
While Post Office deals are subject to 12 month contract, Plusnet fibre plans come with 18 month contract length.
It should be noted that the cashback offer with Plusnet deals runs till 1st January 2020.