February 13, 2017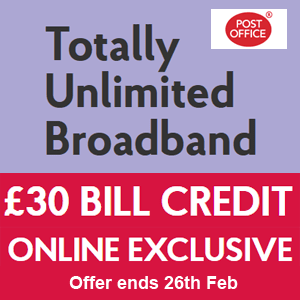 Along with introductory discount offer, Post Office now enables new customers who sign up for its premium unlimited broadband package to get £30 bill credit on their online purchase.
Post Office premium offers totally unlimited monthly usage allowance and free weekend calls to UK landlines and also includes an advanced wireless router at no extra cost.
Free UK based customer support is available on telephone on all days, except bank holidays. You can make free calls on 0800 092 0514 from home phone and mobile numbers.
When it comes to cost of the service, Premium which  usually costs £26.99 a month, will cost £20.99 for 18 months for the new customers. This is line rental inclusive all-in-one price
Router delivery would cost £6.95 extra so you would need to pay £354.77 for 18 months, when £30 bill credit is added.
Post Office also offers anytime UK calls for £7 a month extra. By upgrading to this call plan, you can make unlimited calls to UK landlines including 01, 02, 03 0845 and 0870 numbers and unlimited weekend calls to UK mobiles and landlines in several countries across the world. Mobile calls to USA and Canada are also included.
The bill credit offer on Premium deal ends 26th February 2017.