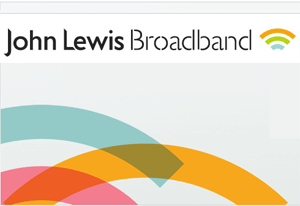 Searching a customer-friendly broadband service with commitment to quality? Looking for packages that won't make your head spin with lots of details?Then, a simple broadband provider like John Lewis would perfectly suit your needs.
If you look out for cheaper options, you might consider providers like TalkTalk and Plusnet.
However, John Lewis is quite ideal for homes that look for reliable broadband. good customer support and great value for money.
John Lewis Broadband and Calls
John Lewis broadband comes with truly unlimited monthly usage. Different speeds are available so you can choose the connection speed that is suitable for your online tasks.
Unlimited is standard, ADSL 2+ service which offers 10Mbps average download speeds.
Fibre is superfast, fibre package which offers 36Mbps average download speeds.
Fibre Extra is faster than standard fibre broadband with 66Mbps average download speeds.
All the three packages include unlimited monthly downloads, free wireless router and free evening & weekend calls.

10Mb
average speed
Unlimited
downloads
Eve & weekend
calls
Offer:
Free setup +
£35 Reward card

(ends soon)
Cost:
£20 p/m
More Info

36Mb
average speed
Unlimited
downloads
Eve & weekend
calls
Offer:
Free setup
(ends soon)
Cost:
£27.50 p/m
More Info

66Mb
average speed
Unlimited
downloads
Eve & weekend
calls
Offer:
Free setup
(ends soon)
Cost:
£32.50 p/m
More Info
Offer: Reduced price on fibre packages for a limited time
Anytime and Anytime & International calls plans are also available. You can also add anytime calls to UK mobiles (Mobile Bolt-on) with these call plans.
Features of John Lewis broadband packages
Whether you take Unlimited or Fibre or Fibre Extra, you will need to sign 12 month contract.
Below are the features that John Lewis broadband comes with:
Unlimited broadband with no usage caps and no traffic management
There is no set limit to monthly usage or downloads. Ideal for movie downloads and heavy users.
Likewise, your speeds are not slowed down at peak times.
Reliable fibre optic broadband
John Lewis Fibre offers 36Mbps download speed which is two times faster than regular broadband. Suited for households where 3-5 users go online at once, and for streaming HD content and playing games online.
Fibre Extra comes with 66Mbps average download speed which would help you to handle more tasks at once without any hassle. It's perfect for big homes with 10 users or more, for streaming 4K ultra HD shows & videos, download and gaming. It's 18Mbps upload speed is pretty faster than basic Fibre plan.
Free wireless router
Standard broadband includes standard wireless N router (Technicolour TG582) while fibre packages come with advanced Netgear N150 WNR1000 router with enhanced connectivity and security features.
Free UK based 24/7 customer support on phone
John Lewis customers can get 24/7 free phone customer service. It has a dedicated customer support which operates within the UK.
BullGuard internet security
All packages include PC Security powered by Bullguard. It comes with firewall & anti-spyware features and protects your devices and data from malware, viruses and phishing.
Easy switching process
With John Lewis broadband, switching your broadband service is easy and hassle-free. John Lewis switching team would contact your current ISP to initiate the migration. After sign up, It would take 10 – 12 days to move you to the new service.
About John Lewis Broadband
One of the UK's biggest retailers which sells from towels to tablets, from electronic gadgets to almost everything your home needs, John Lewis is not an ISP in the usual sense of the word.
It is a re-seller of award-winning Plusnet under its own brand and what is important is both the companies have proven track of excellent customer service and that John Lewis broadband comes with free 24/7 UK based customer support on telephone.
John Lewis broadband network does not have low cost or high cost areas, so, the package prices are the same wherever you are. No need to pay for installation and activation of broadband.
Summary
Reviewed by
Date
Provider
Rating
Package
John Lewis Fibre Broadband