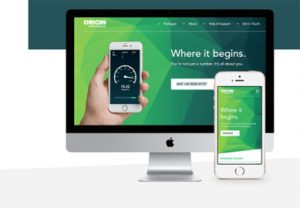 Origin, best known for its Supersaver deals, is relatively a small provider in the UK with a limited customer base.
More like other budget providers such as TalkTalk and Plusnet, it offers a simple range of low priced broadband deals with great value and backed by great customer support.
Origin broadband may not include everything you want, but, it is worth considering, if you look out for a fast & reliable broadband service and when additional services like TV and free extras like public WiFi are not important for you.
Reasons for choosing Origin broadband
The best money saving deals
Whether standard ADSL or superfast fibre, Origin is always a market leader for monthly cost. Its competitive monthly pricing comes with no upfront cost (even router delivery is free), and if that's not enough, this comes with 30 month price freeze guarantee to ensure there are no mid-contract price rises.
Supersaver deals
Believe it or, you can save one fourth of your money with Supersaver option, which, however, requires you to pay in advance for your entire contract. As you know, Origin broadband comes with 12 month, 18 month and 24 month contracts.
Supersaver ADSL broadband package comes with £15.21 equivalent monthly cost, saving 12.5% – 25% on your bill. Fibre packages taken with supersaver option would cost from £22.78 a month equivalent, saving 9% of your money.
The main advantage of supersaver deals being, you can get packages at the lowest price and there are no monthly bills you need to pay till the end of your contract. Worried about the quality of service? Origin assures that all deals get equal benefits and well supported by its technical support.
Fast, reliable and truly unlimited
Origin offers its ADSL and fibre services using its own core fibre network in 50 cities and towns including Manchester and London, while connecting other areas via Openreach. With the best technology and technical expertise, Origin offers reliable internet service with great quality and unbeatable reliability.
Another nice feature of its service is its truly unlimited guarantee. Origin broadband comes with absolutely no monthly usage caps and no traffic management policy. This means, there are no traffic restrictions over your line and your connection is never slowed down at anytime during the day or peak times.
Simple and east to use WiFi router at free of cost
Asus DSL-N16 WiFi router is included with all packages. It's easy to install and connect all your devices to high speed WiFi in home.
While DSL-N16 is a great router for most households and it works well with fibre, you can also upgrade to faster, more powerful routers like Asus DSL-AC56 or the DSL-AC68 with additional, one-off cost.
24/7 UK based customer service and technical support
Origin is recognised over years for offering the best standard of customer service to its customers on telephone and its website. Its expert team is always there to help you in all situations – while choosing the best package or switching to Origin or while moving home.
Earn money by referring friends
You can get a £25 bill credit when you refer a friend or family member who joins Origin.
Broadband
Like most UK providers, Origin offers one standard ADSL plan with 11Mbps average speed and two fibre plans with 35Mbps and 67Mbps speeds.
Origin broadband is the starter package (11Mbps average) that would perfectly meet the requirements of most households with a couple of users, for internet surfing, steaming videos and social networking. It comes with 12 month contract length.
Origin Fibre is better suited for a quite big family, for watching TV shows and videos in HD and 4K ultra HD. It comes with 35Mbps average download speed and 9Mbps upload speed. A minimum 18 month contract applies.
Origin Max is the fastest package that is great for busy households with multiple users, for streaming HD & 4K videos and for gaming. The plan offers an average 67Mbps download speed and 17Mbps upload speed.
What else you need to know about Origin broadband & phone packages?
All packages include line rental and pay as you go calls as basic. You should bear in mind that its standard call rates will apply. If you want to upgrade, you can add call packages such as evening & weekends, anytime or anytime with international calls. Call features like call barring, call divert and anonymous call reject will cost extra.
The 30 month price freeze guarantee applies to your broadband for 30 months including the length of contract and it will also include call packages or add-ons that you buy at the time of sign up. The extra services that you add later will not get this benefit.
Plans without price freeze feature will cost a little cheaper,though, in terms of monthly cost, but fixed price guarantee would help you save money in the long term.
A few downsides you need to know
Origin broadband prices may vary depending on location. If you live in its high cost areas, even its basic plan will cost £25.99 a month, compared to the standard price of £18.99 a month.
It's standard router is not up to mark and lacks advanced features that BT Smart Hub or Sky Q Hub come with.
Origin does not offer free extras like public WiFi, web storage and internet security like BT, Sky and Virgin Media.
Except home phone, there are not many bundling options means you can't add TV or mobile. As many households look for getting these service together in one place, Origin is way behind its rivals in this regard.
To get ultra fast plans and  broadband and TV deals, customers would need to look for other options like Virgin Media or Sky.
Latest Origin broadband deals
Package
Average
Speed
Download
Calls
Cost
Broadband 
12 month contract

11Mbps
Unlimited
Pay as you go
£17.99 /month
Free setup
Fibre
18 month contract

35Mbps
Unlimited
Pay as you go
£22.99 /month
Free setup
Fibre Max
18 month contract

67Mbps
Unlimited
Pay as you go
£26.99 /month
Free setup
Broadband
(Supersaver)
12 month contract

11Mbps
Unlimited
Pay as you go
£15.42 /month
Free setup
Broadband
(Supersaver)
24 month contract

11Mbps
Unlimited
Pay as you go
£15.21 /month
Free setup
Fibre
(Supersaver)
18 month contract

35Mbps
Unlimited
Pay as you go
£22.78 /month
Free setup
Fibre
(Supersaver)
18 month contract

67Mbps
Unlimited
Pay as you go
£24.44 /month
Free setup
Summary
Reviewed by
Date
Provider
Rating
Package
Origin broadband and phone