Why choose TalkTalk?
TalkTalk is popular for offering broadband with totally unlimited usage and triple-play TV bundles at unbeatable prices.
You can get more savings through free broadband & vouchers and a bunch of freebies like HomeSafe, Netflix and free calls etc.
TalkTalk offers mobile SIM with free minutes and data comes at no extra cost with selected packages.
How good is TalkTalk broadband?
Over-all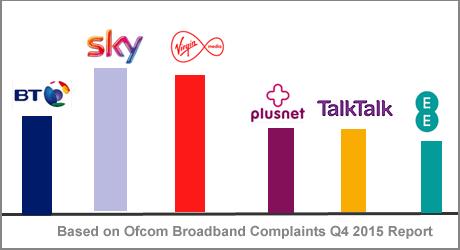 Speeds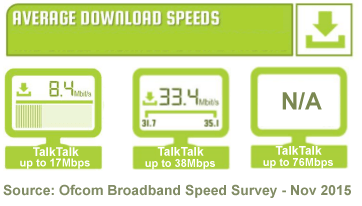 Package Type
TalkTalk
SKY
PLUSNET
EE
BT
VIRGIN MEDIA
up to 17Mb
Average ADSL 2+ UK speeds 8.4Mbps
N/A
up to 38Mb
33.4Mbps
33.4Mbps
33.3Mbps
34.3Mbps
34.9Mbps
N/A
up to 50Mb
N/A
N/A
N/A
N/A
N/A
50.5Mbps
up to 76Mb
N/A
60Mbps
56.4Mbps
62.3Mbps
59.3Mbps
N/A
up to 100Mb
N/A
N/A
N/A
N/A
N/A
95.8Mbps
up to 200Mb
N/A
N/A
N/A
N/A
N/A
174Mbps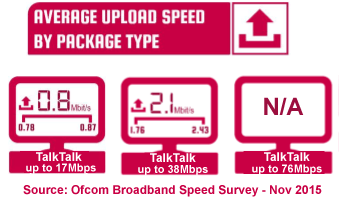 | Package Type | TalkTalk | SKY | PLUSNET | EE | BT | VIRGIN MEDIA |
| --- | --- | --- | --- | --- | --- | --- |
| up to 17Mb |  0.6Mbps |  0.9Mbps |  0.8Mbps |  0.9Mbps | 0.9Mps | N/A |
| up to 38Mb | 2.1Mbps | 8.4Mbps | 11Mbps | 8.2Mbps | 8.2Mbps | N/A |
| up to 50Mb | N/A | N/A | N/A | N/A | N/A | 3Mbps |
| up to 76Mb | N/A | 16Mbps | 16.1Mbps | 17.1Mbps | 15.2Mbps | N/A |
| up to 100Mb | N/A | N/A | N/A | N/A | N/A | 6Mbps |
| up to 200Mb | N/A | N/A | N/A | N/A | N/A | 12.1Mbps |
Source: Ofcom UK Home Broadband Performance Report – March 2016
Customer Service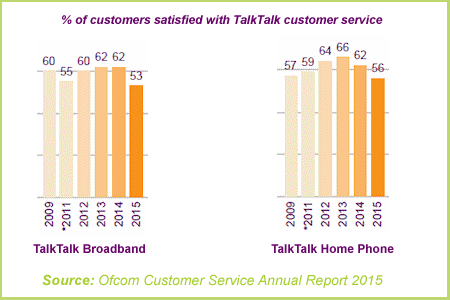 | | | |
| --- | --- | --- |
| Provider | Broadband | Home Phone |
| TalkTalk | 53% | 56% |
| Sky | 80% | 79% |
| Virgin Media | 70% | 72% |
| BT | 60% | 69% |
Source: Ofcom – Quality of Customer Service Report 2015
TalkTalk Broadband
TalkTalk offers up to 17Mb broadband as standard with absolutely no restrictions on download limits, calling it as totally unlimited broadband.
Not only its service allows you to make unlimited downloads each month, it also offers broadband without traffic shaping to make sure that you get faster speeds during peak times.
TalkTalk Fast Broadband does not include any free calls, however, it is a very flexible package which allows you to add calls as you wish. You can also add TV boosts to your broadband without signing to longer contracts.
TalkTalk Fibre Broadband
Fibre broadband option is also available to you in selected areas and TalkTalk is one of the few providers to offer cheap fibre broadband plans in a price range which is as affordable as standard broadband packages.
TalkTalk Faster Fibre offers up to 38Mb speeds which is two times faster than typical connection.
TalkTalk Faster Fibre up to 76Mb is ultra-fast service offering maximum speeds of 76Mbps and is currently available only in few areas.
Fibre users can get the best out of their connections using the latest Super Router which comes with better wireless range and faster wifi speeds.
TalkTalk Phone
Apart from benefits from  low-cost call boosts, TalkTalk users can also enjoy free calls within the circle or when they call other TalkTalk phones.
TalkTalk broadband and TV customers can add call plans which suit their needs.
TalkTalk TV
TalkTalk TV is not available as standalone but as a part of triple packages that include broadband, phone and TV.
Two TV packages are available – TalkTalk TV and TalkTalk TV Plus which you can combine with standard or fibre optic broadband. The YouView based TV service has now added Sky channels, Blinkbox movies and Netflix means customers get more choices when it comes to TV entertainment.
Our view and review of TalkTalk
TalkTalk is hugely popular for their cheapest broadband and phone bundles.
Not only it offers low cost deals as Fast Broadband, its fibre broadband offerings are also affordable to all.
While its phone & TV boosts or add-ons come quite handy as great money saving options, the offering of free extras like HomeSafe online protection and big discounts & vouchers with new subscriptions have made TalkTalk as one of the best value broadband providers in the UK market.