Total Sky broadband customers have exceeded 2.5 million, the first quarter 2010 results released by the UK's top broadband bundles supplier shows.
The previous quarter saw 101,000 new customers joining Sky broadband deals which are being offered only to its TV customers.
The ISP offers a basic broadband package free to the customers when they bundle it with the digital TV services in its LLU areas. The top-end package, Sky Unlimited offers 20Mbps speeds, unlimited downloads and free HD+ box.
Many Sky customers also add its home phone plans (Sky Talk) to broadband and TV. There are currently more than 1.9 million Sky customers who have taken all these three services (triple-play bundles) on a single deal. This 'is up 39% year on year and, as customers reward us with more of their business,' said Jeremy Darroch, the Chief Executive of BSkyB.
For the firstime, the company's ARPU exceeded £500 mark, thanks to the huge demand for the ISP's high-definition digital services (Sky +HD box) and Sky broadband, he further added.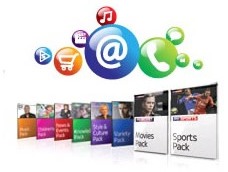 The on-going Sky +HD box free offer helped the provider to make 428,000 net additions to its digital TV subscription base, reporting 76% year on year growth.
Recently, the internet provider announced a special offer of six month free broadband to the new customers who sign up for its Unlimited broadband package.
From the first week of June, 2010, Sky customers will have just two broadband options – Sky Everyday Lite and Sky Unlimited – with speeds increased to 20Mbps.
Sky Everyday Lite will be free for Sky TV customers in its network area and will offer 2GB monthly usage allowance. However, the customers who are outside the LLU network will need to pay for internet access.