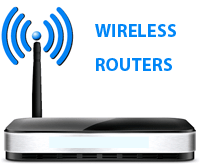 Wireless routers are now an essential part of broadband kit that helps you access broadband within the home or office without the need of wires.
By switching on a wireless router, multiple users can also share a single broadband connection and go online on any wifi-enabled devices such as laptops, tablets, smartphones and game consoles.
The latest wireless routers now come with fibre broadband compatibility and other advanced security features to ensure speeds, reliability, wireless range and online safety of your data.
Some of the high performance wifi routers are capable of operating in two different frequencies (2.4GHz and 5GHz) to minimise the wireless interference by other devices to ensure faster data speeds.
All major internet services providers in the UK offer wireless routers which they have customised and designed to suit the needs of their customers. As the networks of the ISP get technological upgrade for improved capacity and faster speeds, likewise, ISPs release new, upgraded versions of wireless routers which can help the users get the most out their broadband connectivity.
New customers are offered wireless routers of worth hundreds of pounds free of cost, when they take up a broadband bundle for a minimum contract of 12 or 18 months.
BT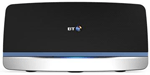 BT offers Home Hub 4 and Home Hub 5 wireless routers to its customers. Both are compatible with fibre speeds, however, Hub 5 comes with 4 gigabit ports for fibre connections and also powered by the advanced 802.11ac wifi technology.
Home Hub 4 is 802.11n wireless router with only one Gigabit port. It operates in dual band frequences (5GHz and 2.4GHz) just like Hub 5. It has 3 ADSL ports and USB 2.0 port. Home Hub 4 which is included free of cost with BT's standard (up to 17Mbps) broadband bundles also comes with essential security features like WPS and WPA or WPA2.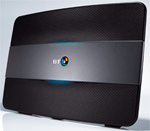 Award winning Home Hub 5 wireless router is free to Infinity broadband customers of BT. It is run by latest technologies – 802.11ac and dual band wifi. It has built-in ADSL and VDSL modems and has compatibility with earlier wifi standards 802.11a/b/g/n. It has one USB 2.0 port.
BT has recently launched the next generation Home Hub 6 or Smart Hub wifi router which comes with 7 antennas for enhanced performance and wider wireless range (up to 500m). The new device which is likely to be offered to Infinity customers from Summer 2016 is claimed by BT as the router with UK's most powerful wifi signal to beat other routers from its rivals.
BT has also been testing the new SmartHub X wireless router which is designed for 330Mbps G.fast fibre broadband connections. G.fast broadband which BT plans to deliver to 10m UK premises by 2020 is currently under trial. The participants / homes get the new router to test WiFi performance.
SmartHub X, dubbed as Home Hub 7 in the series, comes with built-in G.fast modem , 4 x gigabit ethernet ports , 1 x USB slot and additional ports for telephone.
Virgin Media
The new Virgin Media Super Hub wireless router is designed to get lightning wifi speeds when you access to its 100Mbps/200Mbps fibre optic broadband.
It has an integrated DOCSIS 3.0 cable modem with dual-band wifi functionality (5GHz and 2.4GHz) for strong performance to help multiple users share broadband in home without any issue. It has 4 gigabit ports, 5 internal antennas and strong online protection powered by F Secure SAFE and WEP/WPA/WPA2 wireless technologies.
Sky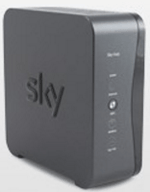 Sky Hub is wireless N router with 4 ADSL ports (100Mbps) with average performance when compared to BT Home Hub 4 or Virgin Media Super Hub. It has single band wifi functionality, operating in 2.4 Ghz frequency.
The new Sky Hub 2 comes with built-in VDSL modem for fibre broadband connections. Like the earlier version, Hub 2 is also single band (2.4 GHZ) with no USB port and does not support the latest 802.11ac wifi standard.
EE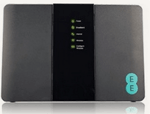 EE offers Bright Box 1 and Bright Box 2 wireless routers to their cutomers as free hardward when they sign up to packages with minimum contract.
EE Bright Box 1 comes with provider's ADSL 2+ (up to 17mbps) packages. It is 802.11b/g/n wifi router with 4 ADSL ports (100Mbps) and one USB 2.0 port. It supports WiFi Protected Setup (WPS) and Wi-Fi Protected Access (WPA2) to ensure better online safety.
EE Brigh Box 2 which was relased later for fibre broadband users comes with 1 Gigabit port and 3 ADSL ports (100Mbps). It is dual band wifi router with advanced 802.11ac technology, but also compatible with 802.11a/b/g. Bright Box 2 also has new feature – Intelligent Wireless to minimise wireless interference by other devices. It has the best saftey features – WEP/WPA/WPA2 and Wireless access control (MAC).
TalkTalk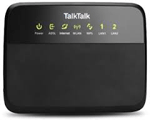 TalkTalk offers Super Router (Huawei HG635) with fibre broadband packages. This is 802.11ac enabled router with 4 Gigabit ethernet ports. It is dual band as well, capable of operating in 2.4GHz & 5GHz for better performance. It comes with one USB 2.0 port and WPS, WPA/WPA2 security features.
TalkTalk Plus Fibre router (Huawei HG633) is now bundled with Plus TV subscriptions. This improved router comes with four 100Mbps ADSL ports but does not have any gigabit connection. It has one USB 2.0 and WPS, WPA/WPA2 security features.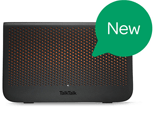 TalkTalk WiFi Hub (Sagemcom Fast 5364) is the latest, superfast, wireless router launched by the provider in mid 2018.
This dual band (2.4GHz or 5GHz) wireless router which supports 802.11ac, comes with 7 antennas, 4 Gigabit Ethernet ports, an Ethernet WAN and a VDSL connector. It can support 500Mbps+ download speed and 375Mbps upload speed.
According to TalkTalk, up to 50 users can connect to WiFi Hub at the same time. The new router is bundled with new fibre packages
Plusnet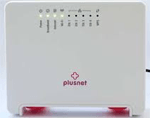 Plusnet has been one among the UK providers to launch new routers (Hub Zero & Hub One) in 2015. The earlier router was Technicolour TG582n which does not support fibre speeds.
Plusnet Hub Zero comes in two versions, both for ADSL and fibre broadband users. However, this Sagemcom 2704n model does not come with integrated VDSL modem. This is also single band (2.4GHz) router without 802.11ac support. So, it cannot be said as good performing as BT Home Hub 5 or Virgin Media Super Hub in terms of wifi speeds. However, this router comes with power saving feature to minimize electricity consumption.
However, in November 2015, Plusnet launched Hub One router for its new fibre broadband customers. This wireless router features all the latest features like 802.11ac, integrated VDSL modem, dual band WiFi, 4 Giga bit ports, WPS and WPA2 security. It also comes with 1 ADSL port and 1 USB 2.0 port. It also offers self-install option to the users.
Plusnet Hub One is currently is available for new fibre customers only.
Post Office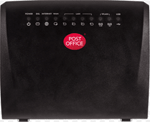 Post Office offers 2.4GHz, single band wireless N router with its standard, ADSL broadband packages. To enhance wireless performance and range, the wireless router comes with Dual wireless N antennas.
There is no need to setup this ADSL router as it comes with automatic functionality that can perform all the things for you.
For better security and protection from hackers, the router is enabled with Robust SPI Firewall which comes with pre-configured settings to ensure he highest level of WiFi security.
Post Office fibre broadband users get the new Fibre Wi-Fi router which comes with 802.11ac wireless standard, Wireless Protected Setup (WPS), WEP, Wi-Fi scheduling and multiple SSID (up to 4).
This dual band wireless router operates on 2.4 GHz and 5 GHz to provide interference-free WiFi experience.