Last updated on April 10th, 2021 at 02:12 pm

Vodafone is a major mobile operator in the UK. It's equally popular for its home broadband with its no frills fibre packages and low-cost plans.
Vodafone fibre broadband is a great pick for households that look out for reliable, superfast broadband at affordable pricing.
Vodafone Fibre Broadband Deals
Vodafone offers two fibre broadband packages which are bundled with home phone and line rental.
Superfast 1 comes with 35Mbps average download speed and 10Mbps average upload speed. Suitable for most homes with 3-5 users, for most internet uses – browsing, downloading, streaming and gaming.
Superfast 2 which comes with 63Mbps average download speed and 20Mbps average upload speed is ideal for the needs of busy households that spend more time in streaming,  gaming and sharing. Great for watching 4K videos, TV shows and for playing bandwidth-intensive games online. 
£2 a month discount for Vodafone pay monthly mobile customers.
Vodafone Broadband and TV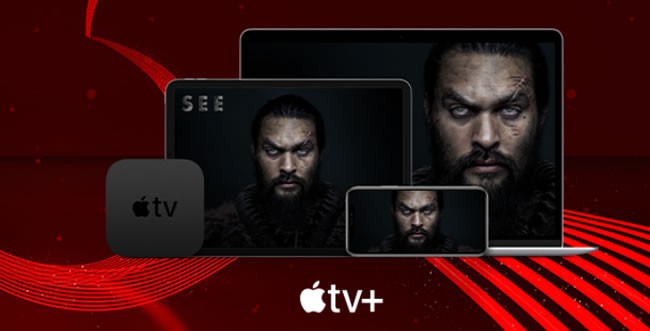 Vodafone triple-play packages come with Apple TV 4K, Superfast 1 and Superfast 2 broadband plans.
The bundles include unlimited anytime calls to landlines & mobiles and one year Apple TV+ superscription.
Superfast 1 Extra

35Mb
average speed
Unlimited
downloads
Anytime calls
Apple TV 4K 1 Yr Apple TV+
Offer:
Free setup
Cost:
£31 p/m
Superfast 2 Extra

63Mb
average speed
Unlimited
downloads
Anytime calls
Apple TV 4K
1 Yr Apple TV+
Offer:
Free setup
Cost:
£31 p/m
Apple TV+ subscription allows you to stream & watch movies, exclusive Apple Originals and shows in 4K HDR and with Dolby Atmos sound quality. Each subscription can be extended up to six devices.
You can add Amazon Prime Video or Now TV that would cost extra. You can stream shows from popular online players such as BBC iPlayer, ITV Hub, All4 and My5
24 month contract length and no mid-contract price rises apply.
£2 a month discount for Vodafone pay monthly mobile customers.
Vodafone Gigafast Broadband
Vodafone Gigafast broadband offers ultra-fast speeds to homes that need multiple devices to be connected at the same time for streaming, download and fast gaming.
Features
Symmetric speeds


Vodafone Gigafast broadband is full fibre type (fibre to the home) so it offers symmetric speeds meaning you get the same upload speed as the download speed. For example, Gigafast Broadband 500 comes with 500 Mbps average download and upload speeds
No upfront cost
Free WiFi Hub and and free setup included with the service. Line rental and PAYG calls included as standard.
24 month contract term applies to all deals.
Vodafone Broadband Features
Truly unlimited usage
With Vodafone, your internet usage is truly unlimited. This means your monthly data usage is not limited by any usage cap. No monthly download limits apply.
Likewise, no traffic management or traffic shaping applies to your plans. Your connection won't become slow at peak times.
Pay As You Go Calls
As home phone is included, you get PAYG calls as standard. You can add call plans like evening & weekend, anytime and mobile calls, if you want to upgrade.
Vodafone WiFi Hub
Vodafone offers dual band, wireless router which comes with the latest 802.11ac standard for faster speeds and good range.
Vodafone WiFi Hub can also be connected to mobile devices via app so you can change various settings like connect, disconnect and signal boost features.
WiFi Hub is included with all broadband deals for no extra cost.
Affordable pricing
Vodafone offers the lowest priced fibre broadband, when compared to its competitors like Sky, BT and Virgin Media.
Its promotional offers often include free activation to help you save more money.
Our exclusive voucher offers also help you get the best value for your money
Exclusive discount for Vodafone mobile customers
Vodafone pay monthly mobile customers usually get £2 monthly discount, when they take home broadband from Vodafone. This means, Vodafone mobile customers can get exclusive savings of £24 a year on broadband costs.
Internet security
New Vodafone home broadband customers get F-Secure anti-virus for 6 months at no extra cost.
However, it would cost extra, when it is used for next 12 months. F-Secure comes with licence for up to 5 devices.
Parental controls which you can use to block specific websites, are included for no extra cost.
Summary
Reviewer
Review Date
Reviewed Item
Author Rating
Product Name