Summary
Reviewed by
Date
Provider/Deal
Rating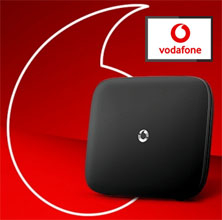 Vodafone is a top mobile operator in the UK. It's equally popular for its home broadband with its no frills fibre packages and cheap pricing.
Despite the limited options that it comes with, Vodafone fibre broadband is best suited for households that look out for affordable, reliable, superfast broadband with great service.
Vodafone also offers minimum speed guarantee that allows you to claim a 15% discount, when you don'g get the minimum sync speed.
What are the best features of Vodafone broadband?
Superfast, fibre optic broadband 
Vodafone offers only fibre broadband packages with two different speeds – 35Mbps average download speed and 63Mbps average download speed. Both speeds are good enough for households with multiple users who can watch & stream videos in HD, game online and download a lots of data.
With 63Mbps speeds, you can stream all 4K ultra HD content without any hassle. While these speedy services are pretty enough for most of us, super busy households which require even faster speeds, can get ultra fast speeds from providers like Virgin Media.

Vodafone Superfast 1

Unlimited

usage




35Mb

average speed




PAYG

calls


£24 p/m




18 month contract


More Info

Offer:

 Free setup + free Google Nest Hub Max worth £219 until 2nd December 2019
Vodafone Superfast 2

63Mb

average speed


Unlimited

usage


PAYG

calls


£28 p/m




18 month contract


More Info

Offer:

 Free setup + free Google Nest Hub Max worth £219 until 2nd December 2019
Ultimate Broadband Guarantee
This guarantee helps you get minimum broadband speed or get 15% discount on your bill, until the issue is fixed. For example, Customers of Superfast 1 (35Mb advertised speed) are assured of a minimum sync speed of 25Mbps. And this is 55Mbps for Superfast 2 (63Mb advertised speed). You will need to use Vodafone broadband app to claim the discount
Truly unlimited usage
With Vodafone, your internet usage is truly unlimited. This means your monthly data usage is not limited by any usage cap. Likewise, no traffic management or traffic shaping applies to your plans. Your connection won't become slow at peak times.
Affordable pricing
Vodafone offers low priced fibre broadband, when compared to its competitors like Sky, BT and Virgin Media. Its promotional offers often include free activation to help you save more money. Line rental saver option is also available – you pay line rental for one year in advance to get line rental discount.
Discount for Vodafone mobile customers
Vodafone pay monthly mobile customers can get £2 monthly discount, when they take home broadband from Vodafone.
What can you get from Vodafone fibre broadband
Fibre broadband & phone bundles
Vodafone offers two fibre broadband packages which are bundled with home phone and line rental.
Superfast 1 comes with 35Mbps average download speed and 10Mbps average upload speed. Suitable for most homes with 3-5 users, for most internet uses – browsing, downloading, streaming and gaming.
Superfast 2 which comes with 63Mbps average download speed and 20Mbps average upload speed can better meet the needs busy households that spend more time in streaming and gaming.
WiFi router
Vodafone offers dual band, wireless router which comes with the latest 802.11ac standard for faster speeds and good range. It can also be connected to mobile devices via app so you can change various settings like connect, disconnect and signal boost features.
Phone
As home phone is included, you get PAYG calls as standard. You can add call plans like evening & weekend, anytime and mobile calls, if you want to upgrade.
Internet security
You get F-Secure anti-virus for 6 months at no extra cost. However, it would cost extra, when it is used for next 12 months. F-Secure comes with licence for up to 5 devices.
Parental controls which you can use to block specific websites, are included for no extra cost.
What else you need to know about Vodafone broadband
Vodafone has limited options for home broadband users. The following are a few things you need to know:
There is no standard broadband package. If you want a cheaper, light broadband package, you will need to find it from providers like Plusnet or TalkTalk
You can not get ultra fast speeds such as offered by Virgin Media which offers 300Mbps+ speeds.
Likewise, if you want triple play service which includes TV, you'd need to get it from Sky or Virgin Media.
Vodafone does not offer freebies like public WiFi and cloud storage