Last updated on December 21st, 2020 at 03:42 am

Hyperoptic is quite a different broadband provider from BT or Virgin Media, because, it does not offer just superfast speeds, but, offers ultra fast speeds of 1Gbps (user average 900Mbps) which is nearly 2 times faster than Virgin Media's fastest residential broadband service.
Hyperoptic broadband speeds are more reliable and do not slow down at peak times.
Hyperoptic broadband speeds
Hyperoptic offers pure fibre broadband offers symmetrical download and upload speeds. This means you get the same speeds in both directions – upstream and upstream. For example, Ultrafast plan comes with average download speed of 500Mbps and average upload speed of 500Mbps.
Hyperoptic offers average download speeds ranging between 20 Mb/s and 900 Mb/s
Hyperoptic Broadband Deals
Hyperoptic broadband plans start from £17.99 a month.
Top-tier packages come with £29 one time activation fee. The cheapest Fast plan comes with £9.99 activation cost.
You can choose from different speeds available from the provider with 12 month or 1 month contract option.
All plans also allow you to choose with or without home phone.
See Hyperoptic deals (30Mb,50Mb,150Mb,500Mb and1GB)
Hyperoptic packages
Hyperoptic offers five fibre packages which can be taken as broadband only or broadband & phone, depending on your requirements.
There are both residential and business grade packages which are available in similar speeds but differ in other features.
With residential plans, you get more freedom to customize. The contract terms are flexible as you can choose 12 month contract or no contract (monthly rolling contract, whichever is suitable for you. One-off activation fee applies to all contracts.
Hyperfast (average speed: 900Mbps)
With this ultra fast connection speeds, you can download or upload a video of 1GB size in less than 10 seconds.
Great for gaming online, streaming HD videos and large downloads.
Ultrafast (average speed: 500Mbps)
You can download or upload 1GB video in less than a minute at 500Mb speeds.
Ideal for HD & 4K videos, online games and faster downloads.
Superfast(average speed: 150Mbps)
You can download or upload 1GB video in less than 2 minutes at 150Mb speeds.
Suitable for HD videos, online games and faster downloads.
Fast (average speed: 50Mbps)
It is not superfast, but is still fast enough to download or upload a video of 1GB in less than 4 minutes.
Ideal for browsing, watching videos and other general internet stuff.
Features
Hyperoptic Hub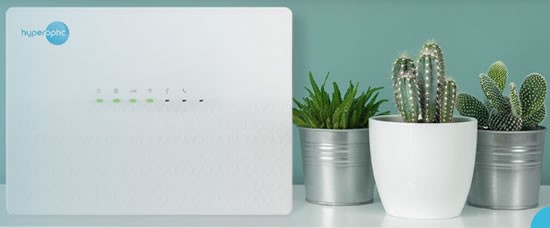 Hyperoptic Hub is a customised wireless router for gigabit speeds.
Available with single or dual band, it comes with with 4 Gigabit connections.
While installation, the Hyperotpic socket will be installed by an engineer before setting up the Hub.
All packages include the router (which usually costs £200) for no extra cost
Inclusive calls
All broadband & phone packages include free evening & weekend calls.
Full Fibre Broadband
Hyperoptic network is 100% fibre and it is built with optical fibre right from the exchange up to your premise. This type of pure fibre broadband to the home or premises (FTTH or FTTP) ensures speeds do not drop during data transfer. You get connection speeds very much closer to the advertised speeds.
Truly unlimited
No traffic management applies to keep your connection speeds faster all the time. No slow downs even at peak times.
Flexible contract length
All deals come with 12 month and 1 month rolling contracts.
Hyperoptic Broadband Availability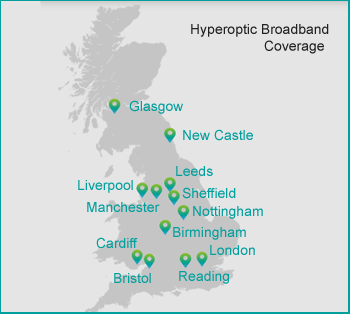 Hyperoptic's 1Gbps pure fibre broadband is available in selected areas, even in big cities. It is currently available in 12 cities in the UK including London, Glasgow, New Castle, Leeds, Liverpool, Manchester, Sheffield, Nottingham, Cardiff, Birmingham, Reading and Bristol.
Before installing its network, Hyperoptic first checks whether the area it is about to connect, has enough demand and is viable for its investments. Once enough people in a locality register their interest online, Hyperoptic starts to connect each building to its network with fibre cabling.
Summary
Reviewer
Review Date
Reviewed Item
Author Rating
Product Name
Hyperoptic Ultrafast Broadband