Summary
Reviewed by
Date
Provider/Deal
Rating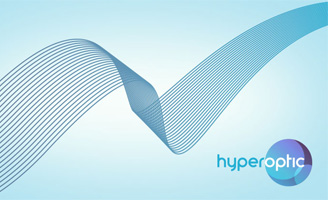 Hyperoptic is quite a different broadband provider from BT or Virgin Media, because, it does not offer just superfast speeds, but, offers ultra fast speeds of 1Gbps which is nearly 2 times faster than Virgin Media's fastest residential broadband service.Hyperoptic broadband speeds are more reliable and do not slow down at peak times.
Hyperoptic broadband packages
Hyperoptic offers three fibre packages which can be taken as broadband only or broadband & phone, depending on your requirements.
There are both residential and business grade packages which are available in similar speeds but differ in other features.
With residential plans, you get more freedom to customize. The contract terms are flexible as you can choose 12 month contract or no contract, whichever is suitable for you.
Fibre broadband 1Gb (average speed: 900Mbps)
With this ultra fast connection speeds, you can download or upload a video of 1GB size in less than 10 seconds. Great for gaming online, streaming HD videos and large downloads.
Fibre broadband 150Mb (average speed: 150Mbps)
You can download or upload 1GB video in less than 2 minutes at 150Mb speeds. Suitable for HD videos, online games and faster downloads.
Fibre broadband 50Mb (average speed: 50Mbps)
It is not superfast, but is still fast enough to download or upload a video of 1GB in less than 4 minutes. Ideal for browsing, watching videos and other general internet stuff.
Package
Average
Speed
Download
Calls
Cost
1Gb Fibre
12 month contract
Zero upfront cost

900Mbs
Unlimited
Evening &
Weekend
£46 /month
12 month discount
150Mb Fibre
12 month contract
Zero upfront cost

150Mbps
Unlimited
Evening &
Weekend
£27/month
12 month discount
50Mb Fibre
12 month contract
£20 activation

30Mbps
Unlimited
Evening &
Weekend
£21 /month
12 month discount
View Hyperoptic Broadband Only Deals
About Hyperhub router
This is single band WiFi router with capacity to handle up to 130Mbps speeds and comes with 4 Gigabit connections. Considering 1Gbps connection speeds, Hyperhub specs are disappointing and it is definitely not the right router to handle such speeds, though, it is good for 150Mb and 30Mb connections.
How Hyperoptic ultra fast fibre broadband is different from superfast networks
Hyperoptic network is 100% fibre means it is built with optical fibre right from the exchange up to your premise. This type of pure fibre broadband to the home or premises (FTTH or FTTP) ensures speeds do not drop during data transfer. You get connection speeds very much closer to the advertised speeds. Optical fibre also has better capacity to handle any volume of data traffic and it keeps connection speed unaffected by the length of wiring.
However, BT or Virgin Media networks are fibre only to the cabinet (FTTC) in the street from where copper or co-axial wiring starts and connects all the homes nearby. Copper, as we all know, can reduce the speed over distance, and there could be 10 to 20% speed drop, even when your home is near to the cabinet. The speed drops can also happen due to other factors for which copper is well known such as low capacity and incapable of handling network congestion etc.
Hyperoptic fibre broadband availability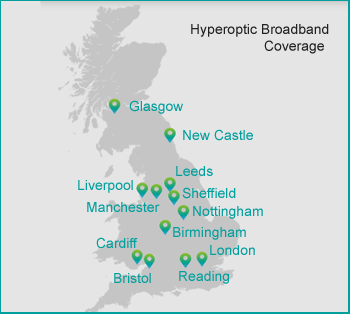 Hyperoptic 's 1Gbps pure fibre broadband is available in selected areas, even in big cities. It is currently available in 12 cities in the UK including London, Glasgow, New Castle, Leeds, Liverpool, Manchester, Sheffield, Nottingham, Cardiff, Birmingham, Reading and Bristol.
Currently, the provider has covered up to 100,000 buildings across the UK. However, Hyperoptic which has recently won £21m EU bank funding is set to expand its network coverage to connect more than 500,000 premises in the UK in the coming years.
Before installing its network, Hyperoptic  first checks whether the area it is about to connect, has enough demand and is viable for its investments. Once enough people in a locality register their interest online, Hyperoptic starts to connect each building to its network with fibre cabling.
How good is Hyperoptic broadband?
Here are the unique benefits that you get from Hyperoptic fibre:
All packages come with unlimited downloads and HyperHub wireless router
Upload speeds are as fast as download speeds on 150Mb and 1Gb packages.
No traffic management to keep your connection speeds faster all the time. No slow downs even at peak times.
All broadband & phone packages include free evening & weekend calls.
There is 24/7 customer support to resolve all your issues.
Terms and conditions
Here are the things you will need to note:
All Hyperoptic broadband packages include line rental cost.
If you choose broadband only option, £40 connection fee applies to all deals.
12 month contract applies to broadband & phone bundles and broadband only plans.
If you choose no contract option, £40 connection fee will apply.
30 days notice period applies to no contract broadband plans.