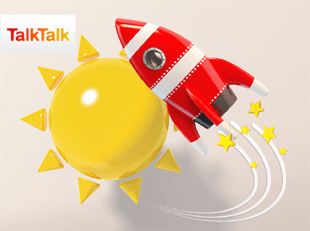 TalkTalk is one of the cheapest fibre broadband providers in the UK. It offers fibre packages with superfast speeds, totally unlimited usage and great extras like internet security. You can also add TV to make it a cost saving bundle.
Despite all these strong features, TalkTalk is often shamed by Ofcom reports for other things such as poor customer service, consumer complaints, the lowest customer satisfaction ratings etc., although, the ISP scores well in other surveys for value for money and ease of installation.
TalkTalk Fibre Broadband Deals
TalkTalk offers fibre broadband packages with two superfast speeds –  36Mbps (Faster Fibre) and 63Mbps (Faster Fibre with Speed Boost). These are average speeds meaning 50% of the UK customers can get these speeds from their ends.
All fibre packages come with totally unlimited usage, advanced, Super Router and SuperSafe internet security boost.
No call plan is included, while, landline calls to TalkTalk numbers are not chargeable. You can also make PAYG calls, whenever you need.
With TalkTalk, call plans like anytime calls and SuperSafe come as optional boosts which you can add or cancel at anytime with one month notice.
Package
Price
Faster Fibre

38Mbps average speed
Totally unlimited
No inclusive calls
Free setup  +
£50 voucher



 £21.95 a month for 18 months (includes line rental)
Faster Fibre
with Speed Boost

67Mbps average speed
Totally unlimited
No inclusive calls
Free setup 


 £25.95 a month for 18 months (including line rental)
TalkTalk Fibre Broadband Download and Upload speeds
Faster Fibre
Faster Fibre
with Speed Boost
Download Speed
(average)
38Mbps
67Mbps
Download Speed
(average real world)
 34.5Mbps
58.2Mbps
Upload Speed
(average)
9Mbps
17Mbps
Upload Speed
(average real world)
 2.1Mbps
N/A
We compared TalkTalk fibre performance on the basis of advertised speeds vs actual speeds (Ofcom speed survey Nov 2017) – and we found that the actual download speed was pretty good, close to advertised figure, however, there is huge difference between advertised TalkTalk fibre upload speed and real world speed.
Features
Totally unlimited fibre broadband
TalkTalk fibre packages come with totally or truly unlimited usage means TalkTalk does not throttle down your speeds at any time, even during peak hours (8pm – 10pm). However, your speeds could become slow, if you download/upload movies/files or make excessive downloads during peak times through B2B sites, torrents etc
TalkTalk WiFi Hub wireless Router
The new WiFi Hub is a dual band wireless router which is a Sagemcom make, capable of 300Mbps speed and 802.11ac compatibility.
With 4 Gigabit connections and 7 antennas, it comes with next generation WiFi technology to offer 2 x speed of Super router which is bundled with standard, ADSL 2+ package.
Its advanced chip set allows up to 50 devices to connect to Wi-Fi at the same time. It also comes with the best security technologies like WPS and WPA/WPA2.
Free Internet Security
TalkTalk offers free, basic level online protection with all packages. HomeSafe is in fact a web filter or parental controls which helps you block sites with inappropriate content, malware etc. it also protects your devices from malicious programs to certain extent.
However, SuperSafe internet security (available as boost) powered by F-Secure offers advanced level of protection from all kinds of threats from the web like viruses, malware and phishing etc.
What is TalkTalk fibre broadband good for?
TalkTalk offers low cost fibre packages to households with 2 to 4 internet users that want to stick to their budget.
If you are already a TalkTalk TV or mobile customer, you can bundle fibre to save money.
TalkTalk offers triple play packages, allowing you to get fibre broadband, calls and TV together. Both its basic TV and Plus TV bundles can be included  with fibre plans.
TalkTalk offers 30 days guarantee for customer satisfaction means new customers who are not happy with service, can cancel the service within a month without penalties.
TalkTalk fibre packages also come with no price rise guarantee for the whole contract
Limitations
No ultra fast broadband
Currently, TalkTalk fibre broadband offers average speed of 63Mbps, while other providers Virgin Media and BT offer even faster speeds.
Slow upload speed
TalkTalk fibre broadband upload speed is slow, when it compared to similar fibre plans from BT, Plusnet or Sky, according to Ofcom real world speed survey Nov 2017.
Poor customer service
Customer satisfaction is at the lowest level, while complaints volume is much higher, when compared to other major ISPs, according to the latest Ofcom report. The ISP is still struggling to improve customer service.
No extra services
Value added services like Cloud storage or public WiFi which are available with BT, Virgin Media or Sky are not available with TalkTalk.