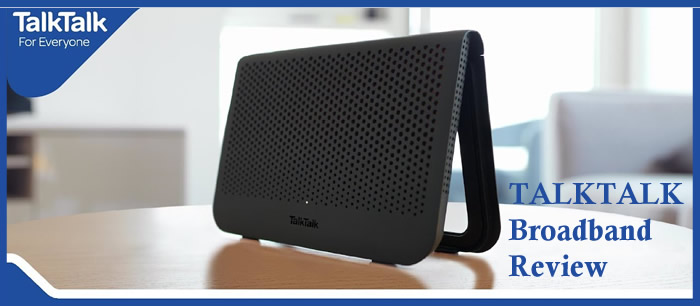 Our Rating 3.5/5
TalkTalk is well-known for its low-cost broadband, phone and TV services.
TalkTalk fibre broadband plans are competitively priced while its TV packages are significantly cheaper when compared BT, Virgin Media and Sky.
In addition to price discounts, TalkTalk deals also include free setup and gift vouchers, helping customers get best value for money.
What do you get with TalkTalk broadband?
TalkTalk offers both high speed broadband (ADSL 2+) and superfast & ultrafast fibre broadband with totally unlimited usage at unbeatable prices.
Totally unlimited usage ensures your speeds and data usage never get affected at any time including peak times of network congestion. It means no traffic management applies.
TalkTalk broadband comes with 30 Day Great Connection Guarantee which means you can cancel the service within 30 days, if you are not satisfied
TalkTalk ADSL plans include Super Router which comes with the latest WiFi ac feature and very advanced security standard for faster, more reliable and more secure home WiFi.
The new, WiFi Hub is included with fibre broadband plans without additional costs.
You get HomeSafe parental controls to protect all devices and your family from harmful, online contents and malware such as virus.
All TalkTalk broadband dual packages come with free connection.
TalkTalk TV is a great entertainment feature which you can add to your broadband.
TalkTalk TV packages are affordable and much cheaper than Sky TV or Virgin TV bundles. There are flexible options available so you can add your favourite TV channels without any need to commit to long contracts.
TalkTalk Broadband Deals
TalkTalk offers both ADSL and fibre broadband options while its fibre broadband plans are more popular for speeds, reliable connectivity and better value for money.

Fibre 35
38Mb average speed
Unlimited downloads
PAYG calls 
Offer: Free setup 
Cost: £20 p/m
More Info

Fibre 65
67Mb average speed
Unlimited downloads
PAYG calls 
Offer: Free setup + 
£85 voucher
Cost: £20 p/m
More Info

Fibre 150 Broadband
145Mb average speed
Unlimited downloads
PAYG calls 
Offer: Free setup + 
£85 voucher
Cost: £29.95 p/m
More Info
TalkTalk Fast (11Mbps down / 1Mbps up) – More suited for light usage such as browsing and online shopping than for HD streaming and quicker downloads.
TalkTalk Fibre 35 (38Mbps down / 9Mbps up) – Good for a couple of users, streaming and downloading.
TalkTalk Fibre 65 (67Mbps down / 18Mbps up) – Perfect for HD streaming and connecting 2 – 4 devices.
Fibre 150 (145Mbps down / 18Mbps up) – Ideal for heavy usage, 4K streaming and connecting 5+ users.
All TalkTalk broadband packages come with totally unlimited usage, advanced, WiFi Hub router and HomeSafe online protection.
TalkTalk broadband packages include home phone with PAYG calls. You can upgrade it to anytime calls or add international call plans.
Standard Broadband (ADSL 2+)
TalkTalk standard or ADSL plans come with slower speeds when compared to fibre plans.
TalkTalk Fast Broadband
It's entry level plan which comes with 11Mbps average download speed, totally unlimited data and PAYG calls.
Superfast Fibre Broadband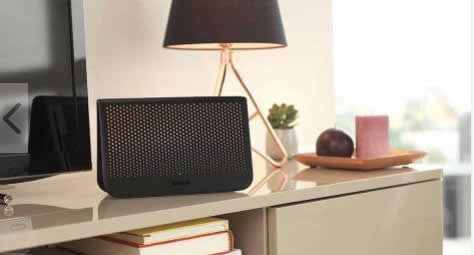 TalkTalk Fibre 35 offers 38Mb average speeds which is two times faster than standard broadband and helps you connect more devices and stream HD videos..
TalkTalk Fibre 65 is faster fibre plan from TalkTalk, offering average download speed of 67Mbps.
This is an ideal plan for busy households and for HD and 4K streaming, online gaming and downloading.
Fibre users can get the best out of their connections using the latest WiFi Hub which can deliver superfast fibre speeds with improved WiFi coverage.
TalkTalk broadband, phone and TV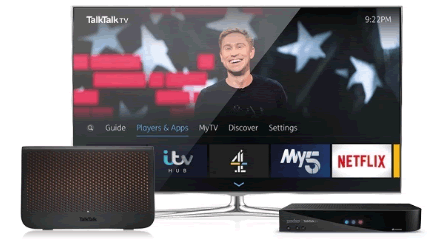 TalkTalk TV is not available as standalone service but as a part of triple play packages that include broadband, phone and TV.
If you are a broadband customer, you can just add it from just £6 a month.
TalkTalk TV is a basic TV service which offers freeview channels via YouView box. Additional TV box or multI-room TV subscription would cost extra.
There are 88 freeview channels and 15 of them are available in HD.
You can subscribe for Now TV, BT Sport, Neflix and Amazon Prime Video and watch these extra channels using the apps available in the YouView box.
Now TV memberships give you access to Sky Sports, Sky Cinema and other popular Sky channels.
TalkTalk Broadband Features
Totally unlimited fibre broadband
TalkTalk broadband is totally or truly unlimited which means you can make unlimited downloads without any worry for hidden caps.
Similarly, TalkTalk does not throttle down your speeds at any time, even during peak hours (8pm – 10pm).
Free Internet Security
TalkTalk offers free, basic level online protection with all packages. HomeSafe is a web filter or parental controls which helps you block sites with harmful content. it also gives basic protection to your devices from malware and viruses.
However, SuperSafe, powered by F-Secure offers advanced level of protection to your devices from viruses, malware and phishing.
TalkTalk WiFi Hub wireless Router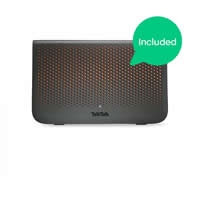 The new WiFi Hub is a dual band wireless router which is a Sagemcom make. TalkTalk WiFi hub comes with 802.11ac and gigabit connections.
With 4 Gigabit connections and 7 antennas, WiFi hub can offer significantly faster speeds when compared to its predecessor, Super router which is bundled with standard, ADSL 2+ package.
WiFi hub can connect up to 50 and also comes with advanced security features like WPS and WPA/WPA2.
Is TalkTalk broadband good for speeds?
We compared TalkTalk fibre performance on the basis of advertised speeds vs actual speeds during peak times(Ofcom broadband speed report May 2020) – and we found that the actual download speed was pretty good, close to the advertised speeds
Fibre 35
Fibre 65
Fibre 150
Download Speed
(advertised)
38 Mb/s
67 Mb/s
145 Mb/s
Download Speed
(actual)
32.8 Mbps
56.7 Mb/s
144.3 Mb/s
Upload Speed
(advertised)
9 Mb/s
17 Mbps
25 Mb/s
Upload Speed
(actual)
N/A
N/A
N/A
Is TalkTalk fibre broadband any good?
TalkTalk is hugely popular for low cost broadband and phone deals. While its customer service is decent, it remains a budget provider for the UK homes that look out for great value for money .
While providing great service quality and content, TalkTalk TV packages also help you save money.
The big discounts & vouchers that come with new subscriptions have made TalkTalk one of the cheapest broadband providers in the UK market.
Pros
Low-cost fibre broadband
TalkTalk offers low cost fibre packages to help households make great savings.
Special offers
TalkTalk broadband often comes with discounted deals and gift vouchers.
Connection speeds guarantee
TalkTalk offers 30 days connection guarantee which means new customers who are not happy with the service and speeds, can cancel the service in the first month without cancellation fee.
Cons
Improving customer service
Customer satisfaction was at the lowest level, while complaints volume was much higher, when compared to other major ISPs, according to the latest Ofcom report. The ISP needs to improve the quality of its customer service.
No extras
Value added services like Cloud storage or public WiFi which are available with BT, Virgin Media or Sky are not available with TalkTalk.