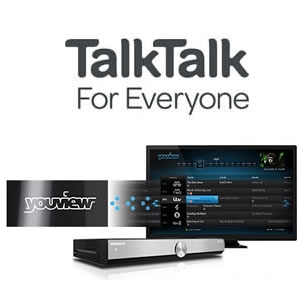 With its improved TV service and new features like Netflix and TalkTalk TV store, TalkTalk has become a leading pay TV provider in the UK. TalkTalk offers some of the low cost TV bundles with options to add premium channels such as BT Sport, Sky Cinema and Sky Sports as TV boosts.
To get TalkTalk TV, you need to be its existing broadband customer or subscribe for its triple play service which bundles broadband, calls and TV as a package.
The usual catch up feature allows you  to watch the TV shows you missed in the last 7 days. Alongside TV shows, there are thousands of on-demand movies and videos that you can rent or purchase from its TV Store.
Features

YouView TV box and YouView+ TV box
TalkTalk TV is delivered via YouView set top boxes which comes with built-in aerial socket to access freeview channels via terrestrial broadcasting. It allows you to watch up to 80 Freeview channels including 15 HD channels like BBC News, ITV, Channel 4 and CBBC.
YouView box is HD enabled and comes with pause and rewind for 30 minutes. You can access seven day catch-up, popular online video players such as ITV, Demand 5, All 4 and BBC iPlayer and streaming websites such as Netflix.
The variant, YouView+ box comes with a video recorder and 300GB storage to back up 200 hours of live TV content.
TalkTalk TV packages
TalkTalk offers two TV packages to its new and existing TalkTalk broadband customers –  TV and Plus TV.
TalkTalk TV bundle
TalkTalk TV triple play package includes YouView box which can pause and rewind for up to 30 minutes and also offers you catch up version of TV shows.
Along side the 80 Freeview channels plus 15 HD channels, you can get more channels by subscribing to TV boosts like Entertainment, Kids, Sky Sports and Sky Cinema.
You can download the latest movies, stream them or watch them on the go using TalkTalk Go app.
You can rent and buy the latest movies from TalkTalk TV store.
Fast broadband (11Mbps), PAYG calls and free calls to Talktalk landline numbers are included.
TalkTalk TV with Fibre
TV and fibre packages allow you to choose Faster Fibre (38Mbps average speed) broadband or Superfast Fibre (67Mbps average speed) with PAYG calls as standard.
TalkTalk TV Plus bundle
TV Plus customers get the second generation YouView+ box which can record up to 185 hours of live TV shows along with pause & rewind functionality.
The TV pack includes 80+  freeview channels (15 in HD) and catch up TV.
You can also add extra channels by subscribing for TV boosts or rent or buy your favourite films from store. 
The bundle includes Fast broadband and PAYG calls.
TalkTalk TV Plus with Fibre
This fibre and TV bundling option allows you to choose Faster Fibre(38Mbps) or Superfast Fibre (67Mbps) broadband with Plus TV.
TalkTalk TV Boosts
These are add-ons available for extra subscription. They come with flexible, one month contract. You can add or cancel them at any time, however, minimum one month subscription is required.
Boosts will be automatically rolled over to next month by the end of contract, unless you cancel them.Once you have bought a specific boost, you can access the channels in that boost via on demand player and TV guide.
Here, is the list of TV boosts and add-on channels
Entertainment
30 channels including Sky One, Fox, History and Comedy Central
TV Select 
15 popular channels featuring British drama and the best US series
Kids Boost
Popular kids channels including Disney channel, Nick Jr and Cartoon Network.
Sky Sports
8 Sky Sports channels included. Access to rugby, 126 Premier League games, golf and cricket.
Box Nation 
24/7 Boxing channel with live events
Sky Cinema
11 Sky Cinema channels included plus 1,000+ on demand movies and a new premiere every day.
BT Sport 
Access to BT Sport channels
Summing-up
TalkTalk TV packs do not offer as many premium channels as BT, Sky or Virgin Media.
YouView box which is bundled with standard TV package can not rewind live TV shows for more than 30 minutes. There is no recording feature in this set-top box.
YouView+ box also lacks storage as it comes with a smaller 300GB hard disk when compared to Sky Q box or Virgin V6 box which come with 1TB storage.
TV boosts like Sky Sports and BT Sport can make packages expensive.
Over-all, TalkTalk TV packages are value for money with great customer support
Give Your Rating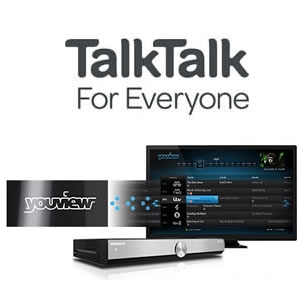 Author Rating
Provider
Package