Last updated on June 6th, 2021 at 11:40 am

Plusnet offers reliable broadband, cheap fibre packages and the best customer service so it is one of our best picks from the leading UK broadband providers for value for money and affordable pricing.
Along with the low-priced fibre broadband deals, Plusnet also offers money-saving home phone plans, flexible contracts of 18 month, 12 month & 1 month and low-cost Plusnet TV service.
Pros
Reliable speeds and good service.
Cheaper when compared to BT , Virgin Media and Sky.
Excellent, UK based customer support
Cons
Lack of ultrafast plans
Plusnet TV offers freeview channels but does not offer a range of TV & broadband packages like Sky, Virgin Media and BT
Plusnet Broadband Deals

Plusnet offers standard (ADSL) as well as fibre broadband packages that include landline service with pay as you go calls as standard.
Standard Broadband
Plusnet Unlimited is ADSL plan which comes with 10Mbps average download speed and 1Mbps average upload speed. Although the speeds are slower than fibre plans, Unlimited is suitable for browsing and YouTube streaming on a single device.
Fibre Broadband
Plusnet fibre packages two different speeds.
Plusnet Unlimited Fibre offers 36Mbps average download speed and 9Mbps average upload speed. Speeds are significantly faster than standard broadband and helps you stream HD videos and connect multiple devices.
Plusnet Unlimited Fibre Extra comes with 66Mbps average download speed and 18Mbps average upload speed. Fibre Extra is ideal for busy households with multiple devices.
Terms of use
All Plusnet broadband packages come with truly unlimited usage, no download limits and no traffic management during peak times. Plusnet does not slow down your connection speeds at any time.
Plusnet WiFi Routers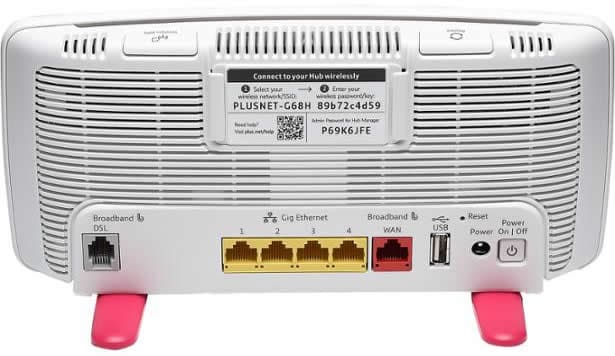 Plusnet offers the basic Hub Zero router (Plusnet 2704n) to standard, Unlimited customers. It is ideal for ADSL speeds and comes with 4 ethernet connections, WPS setup and WiFi button.
Plusnet Fibre customers get Hub One router which is dual band wireless ac router with 4 gigabit connections. It also has a USB port and smart scan feature to offer faster fibre speeds.
Plusnet Call Plans
While Plusnet offers free calls to Plusnet Support and other Plusnet landline numbers with all broadband packages, customers can upgrade to following call plans:
Evening, weekend, UK and mobile calls
Unlimited UK and mobile calls
Anytime International 300 – Includes 300 anytime minutes + 25% discount on calls to 35 international destinations.
Plusnet TV

Plusnet offers basic TV service which includes freeview and entertainment channels and can be viewed using YouView+ box. BT Sport 1 channel is included.
You can add more channels & HD channels by subscribing to add-ons. You can also get all BT Sport channels with an add-on.
However, Plusnet TV could not be the best option of TV lovers who are used to watching the premium channels from Sky, BT and Virgin Media.
Is Plusnet broadband any good?

Plusnet has been quite known as a reputed provider with more number of satisfied customers than its rivals for over many quarters.
According to Ofcom customer satisfaction report 2021, Plusnet has more satisfied customers (81%) than other providers.
Here are the facts from Ofcom's latest broadband surveys in 2019 and 2020:
More than three-fourths of Plusnet customers (86%) are happy with Plusnet, according to Ofcom report published in January, 2020
According to Ofcom broadband speed report 2019, Plusnet's Unlimited (10Mbps avg. speed) offered real-world speed of 12.9Mbps during peak times
Plusnet Fibre Unlimited (36Mb average speed) delivered real world speed of 32.8Mbps speed.
Plunset Fibre Extra (66Mb average speed) offered the average speed of 61Mbps.
In terms of broadband and phone complaints, Plusnet generated slightly higher volume of complaints in Q3 2019, according to Ofcom.
Over-all, Plusnet offers a low-cost broadband and phone service with great customer service while Plusnet fibre broadband plan are super-affordable and great money savers, when compared to Virgin Media, BT and Sky.
Summary
Reviewer
Review Date
Reviewed Item
Author Rating
Product Name
Plusnet Broadband and Phone