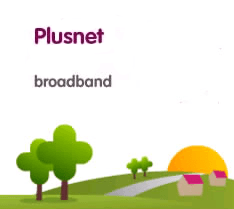 If you look out for reliable broadband with great value for your money and excellent customer support, Plusnet could be one among the best picks from the leading UK broadband providers.
Along with cheap fibre and broadband deals, it also offers other options for your specific needs such as broadband only and short-term contracts
Plusnet Broadband Deals
Plusnet offers ADSL and fibre broadband plans that come with pay as you go calls as standard. 
When it comes to speeds and usage allowance, Plusnet offers truly unlimited broadband without any hidden caps or traffic shaping to ensure that you get faster speeds even at peak times.

Unlimited


10Mb
average speed
Unlimited
downloads
PAYG calls
Offer:
£75 cashback
Cost:
£19.99 p/m
More Info

Unlimited Fibre


36Mb
average speed
Unlimited
downloads
PAYG calls
Offer:
£70 cashback
Cost:
£22.99 p/m
More Info

Unlimited Fibre Extra


66Mb
average speed
Unlimited
downloads
PAYG calls
Offer:
£70 cashback
Cost:
£26.99 p/m
More Info
Standard plan
Plusnet Unlimited broadband offers 10Mbps speeds and unlimited downloads, Hub Zero wireless router, free calls to Plusnet support & Plusnet numbers.
Plusnet broadband comes with fixed price guarantee, SafeGuard online protection and 24/7 UK based customer support. 
Fibre plans
Plusnet Unlimited Fibre comes with 36Mbps average download speed, Hub One router and PAYG calls.
Plusnet Fibre Unlimited offers 5 times faster speeds when compared to regular broadband,  so you can watch HD videos and TV shows for the best experience.
Plusnet Unlimited Fibre Extra comes with 66Mbps speeds which must be ideal for homes with 6+ internet users.
Features
 Plusnet is one of the low cost broadband and phone providers with great reputation for quality and customer service.
For typical UK homes that want to stick to budget, Plusnet is more affordable option than  BT, Virgin Media and Sky which usually make you pay more for the same service.
Plusnet line only packages are the best option to start with. You can add a suitable call plan or upgrade to fibre at any time.
Plusnet fibre packages are reasonably priced and great option to save money.
There are flexible contract lengths you can choose from – 12 or 18 months.
Plusnet broadband, phone and TV
Plusnet has launched their own TV service following BT and TalkTalk. It allows you to watch freeview and entertainment channels via YouView box.
Like other TV operators, Plusnet also allows its customers to add premium channels & HD channels with extra subscription.
However, Plusnet TV could not be the best option of TV lovers who are used to watching Sky, BT and Virgin Media.
However, you can add your favourite channels like BT Sport and Sky Cinema with extra subscription.
Customer satisfaction
Plusnet has been quite known as a reputed provider with more number of satisfied customers than its rivals for over many quarters.
Here are the facts from Ofcom's latest broadband surveys in 2019 and 2020:
More than three-fourths of Plusnet customers (86%) are happy with Plusnet,  according to Ofcom report published in January, 2020
According to Ofcom broadband speed report 2019, Plusnet's Unlimited (10Mbps avg. speed)  offered real-world speed of 12.9Mbps during peak times
Plusnet Fibre Unlimited (36Mb average speed) delivered real world speed of 32.8Mbps speed.
Plunset Fibre Extra (66Mb average speed) offered the average speed of 61Mbps.
In terms of broadband and phone complaints, Plusnet generated slightly higher volume of complaints in Q3 2019, according to Ofcom.
Verdict
Plusnet is one of the best options when you look out for  a low-cost broadband and phone service. Plusnet fibre plans are competitively priced and great money savers, when compared to Virgin Media and BT. 
Reliable customer support has been a hall-mark of Plusnet. It is available for 365 days a year. 
Summary
Reviewed by
Date
Provider
Rating
Package
Plusnet Broadband and Phone