Why choose Virgin Media?
One of the best fibre optic broadband with a range of speeds 50Mb – 200Mb with wider coverage and excellent reliability.
Virgin Media broadband comes with state-of-art Super Hub wireless router, free WiFi access on London Tube stations and Web Safe & F-Secure online security.
Virgin Media Big Bundles are tailored broadband, TV & phone packages to meet the needs of most homes with great features and flexible pricing.
How good is Virgin Media broadband?
Over-all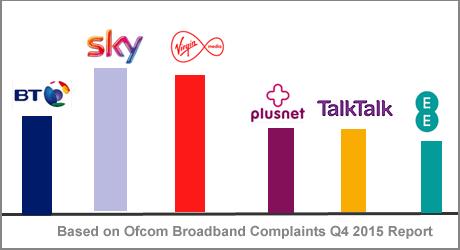 Speeds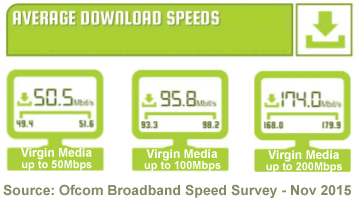 Package Type
Virgin Media
SKY
PLUSNET
EE
TALKTALK
BT
up to 17Mb
N/A
Average ADSL 2+ UK speeds 8.4Mbps
up to 38Mb
N/A
33.4Mbps
33.3Mbps
34.3Mbps
33.4Mbps
34.9Mbps
up to 50Mb
50.5Mbps
N/A
N/A
N/A
N/A
N/A
up to 76Mb
N/A
60Mbps
56.4Mbps
62.3Mbps
N/A
59.3Mbps
up to 100Mb
95.8Mbps
N/A
N/A
N/A
N/A
N/A
up to 200Mb
174Mbps
N/A
N/A
N/A
N/A
N/A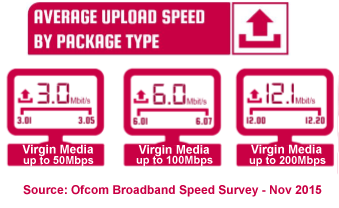 | Package Type | Virgin Media | SKY | PLUSNET | EE | TALKTALK | BT |
| --- | --- | --- | --- | --- | --- | --- |
| up to 17Mb |  N/A |  0.9Mbps |  0.8Mbps |  0.9Mbps | 0.8Mps | 0.9Mbps |
| up to 38Mb | N/A | 8.4Mbps | 11Mbps | 8.2Mbps | 2.1Mbps | 8.2Mbps |
| up to 50Mb | 3Mbps | N/A | N/A | N/A | N/A | N/A |
| up to 76Mb | N/A | 16Mbps | 16.1Mbps | 17.1Mbps | N/A | 15.2Mbps |
| up to 100Mb | 6Mbps | N/A | N/A | N/A | N/A | N/A |
| up to 200Mb | 12.1Mbps | N/A | N/A | N/A | N/A | N/A |
Source: Ofcom UK Home Broadband Performance Report – March 2016
Customer Service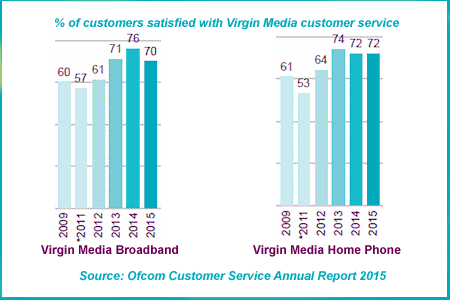 | | | |
| --- | --- | --- |
| Provider | Broadband | Home Phone |
| Virgin Media | 70% | 72% |
| Sky | 80% | 79% |
| BT | 60% | 69% |
| TalkTalk | 53% | 56% |
Source: Ofcom – Quality of Customer Service Report 2015
Virgin Media Broadband
If you are new to Virgin Media cable broadband, the installation would be easy and as simple as getting a BT line. However, if you switch from BT or other providers to cable network, you may need to arrange switching in advance to ensure seamless connectivity.
As for connection speeds, you can choose from 50Mbits/s, 100Mbits/s and 200Mbits/s. Next comes the choosing of bundling of other services like Virgin Phone and Virgin TV or even Virgin Mobile for an extra £5 a month.
If you do not want bundles, you can just opt for broadband-only packages which do not require you to pay line rental which can save £17.99 a month, however, this option usually comes with higher monthly broadband cost and is also not promoted by the provider with discounts, bill credits and gift vouchers means you could miss out the most popular and best value deals.
Virgin offers two bundling options – Virgin Media broadband & phone and Virgin Media broadband, TV & phone with the latter allows you to choose from four Big Bundles which offer tailored packages of all three services to suit different needs of customers. Virgin Mobile SIM can be added to your Big Bundle if your prefer.
Virgin Media TV
Virgin Media digital TV offers more than 245 channels which include 60+ HD channels, 50+ Sky channels, BT Sport, Sky Sports plus hundreds of on-demand videos. You can add popular on-demand movie services like Netflix.
You get free Tivo settop box as standard or you can opt for V HD box for watching HD movies, TV shows and videos. TiVo is exclusive Virgin product which comes in two storage capactities – 500GB and 1TB and allows you to pause, rewind and record TV shows. You can record up to 3 channels and watch the channel which you already recorded.
You can catch up the shows from popular channels like ITV player, 4OD and Sky on demand to watch them later. What's more this device is compatible with multiple devices like PC, table and mobile.
Virgin Media Home Phone
Virgin Media phone, just like its reliable and quality broadband, has earned good levels of customer satisfaction. For all your phone needs, there is an extensive range of call plans available such as:
Talk Weekends
Talk Evenings & Weekends
Talk Unlimited
Talk Unlimited Extra
Talk Anywhere
Talk Mobile
Talk International
You need not subscribe to call plan if you choose dual or triple-play bundle, as Talk Weekends or Talk Anytimes are included free of cost. Plus unlimited calls to Virgin Mobile numbers also come free as standard.
Virgin Media WiFi and Smartcall App
Virgin Media customers can access free WiFi in London Tube Stations and in areas where Virgin Media has built its own WiFi network.
Virgin Media SmartCall App is convenient app for your mobile devices to connect to WiFi to make cheaper calls.
Our View and Review of Virgin Media
Virgin Media superfast broadband comes through cable network which is completely owned by the provider itself. It is fibre optic technology make over of Virgin Media broadband which distinguishes it from the widely available BT's copper based ADSL 2+ network. This superior network enables Virgin to deliver download speeds of 200Mbps to more than 14 million homes across the UK.
The main highlights of Virgn Media service are ultra-fast fibre optic broadband packages with 50Mb as standard, fully HD enabled TiVo TV packs and quad-play offerings which include TV, broadband, phone and mobile as bundles.
As a Virgin customer, you can make most out of your communication services as the company regularly upgrades its services with cutting end technologies, so you can be rest assured of quality, whether it is broadband or digital TV.