Last updated on April 12th, 2021 at 02:51 pm

With an average download speed of 108 Mb/s, Virgin Media M100 Fibre broadband is best suited for busy households with 5+ users, for streaming HD videos and quicker downloads.
Significantly faster than BT fibre optic broadband (67 Mb/s), this plan comes with excellent features like Intelligent WiFi and great pricing.
According to Ofcom's latest annual broadband providers' speeds report released in May 2020, Virgin Media M100 fibre delivered an average real world speed of 107.3Mbps to the UK homes during peak times (8pm – 10pm).
M100 Fibre Broadband Deals
M100 deals are simple and straightforward to help you choose the right package that may best suit your needs. You can choose any one of the following options with M100 fibre as the broadband plan of the bundle.
Broadband and Phone
Broadband Only
Broadband with SIM
Broadband and TV

Packages added with Oomph will include Virgin Mobile 4G SIM with 5GB data. You can personalise all the deals when you sign up, by upgrading to faster speeds, call plans, more TV channels and additional 4G mobile data
M100 Broadband and Phone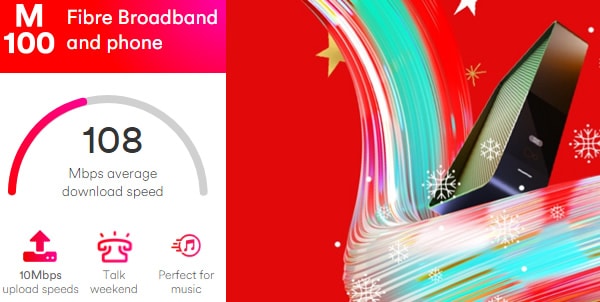 When you choose broadband with phone, you get home phone, Talk Weekends, Virgin Media Hub 3 along with M100 fibre broadband.
Details
More info
M100 Fibre Broadband
108 Mb/s average download speed
10 Mb/s average upload speed
Virgin Phone line
Line rental included
Talk Weekends
Phone calls to 0870 numbers included
(at weekends)
Virgin Media Hub 3
Dual band, fibre router included
Extras
Free voicemail included
Installation & activation
£35 setup
Contract length
18 months
Monthly cost
£34 a month
for 18 months (then
£51.00 a month)
M100 Broadband Only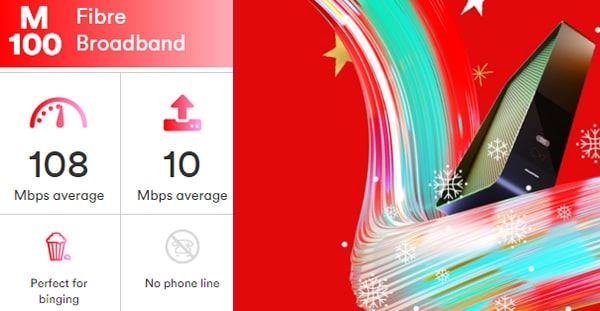 You get no phone line when you opt for M100 broadband only plan. Ideal option for households that do not need landline service to make home phone calls.
Details
More Info
M100 Fibre Broadband
108 Mb/s average download speed
10 Mb/s average upload speed
Home Phone
No Phone line
Virgin Media Hub 3
Dual band, fibre router included
Installation & activation
FREE
Contract Length
18 months
Monthly cost
£24.00 a month
for 18 months
This is our exclusive offer. Free setup + £75 voucher included till 14th April 2021
Broadband and TV
You can personalise a Virgin TV bundle with M100 fibre broadband. You can choose from two TV packages – Mixit TV or Maxit TV with Virgin TV V6 Box.
Mixit TV is the basic TV pack with 110+ TV channels and you can add your favourite Entertainment, Sport and Movie Mixes. Maxit TV includes 220+ channels and all Entertainment Mixes are included.
You can add Sky Cinema, Sky Sports and Netflix and combine all bills with Virgin Media
Big Bundle
(Mixit TV)
Bigger Bundle
(Maxit TV)
Broadband
M100
M100
TV
110 channels
220 channels
Phone
Talk Weekends
Talk Weekends
Equipment
included
Virgin Media Hub 3
Virgin TV 360 Box
Virgin Media Hub 3
Virgin TV 360 Box
Installation
£35 setup
£35 setup
Cost
£39.99 a month for 18 months
(then £62 a month)
18 month contract
£57 a month for 18 months  
(then £82 a month) 
18 month contract
M100 Fibre broadband comparison
Ultrafast M100 fibre broadband is relatively faster and more reliable than similar plans from BT, Sky, TalkTalk and EE. Also we find, M100 is attractively priced and offers superb value for money.
As we compare these providers, here are our findings:
Features
Intelligent WiFi

Virgin Media promises to offer super, reliable WiFi using their latest Intelligent WiFi technology which enables you to remove WiFi black spots in your home with the new Hub 3 wireless router and WiFi boosters.
Hub 3 is designed to deliver the faster WiFi speeds wherever you are in your home. Using Connect Apps and Boosters, you can get stronger WiFi signal without any issues.
FAQ
Is M100 totally unlimited broadband?
M100 fibre broadband is a truly, totally unlimited plan with no traffic management. No fair usage policy applies. The provider does not slow down connection speeds during peak times
Is M100 fibre broadband any good?
As an entry-level package, M100 offers ultrafast speeds at a great price. From light to heavy usage, it's an ideal plan to browse, stream and connect multiple devices.
Does paper billing cost extra?
Paper-less billing is included, however, paper bill will cost £1.5 extra a month
Is Virgin Media WiFi free and how can I use it?
Virgin Media WiFi is available via the provider's WiFi hotspots and at 250 Tube stations on the London Underground.
Virgin Media offers Connect app which you can install on your android smartphone or iPhone. You can install this app on a maximum of 7 devices.
Related Reviews
Summary
Reviewer
Review Date
Reviewed Item
Virgin Media M100 Fibre Broadband
Author Rating
Product Name
Virgin Media M100 Fibre Broadband