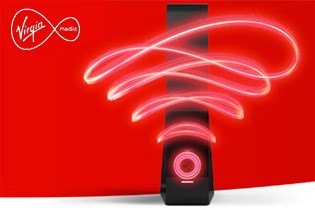 Virgin Media  M100 Fibre broadband, previously, VIVID 100 (average speed: 108Mbps) is an ideal package for households that look out for high performance broadband connection at an affordable pricing.
If the premise has up to 10 users who need to access the web at the same time for streaming TV and on demand in HD or downloading or for gaming online, this award winning broadband provider is indeed a great pick.
According to Ofcom's latest annual broadband providers' speeds report released in April 2018,  Virgin Media VIVID 100 delivered  an average real world speed of 97.2Mbps to the UK homes during  peak times (8pm – 10pm).
Best features
M100 optical fibre  broadband offers an average download speed of 108Mbps download speed and 6Mbps upload speed.
Unlimited data usage allowance for every month
Faster than double speed,  BT (Openreach) based fibre broadband (67Mbps)
Nice bandwidth to support 5 to 9 devices to go online without slowing down the connection speeds
Excellent speeds that would enable users watch HD videos, movies and 4k  ultra HD content online without buffering.
Hardware like Super Hub wireless router 3.0 included for no extra cost
Flexible 1 month contract also available along with 12 month contract
VIVID 100 & calls includes free weekend UK landline calls and calls to Virgin Mobile numbers
Free access to Virgin Media WiFi on the London Underground.
Web Safe to help families protect themselves from unsafe and inappropriate online content.
Virgin Media M100 Fibre Broadband Deal
Average speed


108Mbps download
6Mbps upload
Free Super Hub 3.0 WiFi router
Unlimited broadband
12 month contract
Inclusive weekend calls to UK landlines
 £35 setup cost
Online protection
Special price
Offer Price:  £33 a month for 12 months (including  line rental)
Things you need to know
M100 Fibre is not totally unlimited broadband plan means traffic management applies during peak times, although Virgin Media claims that 95% of its customers are unaffected by its traffic shaping norms.
Activation fee will apply when  you choose 30 days rolling contract
Competitors such as Plusnet and TalkTalk offer cheaper fibre packages which could appeal from price point.
Switching to Virgin Media cable broadband from ADSL network like BT or TalkTalk could involve some downtime.
Frequently Asked Questions
Do I have to pay line rental?
Virgin Media monthly line rental £19.00 a month is included in the monthly price, when you sign up for M100 fibre broadband and calls.
Line rental saver is available when you pay  £196 in advance for 12 months
Can I get Virgin M100 without phone line or line rental?
Yes, Virgin Media also offers broadband only plans which help customers choose from its fibre broadband packages which do not include line rental or phone line and inclusive calls.
They are cheaper and would help you make significant savings over a year. You can choose 12 month or 1 month contract that best suits your needs.
Do I get Virgin Media Super Hub 3.0 Wireless Router?
Virgin Media offers the latest version of its Super Hub with all deals. Its new Intelligent WiFi feature would scan wifi blackspots in your home and can boost wireless signal.
Super Hub 3 is the fastest and the most reliable WiFi router with advanced security features. This award winning router is included for no extra cost, when you sign up for VIVID 100.
Is Virgin Media WiFi free and how can I use it?
Virgin Media WiFi is available via the provider's WiFi hotspots and at 250 Tube stations on the London Underground.
Virgin Media offers WiFi Buddy app which you can install on your android smartphone or iPhone.  You can install and this app on a maximum of 7 devices. Register the device before start using.
Summary
Reviewed by
Date
Provider/Deal
Virgin Media M100 Fibre Broadband
Rating