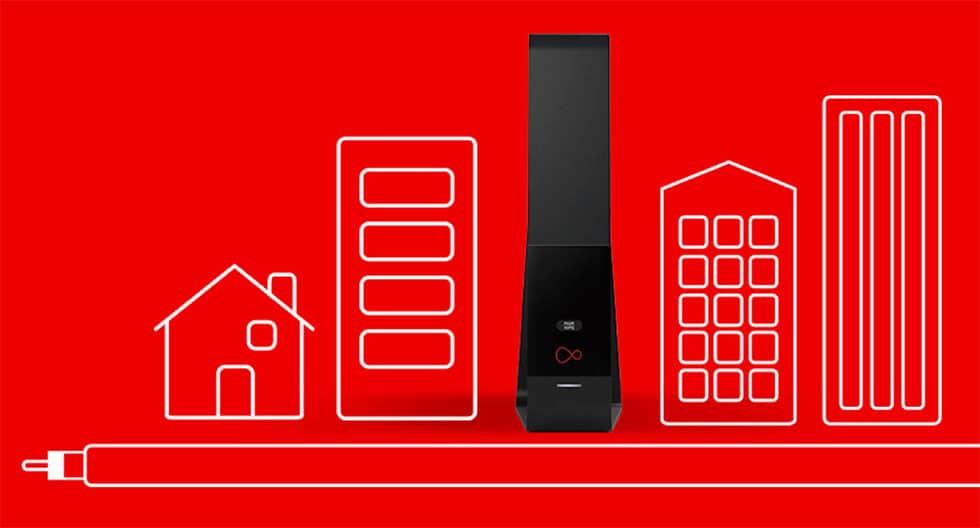 Our Rating 4/5
What is Virgin Media M500 broadband?
Virgin Media M500 is one of the fastest fibre broadband plans that helps super busy homes connect multiple devices and get reliable connectivity & speeds for 4K streaming, video calling and online gaming.
M500 offers ultrafast speeds that is nearly 10 times faster than Virgin's starter level fibre plan (M50) and the plan is also competitively priced and is available with various options.
You can get M500 as broadband only, or you can add Virgin phone and Virgin TV to get better value for your money.
The plan also allows you to add Virgin 5G SIM which is available when you apply for Oomph bundles.
Overall, Virgin Media M500 is a great option when you look out for features like ultra-fast speeds, bundling and customisation.
How fast is Virgin Media M500?
Virgin Media M500 fibre broadband offers average download speeds of 516Mbps. It is also superfast when it comes to upload speeds. The plan comes with an average upload speed of 36Mbps.
With these ultrafast speeds, you can do all the bandwidth intensive jobs without any hassle – 4K TV streaming, downloads, playing games online and uploads, even when you connect more devices in different rooms.
Average
download speed
Average
upload speed
Monthly
cost
Virgin Media M500
516Mbps
36Mbps
£46
Virgin Media M350
362Mbps
36Mbps
£40
Sky Ultrafast Plus
500Mbps
60Mbps
£43
BT Full Fibre 500
500Mbps
72Mbps
£49.99
Hyperoptic
500Mbps
500Mbps
£30
Virgin Media M500 Broadband Packages

Setup cost
Monthly
cost
M500 broadband
and phone
£35
£46
Bigger bundle
(M500 + Talk Weekends
+ 190+ TV channels)
£35
£61
Once you decide to take up M500 plan, you just need to browse through the packages which help you add other services like phone and TV or even choose the plan without phone line
Here are the options that you get with Virgin M500 fibre broadband:
M500 broadband and phone
M500 broadband and TV
M500 broadband only
M500 broadband and phone package comes with Talk Weekends which include unlimited weekend calls to UK landlines and UK mobile numbers.
M500 broadband and TV bundles offer the flexible customisation to help you add Big / Bigger bundle or choose add-ons such as Sky Cinema and Sky Sports.
Virgin Media M500 Oomph bundles are slightly different from regular bundles and when you choose an Oomph bundle with M500, you get Virgin Mobile SIM with monthly data, unlimited minutes and texts.
M500 broadband only plan comes without Virgin Phone line however, it is more expensive than M500 bundles.
What is Virgin Media M600 broadband?
Virgin Media M600 broadband is a free speed upgrade from M500 to M600 for the Virgin Media Ultimate Oomph bundle customers and gives a speed boost of 120Mbps for no extra cost. Existing and new Ultimate Oomph bundle customers get M600 fibre plan as part of the quad-play bundle.
Currently, M600 is not available as broadband and phone bundle or broadband only option.
Virgin Media M600 Speeds
Virgin Media M600 fibre broadband comes with an average download speed of 630Mbps and an average upload speed of 41Mbps. M600 is ten times faster than the basic M100 (108Mbps) plan and offers nine times faster speeds when compared to the UK average broadband speeds.
The lightning speeds of M600 broadband will help the customers make quicker downloads of large files, stream UHD 4K videos & TV shows and play bandwidth-intensive online games.
Differences between M500 and M600
| | | |
| --- | --- | --- |
| | Average download speed | Average upload speed |
| Virgin Media M600 broadband | 630Mbps | 41Mbps |
| Virgin Media M500 broadband | 516Mbps | 36Mbps |
Currently, you can get Virgin Media M500 broadband as broadband & phone bundle or broadband only plan, while you need to sign up for Ultimate Oomph bundle to get M600 broadband.
What is Virgin Media Ultimate Oomph bundle?
Virgin Media Ultimate Volt bundle includes all the top features of broadband, phone and TV and also includes unlimited Mobile SIM. 
It is the top end broadband bundle from Virgin Media and includes M600 broadband, Anytime calls, BT Sport Ultimate, Sky Cinema HD and Sky Sports HD,
The package also includes two Virgin TV V6 set-top boxes and gives access to 250 TV channels and offers a Virgin Mobile SIM with unlimited mobile data.
Virgin Media Ultimate Oomph Bundle Features
| | |
| --- | --- |
| Broadband | M600 broadband (630Mbps average) |
| Home phone | Anytime calls to UK landlines and Mobiles |
| No of TV channels | 250 |
| TV | Sky Sports HD, Sky Cinema HD and BT Sport Ultimate |
| Mobile SIM | Unlimited mobile data |
Virgin Media M600 broadband cost
As M600 is not available as stand-alone option, you need to sign up for Ultimate Oomph bundle which also includes other services such as Talk More Anytime home phone calls and the best TV entertainment. So, it is worth signing up only when you need a bundled service otherwise you can go for M500 broadband which you can take up without home phone and TV.
Virgin Media Ultimate Oomph Deal
Average speed


630 Mbps download
41 Mbps upload
Virgin Media Super Hub 3.0
Unlimited broadband
£35 setup cost
Weekend calls
18 month contract
260 TV channels
 

Offer

: 

Offer price:

£89 a month for 18 months 
Virgin Media Hub 3.0 Router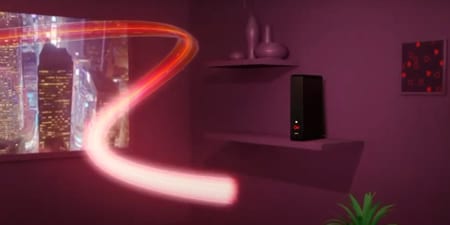 Virgin Media offers Super Hub 3 WiFi router which can connect up to 20 devices simultaneously, offering reliable, superfast speeds all around your home.
Virgin Hub 3 comes with dual bands and the latest ac WiFi to ensure stable connectivity without dropouts.
Hub 3 is specifically designed to deliver ultrafast fibre speeds using the Intelligent WiFi technology by optimising the home WiFi.
With Virgin Media Connect App, you can ensure that devices in different rooms get faster speeds or you can just the fix the issue of blackspots using boosters.
Is Virgin Media M500 good for broadband?
Ofcom Broadband Speed survey May 2021
According the home broadband performance report released by the regulator Ofcom in May 2021, Virgin Media M500 delivered the top average speeds of 542Mbps during peak times (8 to 10pm), though the average real speeds range mostly range between 410Mbps and 500Mbps depending on the location in the UK.
Customer service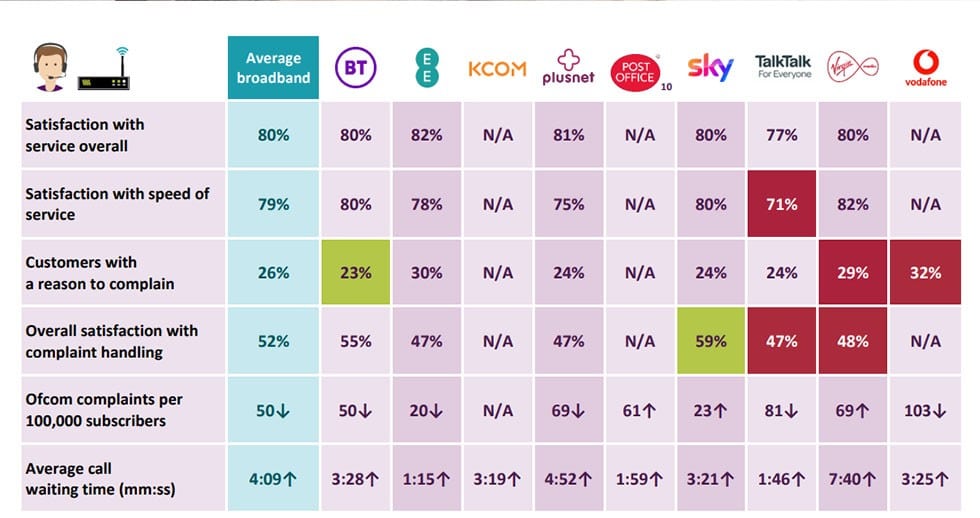 According to the customer service report relapsed by Ofcom, 82% of Virgin Media broadband customers are satisfied with the speeds while the overall satisfaction levels stand at 80%. The average call waiting wafting time is also pretty decent (1.45 mins) when compared the industry average of 4.09 mins.
However, Virgin Media home phone customer satisfaction levels were the lowest (69%) among the landline providers. The landline customers also had to bear with the worst average call waiting time of 7.40 mins.
Is Virgin Media M500 broadband worth it? Is it any good?
Virgin Media M500 plan comes with some valid reasons for which you can consider it as a broadband choice.
M500 offers lightning speeds that are ideal for 4K streaming and online gaming. You can watch UHD 4K movies and TV shows and enjoy the best streaming experience.
You can connect multiple devices using Hub 3 and access reliable speeds all around your home. Additionally, Virgin Media Connect App and WiFi extenders help fix all the WiFi issues.
M500 is also a clear winner in terms of pricing when we compare the G.fast and FTTP plans from BT, TalkTalk and Sky. The overall cost of M500 is quite competitive when we take it with home phone or with both phone and TV.
M500 bundling options also helps you mange your bill and reduce your spending as the bundled deals come with discounts, free setup and gifts.
Related Reviews