Last updated on January 25th, 2021 at 02:05 pm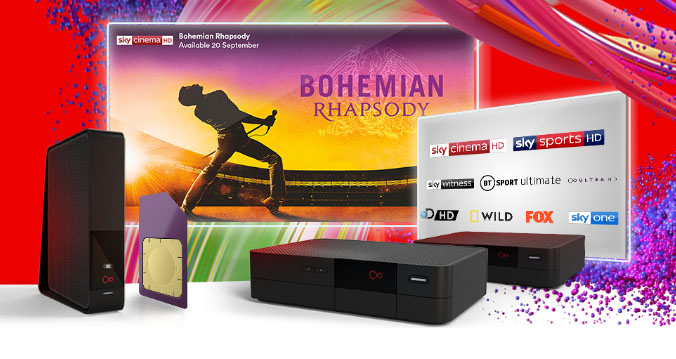 Ultimate Oomph bundle is the best ever broadband, TV & phone package from Virgin Media. It includes the incredible internet speeds of 516Mbps (M500 fibre broadband), 275+ TV channels and free anytime UK calls. This quad-play plan also includes truly unlimited 4G SIM.
M500 fibre speeds are definitely far ahead of Sky or BT residential packages which currently offer average download speeds of 67Mbps.
Virgin Hub 3.0, with its Intelligent WiFi technology, allows you share the fastest and the best WiFi internet around your home.
Ulimate Oomph TV bundle has all the premium TV channels – Sky Sports HD, Sky Cinema HD and BT Sport 4K. There are various Entertainment Picks and Kids Pick included in the TV pack.
With an extra Virgin TV V6 box, you can now install two V6 boxes in different rooms
M500 Fibre Broadband
Virgin Media M500 fibre broadband is exclusively available with ultimate Oomph bundle and offers fastest widely available download speeds of 516Mbps (user average) and 36Mbps upload speeds. You can make faster downloads, watch HD & ultra 4K HD video content and play the latest games online.
More than 10 devices can access lightning speeds in busy households using the most reliable Hub 3.0 WiFi router.
M500 fibre offers unlimited downloads so you can simply download as much as you like without any hidden caps on your usage. Likewise, Virgin Media traffic management policy does not slow down your speeds at peak times.
Virgin Maxit TV Pack with Sky Sports and Sky Cinema
Ultimate Oomph bundle includes 270+ TV channels including Maxit TV and Sky Sports HD, Sky Cinema HD and BT Sport 4K.
Oomph bundle also offers Virgin TV 360 boxes which are 4K enabled and HDR enabled so you can watch Ultra HD videos via Netflix, You Tube and BBC iPlayer.
Virgin TV 360 box comes with 1TB storage and you can record shows from 6 channels at the same time. You can record up to 500 hours of TV content.
You can also rent the recent movies from Virgin Movies whenever you like. Other features like catchup TV, popular online players and box sets are also included.
Virgin TV Go
Virgin Media offers this free app to Virgin Media customers so they can watch live TV shows, recordings and box sets on their smartphones, tables and iPhones when they are on the go.
Inclusive Anytime UK calls
Free anytime calls to UK landlines
With Virgin Phone, you get inclusive free anytime calls to UK landlines, 0870 numbers and Virgin mobile numbers means you can make daytime, evening & weekend calls for no extra cost.
The new truly unlimited SIM is now included in the bundle and you can choose the suitable plan that can meet your needs.
Virgin Media Oomph Bundle Deal
Average speed


516 Mbps download
35 Mbps upload
Virgin Media Super Hub 3.0
Unlimited broadband
£0 setup cost
Weekend calls
18 month contract
260 TV channels
 

Offer

: Free setup

Offer price:

£79 a month for 18 months
Summary
Reviewed by
Date
Provider
Virgin Media Broadband and TV
Rating
Package
Virgin Media Ultimate Oomph Bundle