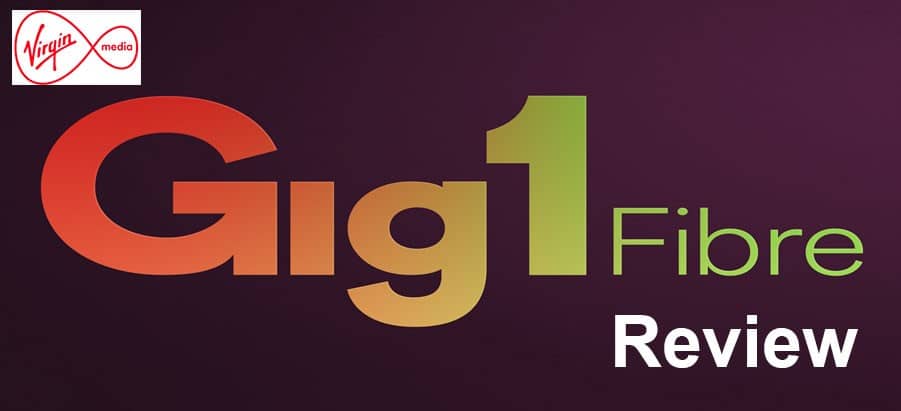 What is Virgin Media Gig1 broadband?
Virgin Media Gig1 is gigabit broadband plan that offers the fastest 1Gbps speeds or higher to the UK homes.
Currently, around 50% of the Virgin Media broadband customers can get Gig1 fibre broadband, while the on-going Gig1 rollout is expected to cover all the 15 million Virgin customers by the end of 2021.
Virgin Media Gig1 fibre broadband speeds
Virgin Media
Gig1 Fibre Broadband
Download speed (avg)
1130Mbps
Upload speed (avg)
52Mbps
Virgin Media Gig1 is not full fibre broadband such as FTTP (Fibre-to-the-Premises) service provided by Hyperoptic or BT full fibre.
Virgin Media Gig1 is delivered via Hybrid Fibre Coax and fibre network using the advanced DOCSIS 3.1 technology. Due to this, it has capacity to offer gigabit download speeds, but it does not offer symmetrical upload speeds such as delivered by the FTTP services.
According to the claims of Virgin Media, Gig1 download speeds can go up to 2.2 Gbps in ideal conditions as found in the tests.
Virgin Media Gig1 Fibre broadband deals
Gig1 Fibre Broadband
Gig1 Fibre
Broadband and Phone
Download speed (avg)
1130Mbps
1130Mbps
WiFi router
Hub 3
Hub3
Home phone
No phone line
Weekend calls
Setup
£0
£0
Monthly Cost
£62
£64
Virgin Media offers two Gig1 plans – Broadband Only and Broadband & Phone. One-off £35 setup fee and 18 month contract apply.
Gig1 package includes the new Hub 4 WiFi router (TG3492LG-VMB) with DOCSIS 3.1 support and capacity to deliver 1Gbps+ speeds.
Gig1 plan also comes with fixed price guarantee for 18 months.
How does Virgin Media Gig1 compare to Virgin Media Ultrafast plans?
Can I get Virgin Media Gig1 fibre broadband in my area?
Currently, Virgin Media Gig1 availability is limited to some selected cities in the UK. So far, Gig1 service has been rolled out to reach more than 7million UK homes.
Virgin Media has successfully completed the Gig1 rollout in most parts of London, Southampton, Manchester, Reading, Birmingham, Coventry, Edinburgh, Liverpool, Leeds, Bradford, Glasgow and Norther Ireland.
Virgin Media is expected to expand the service more cities and complete the rollout by the end of 2021.
Is Virgin Media Gig1 worth it?
Gig1 Fibre is the fastest residential broadband with gigabit speeds, although its upload speeds are not impressive. It comes with Hub 4 router which is built for Virgin's cable network to provide the faster speeds and more reliability.
Virgin Media Gig1 broadband is ideal for the best 4K streaming and smooth gaming experience. Gigabit speeds ensure that all devices get ultrafast speeds without dropouts even during bandwidth intensive activities.
Virgin Media packages also come with bundling options and flexibility with a wide range of choices. You can choose Virgin Media Gig1 service without phone line or add your favourite TV package or add-ons like Sky Cinema and Sky Sports.
More Virgin Media Reviews