What is Virgin Media M200 broadband?
Virgin Media M200 fibre broadband is one of the preferred entry-level ultrafast packages for busy homes as 200Mbps+ speeds are considered ideal for bandwidth-intensive applications like 4K streaming and online gaming.
Virgin Media M200 ultrafast fibre broadband comes with an average download speed of 213 Mbits/s which is 45% faster than the G.fast packages (145Mbits/s) offered by BT, TalkTalk and Sky.
M200 speeds are pretty sufficient for 5+ users, 4K streaming, watching Netflix, online gaming and quicker downloads of large size files.
Virgin Media M200 Deals
Package
Details
Monthly
Cost
M200 Broadband
& Phone

213Mbps Unlimited
Inclusive weekend calls
£34

M200 Broadband,
phone & TV
213Mbps Unlimited
Inclusive weekend calls
190+ TV channels
£49
Free setup for a limited time.
Virgin Media M200 broadband (formerly, known as VIVID 200) is one of the most extensively available, ultrafast internet services in Virgin Media's cable areas.
Virgin Media offers various options to buy M200 which means you can get the package as standalone, broadband only plan or as a bundled service with other services like home phone and TV.
Here are the options that are available with M200:
Broadband only
Broadband & phone
Broadband & TV bundle
M200 with Mobile SIM
Standard 18 month contract usually applies unless you prefer for 30 days rolling contract.
When you opt for Oomph bundle, M200 will include a Mobile SIM, speed boost and premium customer support.
Virgin Media M200 Speeds
Virgin Media M200 is a mid-tier ultrafast fibre broadband plan which comes with an average 213Mbps download speed and an average 20Mbps upload speed.
Virgin Media is usually not considered as a provider of faster upload speeds and all its ultrafast plans including M200 come with this disadvantage.
Just have a look at the comparison made between M200 and similar G.fast packages offered by BT, EE and Sky.
Full fibre broadband provider Hyperoptic offers even better upload speeds that match with the download speeds.
Package
Average
Download speed
Average
upload speed
Monthly cost
Virgin Media M200
213Mbps
20Mbps
£28

TalkTalk Fibre 150

145Mbps
20Mbps
£29.95
EE Fibre Max
300Mbps
47Mbps
£42
BT Full Fibre 250
250Mbps
50Mbps
£49.99

Sky Ultrafast

145Mbps
27Mbps
£33
Hyperoptic
150Mbps
150Mbps
£31
Since no traffic management applies to Virgin Media broadband, your connection speeds are not reduced by Virgin Media during peak times.
If you want to peek into the real-world speeds of a broadband plan such as M200, Ofcom's annual broadband speed report is quite useful.

According to the regulator's report published in September 2021, M200 broadband delivered 212Mbps to its customers during peak times (8pm – 10pm).
Features
Totally unlimited
Virgin Media M200 broadband is truly unlimited plan which comes with no data caps.
You will not be charged extra for excessive downloading, streaming or playing games online for long hours.
Virgin Media Hub 3.0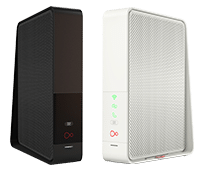 Virgin Media has boosted the performance of its advanced, Super Hub 3 router with advanced features like Intelligent WiFi, Virgin Media Connect App and WiFi boosters for faster speeds, strong signal, better coverage and advanced security .
Hub 3 is included in all fibre packages without any additional cost.
Free Extras
Virgin Media customers get some useful extras such as:
WebSafe parental controls to block unwanted and harmful websites
F-Secure internet protection to offer additional security to devices from viruses and malware
Virgin Media WiFi is available across the UK which you can access on 7 devices
Virgin Media offers public WiFi on the London Underground to help you stay connected when you are the the go.
Unlimited Data Boost
Oomph bundles offer a few advantages when compared to the regular bundles, one of them being the premium support.
If you take M200 with Oomph, you become eligible for an unlimited data boost when there is total loss of internet connectivity.
You can use unlimited data boost for up to seven days. If the fault is not fixed in seven days, you will get an additional data boost.
M200 availability
Virgin Media ultrafast broadband packages including M200 are available in 60% of the UK.
You can use our broadband postcode checker to check the availability for your postcode.
Virgin Media M200 vs M350
Virgin Media M350 broadband comes with significantly faster download and upload speeds without much price difference (£6 extra a month). So, which package is better and which one should you choose?
Here is the comparison of features that you get with M200 and M350
Virgin Media
M200
Virgin Media
M350
Download speed
(average)
213Mbps
362Mbps
Upload speed
(average)
20Mbps
36Mbps
Router
Hub 3
Hub 3
Home Phone
No phone line option
TV bundles
SIM bundle
Monthly cost
From £34
From £40
Ideal use for
Browsing, 4K streaming
on 3 – 5 devices,
Online gaming
Browsing, 4K streaming
on 5+ devices,
Online gaming
Is Virgin Media M200 any good?
Ultrafast speeds
M200 is thrice as fast as FTTC broadband (67Mbps) available via Openreach network. This mid-tier fibre broadband plan is best tailored to the needs of busy UK homes with more users.
Is M200 good for gaming?
Online gaming is one of the bandwidth intensive applications which require connections with faster speeds and less lags.
M200 offers lightning speeds and lower latency levels (around 15ms) which are desirable for gaming.
Great value for money
Virgin Media M200 broadband comes with excellent speeds and value for money.
M200 is reasonably priced, considering the ultrafast speeds it offers.
Easy customisation
Virgin Media packages come with great customisation which means you can build your own bundle by choosing the right combination of broadband speed, calls and TV within the range of your budget.
Better pricing than competitors
Both Virgin Media M200 and M350 are ideal plans for gaming and 4K streaming and it's often a fact that Virgin Media offers free speed boost to its customers without any increase in price.
When compared to ultrafast deals from BT, EE, Sky and TalkTalk, M200 is clearly the winner in terms of pricing.
Widely available
FTTP (fibre to the premises) broadband packages from these providers are not only pricey but also their availability is not as good as that of Virgin Media M200.
Virgin Media ultrafast broadband is currently available to more than 60% of the UK homes.
Frequently Asked Questions
Is Virgin Media M200 unlimited?
M200 comes with totally unlimited broadband usage with no hidden caps. Neither there is any traffic management so speeds are not reduced by Virgin Media during peak times.
What is the minimum guaranteed speed for M200?
According to Virgin Media, M200 delivers download speeds of 213Mbps to 50% of the users. The actual speeds may vary depending on the location of the user. Virgin Media lets you know the estimated speed range when you sign up online.
Is M200 better than M100?
Obviously M200 comes with nearly two times faster speeds than M100 broadband package in both the directions – downstream and upstream which means you can connect more devices or play online games and stream 4K videos more smoothly than when you are on M100 plan.
What is Virgin Media M200 ping?
The ping or latency for M200 was found to be around 15ms on average, according to Ofcom broadband report report 2021. Lower latency is good for gaming and video calls.
Is there student offer on M200 broadband?
Virgin Media offers 9 month student broadband deals on all packages including ultrafast M200 plan.
Related Reviews