Last updated on April 29th, 2021 at 01:51 pm

Sky offers superfast fibre broadband and award winning TV with one of the best set-top boxes available in the sector – Sky Q.
With Sky broadband, you get the latest Sky Broadband Hub which ensures the best WiFi speeds and Sky Q box which provides the complete entertainment including live TV shows, movies and videos online.
Sky broadband comes with WiFi guarantee or money back when you add sky broadband boost which promises faster wireless speeds in every room of your house.
Though you can take superfast fibre broadband with or without TV, bundling is the best option to save your money. You can save up to 20% when you take a bundled package that includes broadband and TV on a single deal.
Last but not the least, Sky has ranked high amongst the UK's top TV and broadband providers for dedicated service support and customer satisfaction, according to the latest report by the industry watchdog Ofcom.
Sky Broadband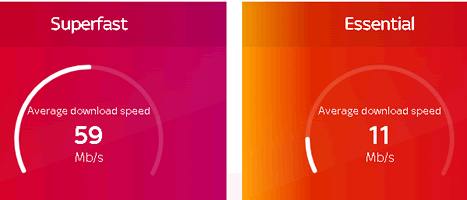 Sky has simplified everything, when it comes to broadband. It offers three plans
Broadband Essential – 11Mbps average download speed
Broadband Superfast.- 59Mbps average download speed
Ultrafast Broadband – 145Mbps average download speed
All Sky broadband plans come with totally unlimited usage and no fair usage policy. Sky will not slow down your speeds during peak times.
Broadband Features
Sky Broadband Hub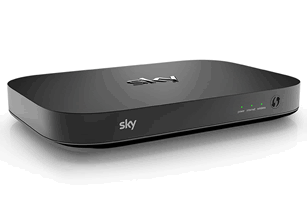 To complement the broadband connectivity, Sky offers the top-notch Sky Hub wireless router for best WiFi signal, faster speeds, wider coverage and secured sharing.
It's a dual band router that can handle up to 1Gbps speeds and comes with 8 antennae and 4 gigabit connections. You can connect up to 64 devices at the same time.
Sky Broadband Boost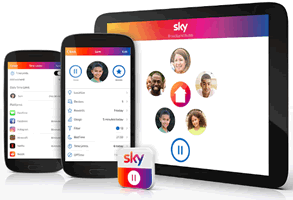 As a premium service, Sky offers WiFi guarantee with Sky Broadband Boost subscription.
The WiFi guarantee promises minimum speed of 3Mbps in every room of your room or you can claim the money back you paid for broadband boost subscription, if you can't get the promised speeds.
Sky Broadband Boost includes daily line health checks and free engineer visits on evenings and weekends.
It also comes with Sky Broadband Buddy app and parental controls to help you manage your devices and your family's screen time.
Sky Broadband Extras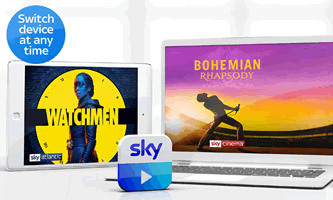 Sky offers free public WiFi to its customers who can access the Cloud chain of public wifi hotspots to go online. You can register up to 6 mobile devices to use this free wifi when you are on the go.
Sky Go is a free app for Sky TV customers so they can watch the shows on their mobile devices including tablets, smartphones and laptops.
The new Sky Go Extra which is included with Sky Q Experience allow you to stream TV on 2 devices and download to watch later or offline. It is also compatible with Xbox and PlayStation. Without Sky Q Experience, it costs extra.
Sky broadband includes Sky Broadband Shield parental controls which allow you to block unsuitable websites. You can customise its settings to safeguard your kids and family from inappropriate web content, malware and phishing.
Sky TV
Features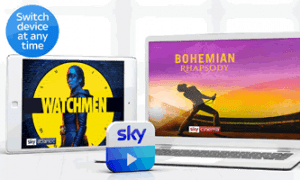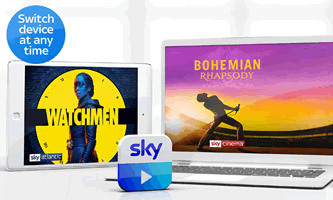 Sky TV comes with Sky Q box and Entertainment TV pack as standard. Entertainment pack includes Sky Atlantic, 300+ TV channels and 40+ catchup channels.
With the new feature 'fluid or seamless viewing' that's unique with Sky TV, Sky Q allows you to watch TV shows not only on main TV set but also on other devices including tablets in different rooms or even outside the house.
Sky calls it as Sky Q experience which requires Sky Mini boxes to be placed different rooms and the wireless connectivity between Sky Q box and Mini boxes allows you to enjoy Q experience.
This means, with Sky Q remote, you can pause in one room and continue watching in another room.
Sky Q set-top boxes come with 1TB and 2TB capacities and can record 6 shows simultaneously. so you can record more than 600 hours of HD content from your favourite channels. To view ultra HD content, you will need to enable Sky Q experience.
Sky Q 2TB box is UHD enabled and you watch movies, documentaries, Sky Sports and documentaries on UHD TV set.
Sky TV packages


Sky Entertainment Pack is the standard for Sky TV subscribers. With Sky Q TV box is included for for no extra cost, the pack includes some of the best entertainment channels including comedies, dramas, music, news and documentaries.
However, to get the best of Sky TV, you will need to add premium channels like Sports, Cinema, Kids, Box Sets and HD .
Sky Cinema is an add-on which gives access to 1000+ on demand movies, a brand new premiere everyday and free HD movies from a vast collection.
Sky Sports can be added to your Entertainment pack when you subscribe for the complete sports pack which allows you to watch F1, Cricket, Golf, Football and the all the biggest sports events. What's more, you can now watch every F1 races in Ultra High Definition enabled Sky Q box. You can add BT Sport
Sky HD allows you to watch 40 high definition top channels including news, documentary and entertainment channels. No need to say, this requires additional subscription. Plus, 3D content and channels can be added on demand.
Sky Q Experience: Sky offers Sky Q Mini boxes which come with wireless connectivity. Using this feature, you can watch your favourite shows on multiple devices including TV sets and tablets and smartphones without the need for cabling.
How good is Sky broadband and TV?
Sky broadband continues to be the least complained about provider among top UK broadband providers, according to Ofcom.
Ofcom's survey 2020 revealed that Sky has topped with the best customer satisfaction as its broadband and TV services generated the fewest complaints.
Likewise, Sky Home phone and Sky TV services received top ratings for customer satisfaction and performance, Ofcom reports showed.
Summing-up
Sky TV bundles allow you to get Cinema, Sports, Kids and Movies, multi-screen and fibre broadband and home phone on the same package to get all on a single deal.
Sky TV bundles are expensive on the negative side. We also see Virgin Media beats Sky, when it comes to ultrafast plans.
Summary
Reviewer
Review Date
Reviewed Item
Author Rating
Product Name