Why choose Sky?
Sky unlimited broadband is available at discounted price exclusively with Sky TV packages.
However, Sky broadband is also available to all customers, and there is no need to subscribe to Sky TV to get Sky broadband.
Sky offers excellent customer service which has received good ratings from its own customers and industry watchdog Ofcom
How good is Sky broadband?
Over-all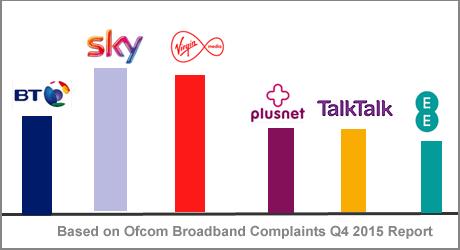 Speeds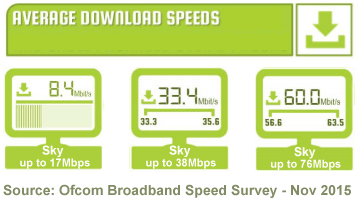 Package Type
Sky
BT
PLUSNET
EE
TALKTALK
VIRGIN MEDIA
up to 17Mb
Average ADSL 2+ UK speeds 8.4Mbps
N/A
up to 38Mb
33.4Mbps
34.9Mbps
33.3Mbps
34.3Mbps
33.4Mbps
N/A
up to 50Mb
N/A
N/A
N/A
N/A
N/A
50.5Mbps
up to 76Mb
60Mbps
59.3Mbps
56.4Mbps
62.3Mbps
N/A
N/A
up to 100Mb
N/A
N/A
N/A
N/A
N/A
95.8Mbps
up to 200Mb
N/A
N/A
N/A
N/A
N/A
174Mbps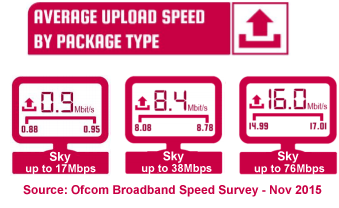 | Package Type | SKY | BT | PLUSNET | EE | TALKTALK | VIRGIN MEDIA |
| --- | --- | --- | --- | --- | --- | --- |
| up to 17Mb | 0.9Mbps | 0.9Mbps | 0.8Mbps | 0.9Mbps | 0.8Mps | N/A |
| up to 38Mb | 8.4Mbps | 8.2Mbps | 11Mbps | 8.2Mbps | 2.1Mbps | N/A |
| up to 50Mb | N/A | N/A | N/A | N/A | N/A | 3Mbps |
| up to 76Mb | 16Mbps | 15.2Mbps | 16.1Mbps | 17.1Mbps | N/A | N/A |
| up to 100Mb | N/A | N/A | N/A | N/A | N/A | 6Mbps |
| up to 200Mb | N/A | N/A | N/A | N/A | N/A | 12.1Mbps |
Source: Ofcom UK Home Broadband Performance Report – March 2016
Customer Service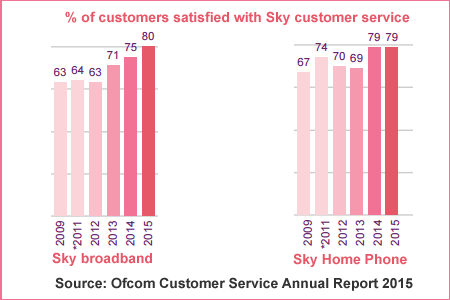 | | | |
| --- | --- | --- |
| Provider | Broadband | Home Phone |
| Sky | 80% | 79% |
| BT | 60% | 69% |
| Virgin Media | 70% | 72% |
| TalkTalk | 53% | 56% |
Source: Ofcom – Quality of Customer Service Report 2015
Sky Broadband
Sky broadband comes with various speeds – up to 17Mbps, up to 38Mbps and up to 76Mbps. If you are a Sky TV & phone customer, up to 17Mb broadband with 2GB monthly usage allowance (Sky broadband lite) is already included at no extra cost.
Sky broadband unlimited (up to 17Mb) is uncapped plan for both new customers and Sky TV users. Sky ensures that you can enjoy truly unlimited broadband without hidden download limits or any kind of traffic shaping.
If you opt for Sky fibre broadband, you will need to choose 'up to' 38Mbps or 'up to' 76Mbps speeds. You are offered two usage options – 25GB or unlimited. These Sky Fibre and Fibre Unlimited Pro packages are designed to meet your needs with affordability & value for money in mind.
Sky offers Sky Hub wireless router which comes with all latest technological features to ensure fast, secure, interference-free wifi access and broadband sharing.
Sky also offers free public WiFi to its customers who can access the Cloud chain of public wifi hotspots to go online. You can register up to 6 mobile devices to use this free wifi when you are on the go.
Sky broadband includes Sky Broadband Shield parental controls which allow you to block unsuitable websites. You can customise its settings to safeguard your kids and family from inappropriate web content, malware and phishing.
Sky also offers 12 months free McAfee protection which usually costs £3 a month.
Sky TV Bundles
Sky TV offers more than 75 entertainment channels, 240 freeview channels and 50+ HD channels covering all popular categories – music, movies, kids, science, news etc.
Sky offers free Sky+HD box which allows you to record 185 hours of TV shows as well as on-demand movies & videos and catch-up TV channels over internet.
With Sky Go app, you can watch TV shows on other devices including PC, laptop, tablets, smartphones and games consoles.
Sky offers three TV bundles – the 0riginal, the Variety and the Family although none of them include Sky Movies and Sky Sports packs which you need to add them at extra cost. Sky Movies HD & Sky Sports HD are also available for your customisation.
Here are the details of what you will get with each bundle:
The Original Bundle
The entry-level TV package with 35+ channels and 11 freeview HD channels. Also includes 240+ freeview channels. Some of the popular Sky channels include Sky Living, Sky Atlantic, Sky Art 1 & 2.
The Variety Bundle
You get more channels (75+) when compared to the Original bundle. Freeview channels included (11 in HD). You get access to some channels which are not available with the Original package such as Disney & Discovery channels.
The Family Bundle
Includes 75+ channels as well as 50 entertainment channels in HD. Sky also offers 3D channels on this bundle.
Sky Movies Bundle
11 movie channels are included while 35 channels of the Original bundle come as standard in this pack.
Sky Sports Bundle
This bundle includes the channels offered by the Original bundle and 7 sports channels which allow you to watch 100+ live Premier League Games.
The Complete bundle
This pack includes all the entertainment channels, Sky Movies (11 channels) and Sky Sports (7 channels). You also get 300 Sky Box Sets and all channels in HD.
Our View and Review of Sky
Sky comes second when it comes to widely available broadband brand in the UK after BT. Originally satellite based pay TV provider, Sky TV service dates back to 1990s and currently ranks top in pay TV market due to its popular Sky Sports, Sky Movies and on-demand videos which are available in different formats – SD, HD and 3D.
Sky has been a broadband and home phone provider since 2005 and according to recent Ofcom surveys, Sky has more number of satisfied broadband and phone customers than major ISPs including BT, TalkTalk and EE.