Why choose Sky broadband and TV?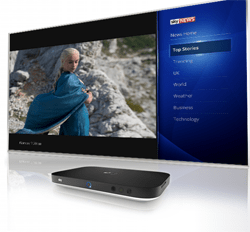 Sky offers reliable ADSL broadband at low prices that would fit many homes.
Sky fibre package is simple and straight-forward with great savings on cards, when you make best use of special offers and promotional discounts.
Sky TV is no longer the same as it was a few years ago. Q TV and Sky apps allow you to enjoy HD, 3D, Sports, Cinema and Entertainment channels in a new array of experience.
Sky Entertainment which is the base pack now includes more channels and is set to add more features
By subscribing to Sky HD, you can watch more than 50 HD channels.
Sky has high reputation for delivering excellent customer service which helped it receive good ratings from its own customers and industry watchdog Ofcom over the years.
How good is Sky broadband?
Since Q4 2015, Sky broadband has been picked as the least complained about provider among UK ISPs by Ofcom. As per Q2 2018 released by Ofcom in November 2018, Sky retained this position both in broadband and landline sectors.
Its customer support and reliable support has been made a special mention by the UK regulator.
According to the latest customer satisfaction survey by Ofcom in 2017, Sky broadband performance continues to be consistent over years and became the best broadband provider with huge volume of customer satisfaction ratings (86%) during 2017.
Sky offered excellent speeds to its customers on the basis of 24 hour average, as per Ofcom annual speed report 2018. During peak times,minimum speeds dropped sharply, but they were still better than TalkTalk
Sky Unlimited (11Mb user average) offered average speed of 10Mbps in 2017. This is the minimum speed that takes into account all factors of network congestion etc.
Sky 63Mb service delivered average speeds between 57.3Mbps and 63.4Mbps speeds.
One of the new features that Sky introduced is that it could give you a range of speeds that are achievable at your premises. This would often help you get an idea whether actual speeds would meet your requirements.
Sky Broadband
Sky broadband comes with 11Mb and 67Mb speeds and a lot many features that specifically target different users. Sky is popular for unlimited broadband bundles but the flexibility of its offerings allows you to get its truly unlimited broadband without Sky TV.
Sky broadband unlimited (11Mb average download speeds) is totally unlimited broadband for both new customers and Sky TV users. Sky ensures that you can enjoy truly unlimited broadband without hidden download limits or any kind of traffic shaping.
Sky Fibre Max is for speed lovers with ultimate speed of 63Mbps (average speed) that would make you enjoy your world of internet beyond your imagination and amazement. You can download  huge volume of data in minutes or watch online HD TV shows or spend hours of social networking, uploading videos and playing the latest online games. Multiple users can watch an array of entertainment on multiple devices at the same time.
Sky offers Sky Hub wireless router which comes with all latest technological features to ensure fast, secure, interference-free wifi access and broadband sharing.
Sky also offers free public WiFi to its customers who can access the Cloud chain of public wifi hotspots to go online. You can register up to 6 mobile devices to use this free wifi when you are on the go.
Sky broadband includes Sky Broadband Shield parental controls which allow you to block unsuitable websites. You can customise its settings to safeguard your kids and family from inappropriate web content, malware and phishing.
Sky TV Bundles
Sky Entertainment Pack is the standard for Sky TV subscribers. With Sky Q TV box is included for for no extra cost, the pack includes some of the best entertainment channels including comedies, dramas, music, news and documentaries.
However, to get the best of Sky TV, you will need to add premium channels, Kids, Box Sets or even add HD  for costlier subscription.
Sky Cinema is another add-on which gives access to 1000+ on demand movies, a brand new premiere everyday and free HD movies from a vast collection.
Sky Sports can be added to your Entertainment pack when you subscribe for the complete sports pack which allows you to watch F1, Cricket, Golf, Football and the all the biggest sports events. What's more, you can now watch every F1 races in Ultra High Definition enabled Sky Q box.
Sky HD allows you to watch 40 high definition top channels including news, documentary and entertainment channels. No need to say, this requires additional subscription. Plus, 3D content and channels can be added on demand.
Sky Q Multiscreen: Sky offers Sky Q Mini boxes which come with wireless connectivity. Using this feature, you can watch your favourite shows on multiple devices including TV sets and tablets and smartphones without the need for cabling.
Sky Go is an usual app for Sky TV customers who can watch the shows on their mobile devices. No need to say that, you need subscribe to Sky Entertainment, to enjoy this free app.
Our View and Review of Sky broadband and TV
If you want just reliable broadband for all your basic internet needs, Sky unlimited broadband is a great option. They have offered good customer support and earned customers' good reviews over the years. They have a proven track record in terms of customer service and reliability, according to Ofcom annual reports.
Although, Sky's fibre broadband remains the best choice for families and individuals that look out for cheaper, value based bundling options such as entertainment, broadband and calls and wi-fi internet access via The Cloud.
Sky's main focus to be on its TV bundles which throws a lots of choices with option to add broadband. If you just need broadband, there are more affordable choices available in the market.
However, if you are willing to pay more, Sky bundles are ideal for homes  with a wide range of needs – both internet & entertainment. Getting Cinema, Sports, Kids and Movies, multi-screen and more features on the same platform would make things simpler for you.