Why choose BT as your provider ?
BT offers 52Mbps as standard fibre speeds to its customers. This is faster than what you can get from TalkTalk, Sky or EE.
BT broadband has excellent availability in the UK. Its ADSL & fibre broadband covers more areas than any other provider.
BT broadband comes with great features like totally unlimited usage, award-winning Smart Hub wireless router, BT Sport, free BT WiFi and free online cloud storage.
Other services like 4G mobile and TV can be added to your package at discounted pricing.
Are BT broadband and phone services any good?
Ofcom publishes annual reports on the quality of major broadband providers and customer satisfaction levels.According to April 2017 report, 84% of BT broadband customers are satisfied with over-all service quality. 83% of customers said they are satisfied with reliability of the service.
92% of BT phone customers were satisfied with landline service, the study shows.
When it comes to average download speed received by users, BT delivered 9Mbps speed via its ADSL 2+ service in 2017, Ofcom broadband speed report revealed.
BT 'up to' 52Mbps package delivered 46.9Mbps during peak times. Infinity 2 which comes with advertised speed of 76Mbps speed offered average speed of 57Mbps to homes during peak hours.
Features of BT Broadband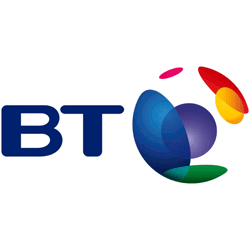 BT allows you to choose standard or fibre optic broadband which allows you to choose from  different download speeds -'up to'17Mbps or 52Mbps or 76Mbps.
All BT broadband plans offer truly unlimited broadband without any restrictions on your monthly data usage.
Following features are included in your service at no extra cost:
BT Home Hub wireless router (version 4 or 6) is considered one of the best features of BT home broadband. Infinity subscriptions include the latest Smart Hub wireless router which has many enhanced features including strong wifi signal and powerful security.
BT cloud storage offers up to  1000GB data backup
Online protection
BT Sport can be added to  BT broadband.
BT Infinity fibre broadband offers connection speeds of 52Mbps or 76Mbps to homes which now could enjoy watching HD movies or make quicker downloads of videos & large files or play online games or share faster, reliable broadband even at peak times.
Features of BT Home Phone
BT phone is included when you take bundled broadband service from BT. You get unlimited weekend UK landline calls at no extra cost, though, you can add anytime calls or anytime calls for an extra fee.BT also offers stand-alone landline service with options to subscribe for a suitable call plan.
Here is an overview of BT home phone plans:
Unlimited Weekend Calls: The plan is included at no extra cost, when you take a broadband bundle or line rental from BT. You can make unlimited calls to UK landline numbers starting with 01, 02 & 03 and 0845 and 0870 numbers during weekends.
Unlimited Evening & Weekend Calls: This call plan costs extra £3.80 a month with line rental or your broadband package. Calls to UK landline numbers starting with 01, 02 & 03 and 0845 and 0870 numbers during weekends.
Unlimited Anytime Calls: You will need to pay extra £8.99 a month with line rental or your broadband package. You are allowed to make unlimited anytime calls to UK landlines starting with 01, 02 & 03 and 0845 and 0870 numbers
Standard BT home phone line rental  will apply to all home phone & broadband packages.
BT Line Rental Saver allows you to make some savings, when you pay in advance.
How to get BT TV?
You can add BT TV to your broadband by choosing a suitable package from TV bundles like TV Starter, TV Essential, TV Entertainment or TV Max.
YouView box worth £99 is bundled with BT TV Starter and  BT TV Essential at no extra cost, while the advanced YouView+ box worth £199 comes free with TV Entertainment bundles.
BT Sport pack can be added with additional subscription.
The BT Sport App is available for mobile internet & WiFi users who can watch the live sports events on their iPhone, iPad, Android or Windows Mobile devices while on the go.
Freeview channels also include some HD channels and the Bolt-ons allow you to add on demand, Kids Extra, Sky Movies and HD Extra channels by choosing the respective bolt-on.
The popular Netflix movie service can be added to your TV pack with an extra fee.
BT Mobile
Along with, landline and broadband services, BT also offers 4G SIM only plans which have £5 monthly discount for existing BT broadband & TV customers.BT Mobile also includes BT Sport which can be watched on mobile devices using the BT Mobile App and free WiFi access to public hotspots owned by BT.
BT Mobile SIM Only plans offer you superfast, 4G speeds and monthly data usage allowances – 500MB,  2GB and 20GB – to help you pick the right deal to meet your needs.
Monthly prices start from £5 for BT broadband customers (£10 a month for non-BT customers)
Unlimited texts are included on all plans, however, call minutes which vary between 200 minutes and unlimited minutes, depending on the deal.
Our View and Review of BT
BT  (British Telecom) offers an extensive range of communication services to its customers, whether it be standard or fibre optic broadband or home phone or TV or mobile.
You need not go to any other provider for your needs as BT has much larger presence than other operators due to its widest coverage.
BT broadband packages are tailored to suit each and every user & family, so BT stands out as a great choice if you are looking out for multiple communication services on a single deal for your home.
Although you can take standalone broadband or phone from BT, you get best value for money when you bundle these services together or add BT TV which help you make big savings.