Quick View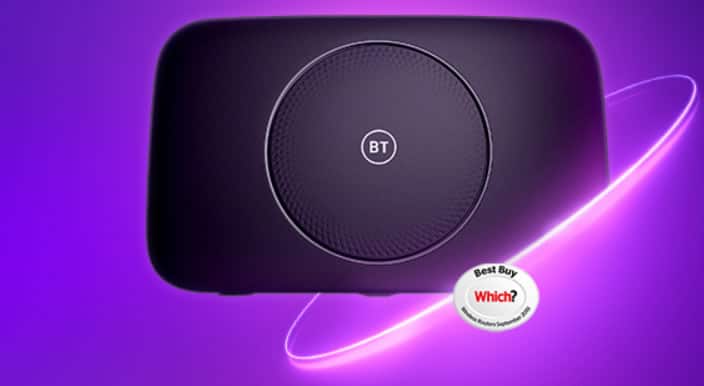 BT is the most popular broadband provider in the UK with the highest number of customers (9.3m in 2021). This clearly shows that BT broadband is widely used by the UK homes and businesses. BT also owns other well-known brands – Plusnet and EE.
BT (BT Retail) offers a wide range fibre broadband packages with speeds from 36Mbps to 900Mbps. BT fibre broadband availability is also better than any other provider in the UK. More than 90% of the UK homes can get Fibre 2 (67Mbps average), the mid-tier fibre plan from BT.
BT broadband comes with totally unlimited usage, award-winning Smart Hub wireless router, BT Sport, free access to BT WiFi hotspots and free online cloud storage of up to 1000GB.
BT TV and BT mobile plans are other great features that you can add to broadband to make a complete bundle for your home.
In addition, BT operates a separate section for its businesses offering professional grade broadband and landline packages.
BT Broadband Deals
BT offers a range of broadband plans – ADSL, superfast, ultrafast and full fibre broadband. All BT broadband packages come with totally unlimited usage and PAYG calls.

50Mb average speed
Unlimited downloads
No Phone line 
Offer:  £50 Gift card
Cost: £26.99 p/m
More Info

67Mb average speed
Unlimited downloads
No Phone line 
Offer:  £90 Gift card
Cost: £29.99 p/m
More Info

67Mb average speed
Unlimited downloads
No Phone line 
170 TV channels 
Offer: £90 Gift card
Cost: £41.99 p/m
More Info
BT provides you with details of estimated speed range and minimum speed guarantee on the adverts and you can get speed information during sign up.

However, these speeds may vary depending on your post code and address.
BT Broadband Packages
Broadband Unlimited
BT broadband unlimited is ADSL plan which comes with 10Mb average download speed and PAYG calls. It is suitable for light users or small households but not for connecting multiple devices.
BT Fibre Essential
BT Fibre Essential is the lowest priced fibre broadband package which offers an average download speed of 36Mbps. The starter level superfast speeds are good enough for watching HD videos, connecting a few devices and play online games.
BT Fibre 1
BT Fibre 1 offers 50Mbps average download speed which is great for homes where 3 or 4 devices can stream videos or make downloads without any hassle. Includes BT Virus Protect online protection for two devices.
BT Fibre 2
BT Fibre 2 is two times faster than Fibre 1 with an average download speed of 67Mbs. With Fibre 2, you can connect up to 5 devices or do HD streaming or gaming online on a couple of devices simultaneously. BT Fibre 2 also includes BT Virus Protect for up to 15 devices.
How fast is BT broadband?
BT still offers ADSL (copper) broadband plan – Unlimited which offers just 10Mbps average download speed. The plan is also expensive and can be considered only when you live in areas where fibre is not available.
BT fibre broadband for home mainly uses FTTC (fibre to the cabinet) network which uses both fibre and copper. The distance between street cabinet and your home is important to consider as copper is used to link the cabinet with the user end. The shorter the the length of copper cabling, the faster the connection.
Overview of BT broadband speeds
Unlimited is ADSL plan which offers 10Mbps average speed.
Fibre Essential comes with 36Mbps average download speed.
BT Fibre 1 and Fibre 2 come with 50Mbps and 67Mbps average download speed respectively.
BT also provides you with estimated speed range and minimum speed guarantee on the adverts and you can get speed information during sign up.
However, these speeds may vary depending on the location as the postcode and address are determining factors.
BT Broadband Routers
BT has launched a range of WiFi routers that are developed with different technologies and come with different features.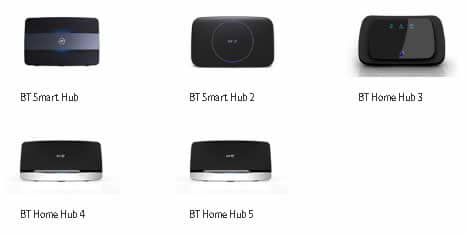 BT Fibre 1 and BT Fibre 2 packages include the latest Smart Hub which comes with advanced, dual ac WiFi, 7 antennae, 4 gigabit connections and built-in 4G filters.
Smart Hub 2 is included when you add Compete WiFi features which ensures strong signal in every room around your home.
Standard ADSL broadband (11Mbps) customers get Home Hub 4.
BT Smart Hub vs BT Smart Hub 2
Smart Hub2 is the upgraded version of Smart Hub which is the standard router supplied with fibre packages while the Complete WiFi subscription include Smart Hub 2 and WiFi extenders to optimise the WiFi connectivity and boost speeds all around your home.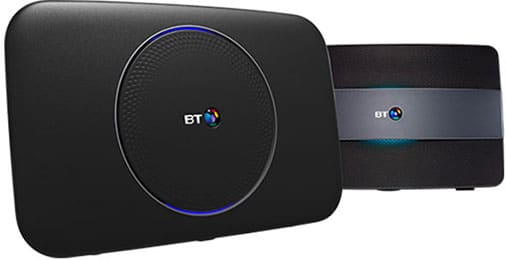 Both Smart Hub and Smart Hub 3 come with similar features like dual bands, Smart scan, 802.11ac, Smart channel, four gigabit connections and 7 antennae.
However, Smart Hub 2 shows better efficiency in enhancing WiFi signals and comes with Digital Enhanced Cordless Telecommunications compatibility (DECT) for improved landline service.
BT Full Broadband (FTTP)
BT full fibre broadband service uses pure fibre network ((fibre to the premises) which is entirely built with fibre optic cables.
Also known as ultrafast service, BT full fibre packages come with different speeds – 145Mbps, 300Mbps and 900Mbps.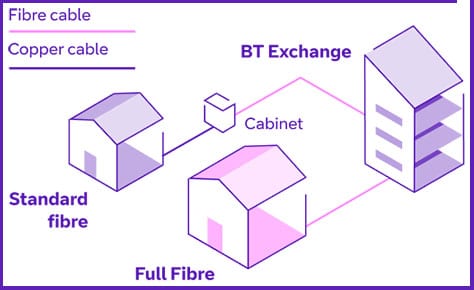 BT also deploys the next generation G.fast technology to tweak the widely available hybrid fibre (fibre + copper) broadband to offer average download speed of 145Mbps which has better coverage than BT's full fibre packages which are limited to selected cities such as London, Birmingham, Bristol, Cardiff, Edinburgh, Belfast, Liverpool and Leeds.
BT full fibre broadband availability is set to improve in the coming years with the demand of such ultrafast services playing a crucial role.
BT Home phone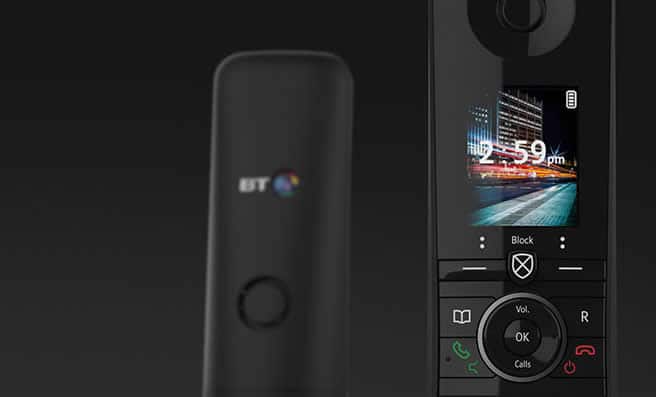 All BT broadband packages include home phone unless you choose no landline option.
Standard home phone service just allows you to make PAYG (pay as you go) calls or you can upgrade to unlimited Anytime call plan or buy international add-ons.
You also get 1000 free minutes to BT Mobile with Unlimited Anytime Calls plan.
BT home phone comes lots of features including Caller Display, Call Waiting and BT Answer 1571. Call Protect feature helps you avoid and divert nuisance, unwanted calls.
Alongside these call plans, there are also add-ons available for making international phone calls at discounted call rates.
BT also offers BT Basic, a subsidised social phone plan for low income homes. There is also Home Phone Saver package for families that want to cut home phone bills and save money
Free Extras
Online protection

BT broadband packages come with free parental controls. Premium BT Virus Protect is offered to Fibre customers.
BT Virus Protect is anti-virus solution from McAfee.
BT Broadband includes minimum two licenses for no extra cost while Fibre 2 and Halo plans come with 15 licenses.
Other free Extras
BT broadband customers get a few more useful extras that come with absolutely no extra cost.
BT WiFi
BT broadband subscribers can stay connected across the UK by using BT's 5m public WiFi hotspots.
BT Cloud
Using BT Cloud storage, BT broadband customers can backup their files and data.
BT TV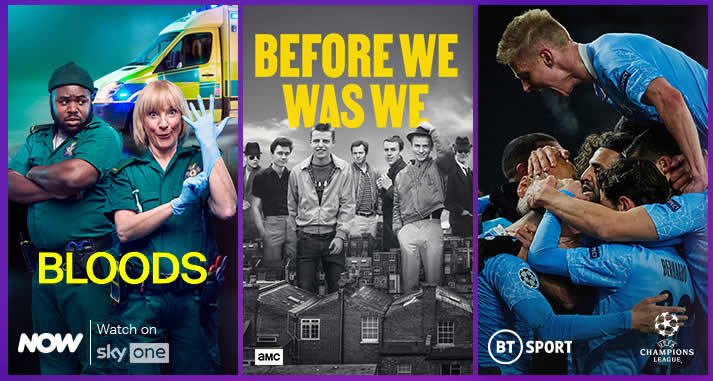 BT TV bundles combine fibre broadband with a wide selection of TV packages such as Sport, Entertainment and Big Sport, Big Entertainment and VIP.
BT TV offers flexible packages, Now TV subscriptions and monthly add-ons so you can change the channels without any hassle.
What do BT TV & broadband bundles include?
YouView+ box that can pause, rewind and record live TV.
BT Fibre broadband plan – Fibre 2 (67Mbps) or Fibre 1 (50Mbps)
Home phone with PAYG calls
BT TV Packs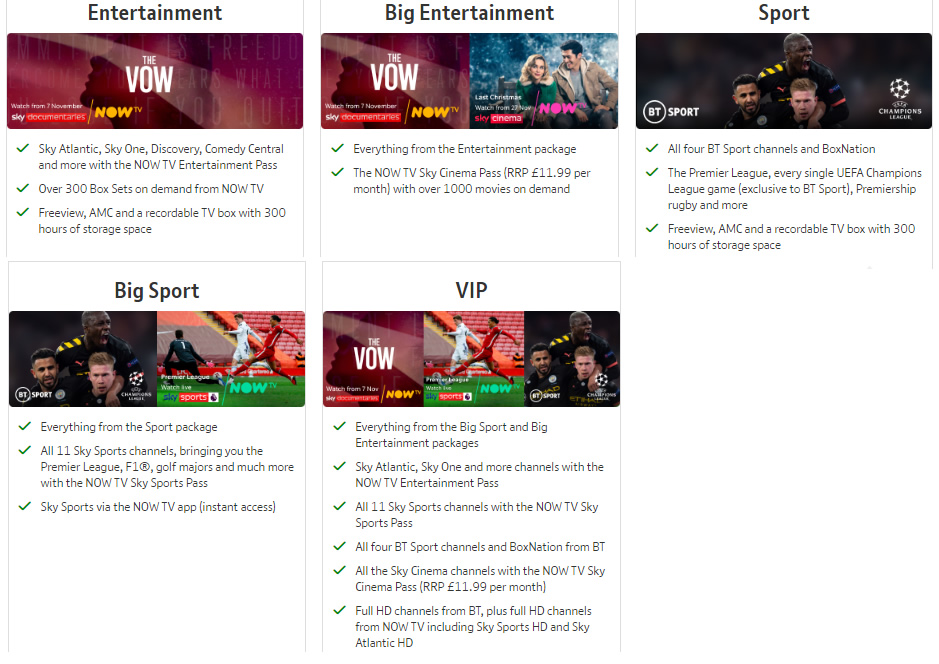 Entertainment
171 TV channels (86 entertainment channels, 2 Movies, 8 News, 11 Kids, 8 music channels and more
Sport
163 TV channels (BT Sport channels, BT Sport ESPN, 73 entertainment, 2 movies, 8 News, 11 Kids, 8 music channels and more
Big Sport
175 TV channels (BT Sport channels, BT Sport ESPN, 12 Sky Sport channels, 73 entertainment, 2 movies, 8 News, 11 Kids, 8 music channels and more
How good is BT broadband?
BT broadband offers reliable service with tons of features such as Smart Hub, free WiFi, BT Sport and quad-play bundles.
BT Fibre 2 (67Mbps) and BT G.fast broadband (145Mbps) are widely available services which come with decent speeds for streaming, downloading and online gaming.
Although BT TV comes with fewer channels than Virgin Media or Sky, it includes BT Sport in selected TV & broadband bundles for no extra cost.
However, BT broadband packages are not cheap options as TalkTalk, Plusnet and Vodafone offer fibre services at better pricing.
Secondly, Virgin Media is a big competitor for BT when it comes to offering ultrafast plans at attractive pricing.
Thirdly, Sky TV offers more channels and Sky bundles are better options when you look out for comprehensive TV and broadband packages.