Last updated on January 25th, 2021 at 08:14 am
BT Superfast Fibre 2 unlimited is an ideal superfast broadband plan for busy households with up to 5 users who need to go online at the same time.
Although it's not full fibre broadband, Fibre 2 offers much faster download & upload speeds than regular broadband with truly unlimited usage and data.
The deal bundles extras like Smart Hub,  free public WiFi, cloud storage and internet security while the Fibre 2 speeds are actually what you need for streaming HD and 4K videos, quicker downloads, gaming online and for sharing a broadband connection on multiple devices in your home.
BT Superfast Fibre 2 Broadband Deal
Average speed


67 Mb/s download
18 Mb/s upload
Add BT Sport pack
Unlimited broadband
Free Smart Hub wireless router
PAYG calls
£9.99 setup cost
500GB free cloud storage
24 month contract

Exclusive Offer:

Includes £110 Gift card till 28th January 2021

Price:

£31.99 a month for 24 months (including line rental)
Speeds
Faster upload speeds
BT superfast fibre 2 is one of the fastest services, when it comes to upload speeds. If offers faster upload speeds when compared to Virgin Media M100 fibre (10Mbps), Sky (16Mbps) and TalkTalk (17Mbps).
Stay Fast Guarantee
BT also gives Stay Fast Guarantee means you get the promised, minimum speeds for this plan, or you would get £20 back if the speed issues are not fixed within 30 days.
Ofcom broadband speed report 2020
Against the advertised speed of 67Mbps, Superfast Fibre 2 delivered the real world speeds of 56.7Mbps during peak times (8-10pm), according to the annual broadband speed survey results published by the regulator Ofcom in May 2020 (see the report).
Features
Totally unlimited broadband
All fibre packages from BT including Superfast Fibre 2 come with truly unlimited usage means neither fair usage policy nor traffic management applies.
You can download as much as you wish and be assured that no extra charges apply.
BT promises that it won't restrict your usage or slow down speeds at peak times.
Pay As You Calls
BT Superfast Fibre 2 unlimited deal allows you to make PAYG calls and you can optionally add suitable call plans.
With Call Protect, you can block calls from unwanted sources.
Free cloud storage
You get 500GB fee web storage to backup all your data, both personal and business.
BT Virus Protect
When it comes to online safety, BT offers excellent parental controls or web filter to ensure that your family is completely safe and protected from rogue web sites.
Additionally, Superfast Fibre 2 customers can get premium BT Virus Protect internet security for 15 devices.
BT Smart Hub wireless router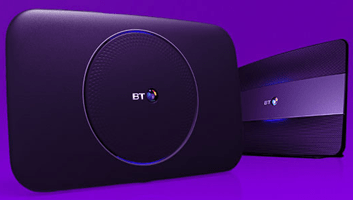 Smart Hub (Home Hub 6) is one of the best WiFi routers, designed and optimised for fibre optic broadband. You can connect multiple devices using the gigabit ports or just on wireless mode.
It is a dual band, wireless router with latest features like smart scan, 7 antenna and smart channel selection that help you get super-strong WiFi signal, wider wireless range, faster speeds and reliable connectivity without dropouts. It also comes very modern security features like advanced encryption methods for safe browsing.
The Complete WiFi feature offers you Wi-Fi discs which you can use to extend wi-fi signal all around your home
Smart Hub which usually costs £100 is included in Superfast Fibre 2 for no extra cost.
To know all technical features of BT Smart Hub
Unlimited BT WiFi via public hotspots
BT has more than 5 million public wifi hotspots across the UK.
While on the go, you can access this chain of WiFi hotspots available at popular locations like restaurants and airports for no extra cost.
How to switch to BT?
No need of MAC (Migration Authorisation Code), when you switch to BT from providers on Openreach network, such as TalkTalk and Sky. Just sign up online and BT will do the whole migration process with no downtime.
However, if your current provider is Virgin Media, you would need to cancel it before the switch. usually, BT would deliver its service within 15 days and accordingly, cancel the current service to minimise downtime.
Summing-up
BT Superfast Fibre 2 offers great speeds and reliable service for streaming TV and HD content. Powerful Smart Hub and other extras are the best features that you get on this deal.
On negative side, the deal is slightly more pricey and you can find more attractive deals from Virgin Media, Vodafone and Hyperoptic.
Summary
Reviewed by
Date
Provider
Rating
Package
BT Superfast Fibre 2 Unlimited Broadband