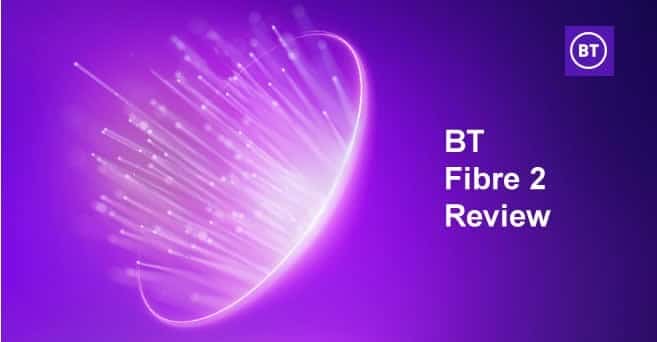 What is BT Fibre 2 broadband?
BT Fibre 2 is a superfast broadband plan which is ideal for small households with a couple of users. Impressively faster fibre speeds, reliability and BT Smart Hub are the great features that make BT Superfast Fibre 2 one of the best, mid-tier fibre plans in the market.
Fibre 2 speeds are great for HD streaming, quicker downloads and for connecting multiple devices.
Bundling Fibre 2 with BT TV gives you options of getting Sport, Big Sport and Entertainment channels with BT's popular Youview TV box..
BT Fibre 2 Broadband Package Details
Fibre broadband
type
Fibre to the cabinet (FTTC)
Data usage
Unlimited
Landline
No phone line
Average download
speed
67 Mbits per second
Average upload
speed
18 Mbits per second
Router
Smart Hub
Contract length
24 months
Upfront cost
£0
Monthly cost
£32.99
(£0 for the first 3 months)
Special Offer: Includes 3 months Free + £110 Reward card. Offer ends 29th November 2021
Pros and Cons
Pros
Cons
Faster upload speeds
Ultrafast plans (100Mbps+) are better choices for
4K streaming and online gaming.
Excellent Smart Hub WiFi router
Prices are not so cheap
Free access to BT public WiFi hotpots
24 month contracts
BT TV packages can be bundled
1,000GB of free web storage
BT Virus Protect for up to 15 devices
Features
Totally unlimited broadband
BT Fibre 2 come with truly unlimited usage so neither fair usage policy nor traffic management applies.
You can download as much as you wish and no extra charges will apply no matter how much data you download or how many hours you stream videos online.
BT also promises that it won't restrict your usage or slow down speeds at peak times (8 – 10pm)
Faster upload speeds
BT fibre 2 is great for uploading information at lightning speeds.
BT Fibre 2 offers 18 Mb/s average upload speeds which are significantly faster when compared to regular broadband plans and even Virgin Media M100 fibre broadband (10Mbps).
BT Smart Hub wireless router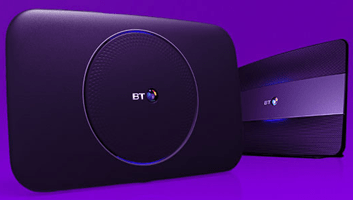 Fibre 2 includes Smart Hub (Home Hub 6) which is one of the best WiFi routers, designed and optimised for fibre optic broadband. You can connect multiple devices using the gigabit ports or just connect them via WiFi.
BT Fibre 2 router (Smart Hub) is a dual band, wireless router with latest features like smart scan, 7 antenna and smart channel selection that help you get super-strong WiFi signal, wider wireless range, faster speeds and reliable connectivity without dropouts.
Smart Hub also comes very modern security features like advanced encryption methods for safe browsing.
Stay Fast Guarantee
BT fibre broadband packages come with Stay Fast Guarantee which means you are assured with minimum guaranteed speeds for this plan based on your address, or BT fixes all issues within 30 days.
Pay As You Calls
BT Fibre 2 with landline includes landline and allows you to make PAYG calls while you can optionally add suitable call plans depending on your needs.
With Call Protect feature, you can block calls from unwanted sources.
Complete WiFi
The Complete WiFi feature offers you Wi-Fi discs which you can use to extend wi-fi signal and boost signal strength all around your home
Smart Hub which usually costs £100 is included in Fibre 2 package for no extra cost.
To know all technical features of BT Smart Hub
Free Extras
Unlimited BT WiFi via public hotspots
BT has more than 5 million public WiFi hotspots across the UK.
While on the go, you can connect to these WiFi hotspots available at popular locations like restaurants and airports for no extra cost.
BT Virus Protect
BT Fibre 2 includes parental controls to help you block the websites and web content which you think are harmful and inappropriate for children.
Additionally, Fibre 2 customers get McAfee powered BT Virus Protect internet security for up to15 devices.
Free cloud storage
Fibre 2 package includes up to 1000GB free web storage to help you backup all your data whether it be personal and business.
BT Fibre 2 and TV

You can get a BT TV bundle that includes Fibre 2 broadband plan. As BT TV is not available as standalone service, you need to add a BT fibre broadband plan after choosing the TV package.
BT TV offers there packages – Entertainment, Sport and Big Sport which can be combined with Fibre 2 plan to make a bundle.
BT Fibre 2 and TV packages come with PAYG calls and 24 month contract.
Here is the cost structure and the range of features that you get with Fibre 2 and TV packages
Package
Details
Setup
cost
Monthly
cost
Fibre 2 and Sport
(67Mbps + 163 TV channels)
Includes BT Sport channels
£0
£38.35
Fibre 2 and Big Sport
(67Mbps + 175 TV channels)
Includes BT Sport and
Sky Sports channels
£0
£61.79
Fibre 2 and Entertainment
(67Mbps + 171 TV channels)
Includes Now Entertainment
Membership and AMC
£0
£39.29
Special Offer: Includes £110 Gift card when you sign up online.
Performance and customer service
Ofcom broadband speed survey
According to the annual broadband speed survey results published by the regulator Ofcom in May 2020, Fibre 2 delivered the real world speeds of 56.7Mbps during peak times (8-10pm) (Read the report).
The latest Ofcom report which was released in May 2021 revealed that BT Fibre 2's average downloads ranged between 54Mbps and 74Mbps during peak times.
Ofcom Broadband and Phone Service Quality Report 2021
According to the latest survey by the regulator, BT scored well when it comes to customer satisfaction ratings. Around 80% of the customers were satisfied with BT's service quality and customer support.
By comparison, 78% of the landline customers were happy with BT home phone service. (Read Ofcom report)
FAQ
Is BT Fibre 2 full fibre broadband?
BT Fibre 2 is fibre to the cabinet broadband (FTTC) which uses fibre optics between the exchange and the street cabinet but uses copper cable to connect the cabinet and your home.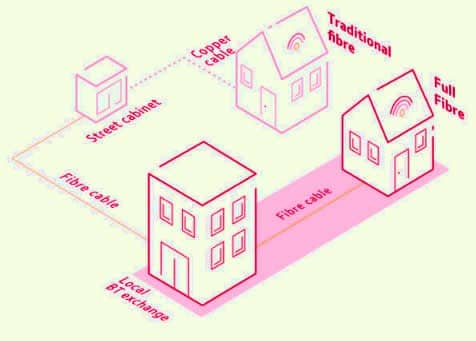 If your home is far away from the cabinet, say1,000 metres and more, it is likely that there will be significant loss of speed.
This is why, BT asks your street address when you sign up online. Then, BT is able to provide estimated speed range and guaranteed minimum speed for that specific location.
Is BT Fibre 2 broadband available in my area?
BT fibre 2 service is available for more than 90% of the UK homes. You can get Fibre 2 service, if BT's fibre network is available in the area where you live. You can just check the availability by using our postcode checker.
Is BT Fibre 2 unlimited?
In fact, BT Fibre 2 comes with totally unlimited usage which means there are monthly data caps. You can make limitless downloads and stream videos as many hours as you wish.
It should be noted that BT broadband services do not have fair usage policy and traffic management which means BT does not slow down your connection speeds at peak times.
What is Fibre 2 minimum guaranteed speed?
On average, BT Fibre 2 customers can expect to get minimum speeds from 45Mbps – 55Mbps, however, the speeds may vary, depending on the location.
BT usually offers estimated speed range and minimum speed details to the customers when they sign up.
Does Fibre 2 include calls?
Fibre 2 with landline comes with no inclusive calls. You can make PAYG calls or you can upgrade it to call plans like anytime calls.
However, Fibre 2 Only plan comes without phone line which means you do not get home phone service.
Is BT Fibre 2 good for speeds?
Fibre 2 offers decent speeds for HD streaming and online gaming. You can connect more devices for light usage, however, you have to limit the number of devices when you use it for bandwidth-intensive activities like 4K streaming.
That said, it offers enough speeds for a couple of devices for ultra HD 4K streaming and online gaming.
Is BT Fibre 2 broadband good for gaming?
If you get 50Mbps+ speeds, you can connect two or three devices for multitasking, HD streaming, online gaming etc. without any issues.
However, for 4K streaming, 100Mbps speeds can provide the best experience especially when you connect more than two devices.
What is the difference between Fibre 1 and Fibre 2?
Mainly speeds and cost vary while Fibre 2 includes larger cloud storage and Virus Protect licenses for additional devices
Fibre 1
Fibre 2
Download speed
50 Mbits/s
67 Mbits/s
Upload speed
9 Mbits/s
18 Mbits/s
Usage & data
Totally unlimited
Totally unlimited
Phone
PAYG
PAYG
Extras
Smart Hub, BT WiFi,
cloud storage, Virus Protect
Smart Hub, BT WiFi,
cloud storage, Virus Protect
Monthly cost
£25.37
£24.70
How to switch to BT?
Under new switching norms, you do not need MAC (Migration Authorisation Code), when you switch to BT from providers on Openreach network, such as TalkTalk and Sky.
Just sign up online and BT will do the whole migration process with no downtime.
However, if your current provider is Virgin Media, you would need to cancel it before the switch. usually, BT would deliver its service within 15 days and accordingly, you can cancel the current service to minimise downtime.
Is BT Fibre 2 any good?
As we pointed out earlier, BT Fibre 2 speeds suitable and reliable for streaming TV and HD videos. Only when you go for 4K streaming, it is recommended that it works better when you limit the devices to two or three.
BT Fibre 2 is one of the best starter level fibre plans which come with lots of features like Smart Hub, Complete WiFi, BT Halo and free, powerful internet security.
BT is considered to be one of the best ISPs when it comes to home WiFi thanks to its advanced, powerful Smart Hub router. In addition, the Complete WiFi, though it will cost extra, promises faster, reliable speeds in every room.
Another important feature of BT broadband is BT Sport which you can watch on mobile devices using BT Sport app for no extra cost.
On the negative side, BT products are a bit expensive when compared to other services such as Plusnet and TalkTalk and this applies to BT Fibre 2 as well.
BT broadband plans come with longer 24 month contract and do not offer shorter and one month contracts like Virgin Media.
Relevant Reviews