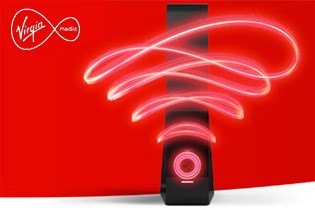 M350 fibre broadband
 (previously, VIVID 350) is the fastest, dual (broadband & phone) plan from Virgin Media to enable more users to watch HD videos online, on more devices.
It offers an average download  speed of 362Mbps which is more than 4 times faster than BT Superfast fibre 2 plan (67Mbps).Virgin Media broadband which uses the latest DOCSIS 3 cable technology and the next generation optical fibre technology, is not just faster but also more reliable than BT's fibre broadband for homes, as shown by Ofcom's Nov 2017 report which studies UK broadband providers' performance on the basis of real world speeds.
Virgin Media fibre broadband speeds
When it comes to choosing speeds, Virgin Media customers get various options that can best suit their needs – 54Mbps, 108Mbps, 213Mbps and 362Mbps (average speeds).
Other features, like, calls and digital TV packs can be added or customers can just choose from triple play packages that include fibre broadband with a wide range of bandwidth.
As for specs,  Virgin M200 & M350 fibre broadband options come with ultra fast downstream speeds, however, M350 fibre  is configured to deliver faster upload speeds of 21Mbps which is faster than what you get from other residential packages including BT Superfast Fibre 2 which offers 18Mbps upstream speeds (average).
Overview of M350 Fibre broadband
M350 fibre broadband is available with or without phone and also allows you to choose 12 month contract or 30 days rolling contract. One month contract is flexible and can be cancelled at any time, however, £65.00 upfront fee applies. Standard 12 month contract will save your money with cheaper monthly cost and discounted activation fee.
M200 Fibre vs M350 Fibre
Both M200 and M350 fibre broadband packages are ideal for homes with multiple users, streaming HD videos & TV shows and online games. However, the latter is better option for users that look out for ultra fast speeds, performance and reliability.
Features of M200 fibre broadband
213Mbps average download speed
12 Mbps upload speed
Unlimited broadband usage
Virgin Media Super Hub 3.0 wireless router included
Traffic management applies during peak times
Weekend calls
12 month contract
Features of M350 fibre broadband
362Mbps average download speed
21 Mbps upload speed
Unlimited broadband usage
Virgin Media Super Hub 3.0 wireless router included
Traffic management applies to upstream traffic during peak times
Talk Weekends included
Evening & weekend calls and Anytime calls can be added
Option to get the plan without phone line