Last updated on April 12th, 2021 at 03:11 pm

Virgin Media M350 fibre broadband is one of the ultra-fast packages that are ideal for very busy households with multiple users and 10+ devices.
Offering 362 Mb/s average download speed and 36 Mb/s average upload speed, ultrafast M350 broadband is a suitable fibre plan for streaming HD & 4K videos, playing online games and for faster downloading.
The latest Virgin Media Super Hub 3.0 wireless router is bundled with this plan for no extra cost.
Virgin Mobile 4G SIM with 5GB data is included, when Oomph is added to the basic M350 plan.
When it comes to pricing, M350 is superb value for money deal, considering the ultrafast speeds it comes with and its wider availability of 50% of the UK households. .
See our exclusive, low-priced M350 Fibre broadband deal (£34 a month) with no setup cost and eGift worth of £50
Virgin Media M350 Broadband Deals
M350 package is available as various options to suit your needs – broadband & phone, broadband only, broadband & TV and broadband with 4G SIM.
The plan also comes with flexible 18 month contract and 1 month rolling contract
Broadband and Phone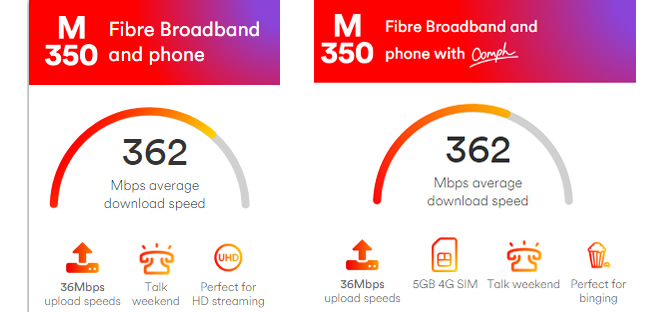 Package
Details
M350 Fibre
broadband and phone
Includes Virgin Media Hub 3 and Talk Weekends
£46 per month
£35 setup
18 month contract

M350 Fibre
broadband only
No phone line.

£32 per month
Free setup
18 month contract
Broadband Only
M350 broadband only plan comes without Virgin Phone line. Suitable for households which do not need home phone and calls.
Plans with Oomph include 5GB 4G SIM to help you use mobile data when you are on the go.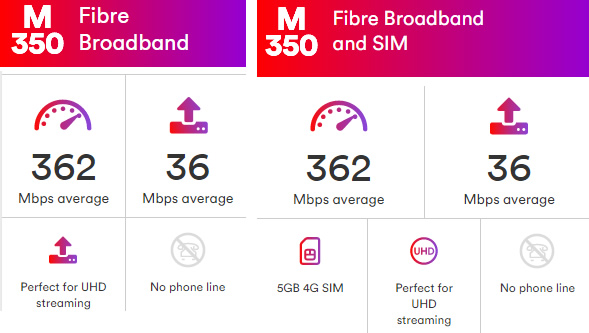 Package
Details
M350 Fibre
broadband only
No Virgin Phone line
£32 per month
£0 setup
18 month contract
This is our special offer: Get £75 voucher when you sign up online by 14th March 2021
Broadband and TV
Virgin Media offers broadband, phone and TV bundles which allow you to choose broadband plan of your choice including M350.
Big bundle (Mixit TV ) and Bigger bundle (Maxit TV) are Virgin TV packages which are bundled with Virgin TV V6 box.
Mixit TV is a basic TV package while all the Entertainment picks are included in Maxit TV package.
You can personalise the bundles by adding M350 and also add call plans, Premium Picks, Netflix and Virgin Mobile SIM and so on, while signing up.
Virgin Mobile SIM with 5GB 4G data will cost £8 extra a month.

Package
Details
Big Bundle with M350
Includes Talk Weekends, Virgin 360 TV box and
Mixit TV (105+ channels)
£51 per month
£35 setup
18 month contract
Bigger Bundle with M350, Virgin 360 TV box and
Maxit TV (210+ channels)
£49 per month
£35 setup
18 month contract
Virgin Media M350 broadband speeds
Utrafast download speeds
M350 is a widely available, ultrafast fibre plan offering five times faster download speeds when compared BT Superfast Fibre 2 (67Mbps) and Sky Superfast (59Mbps).
It's much faster than BT Full Fibre 300 (300 Mb/s) and
Faster upload speeds
M350 comes with an average upload speed of 36 Mb/s which allows users to make quicker uploads of all kinds of data and large files without any hassle.
No slow down
There is no traffic management so your download speeds are not reduced during peak times.
Ofcom Broadband Speed Report 2020
According to Ofcom broadband performance report released in May 2020, Virgin Media M350 customers could get real world speed of 344Mbps as per a nation-wide speed survey conducted in November 2019,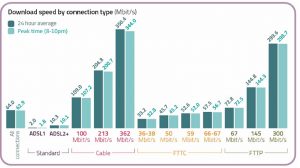 Features
| | | | | | |
| --- | --- | --- | --- | --- | --- |
| Totally Unlimited | Super Hub 3 | 1 Month contract | Internet security | WiFi | 4G SIM |
Totally unlimited
M350 broadband is not subject to any data caps or traffic management. Heavy usage has no impact on speeds and all data traffics get unrestricted speed and bandwidth.
Broadband only option
M350 fibre broadband is available with or without Virgin phone line.
When it is taken with phone line, free weekend UK calls are included for no extra cost.
Virgin Media M350 broadband only option can save your money as it comes with cheaper monthly cost.
M350 Fibre and Oomph
M350 broadband with Oomph includes 4GB data SIM which comes with unlimited minutes and texts. You can choose from various data options available for the SIM.
30 days rolling contract
Along with standard 18 month contract, 30 days rolling contract is also available. One month contract is flexible and can be cancelled at any time,
Virgin Media Super Hub 3.0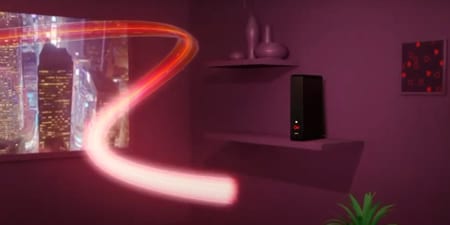 M350 is bundled with the latest Super Hub 3.0 which comes with Intelligent WiFi technology to help you connect multiple devices and enjoy ultrafast WiFi speeds and wider coverage within your home.
Internet Security
M350 includes Web Safe parental controls which is used to protect children from websites with unsafe or inappropriate online content. You can opt out of this feature or change settings at any time.
One year F-Secure subscription is also included to protect up to 5 devices from viruses and malware.
Free extras
M350 customers get free access to Virgin Media WiFi and WiFi on the London Underground.
Up to 7 devices can be registered for WiFi access using Virgin Media Connect app.
Summing-up
M350 fibre broadband is not pricey, considering its ultrafast download speeds and great upload speeds that can make everything quicker for you when you go online. The plan is ideal for streaming HD & 4K content on more devices and for online gaming.
Virgin Media offers various options in terms of bundling and contract length to suit the different needs of the customers who can also benefit from free extras that are bundled with this package.
Related Reviews
Summary
Reviewer
Review Date
Reviewed Item
Virgin Media Fibre Broadband
Author Rating
Product Name
Virgin Media M350 Fibre Broadband