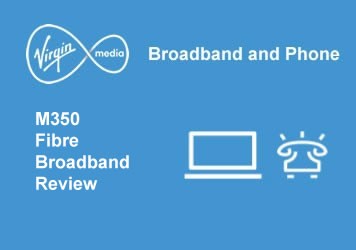 M350 fibre broadband (formerly, VIVID 350) is the fastest broadband plan from Virgin Media.
Available as broadband only or broadband & phone bundle, it also includes flexible contracts of 12 month and 1 month rolling contract
Its average download  speed of 362Mbps is quite ideal for big households with multiple users who can share the web on various devices, play games online and stream HD and 4K videos at the same time.
Virgin Media M350 broadband overview
362Mbps average download speed
36Mbps upload speed
Unlimited broadband usage
Virgin Media Super Hub 3.0 wireless router included
Traffic management applies to upstream traffic during peak times
Talk Weekends included
Evening & weekend calls and Anytime calls can be added
Option to get the plan without phone line
Virgin Media M350 broadband speeds
With 362Mbps average download speed, M350 is the fastest widely available broadband in the UK. It offers average upload speeds of 36Mbps which allows users to make faster uploads of large files in minutes.
According to Ofcom broadband performance report released in May 2019, Virgin Media M350 customers could get real world speed of 364Mbps as per a nation-wide speed survey conducted in November 2018,
Features
Unlimited usage and Traffic management
Although M350 comes with unlimited data, however, the ISP's traffic management (FUP) applies. Excessive downloads beyond the fair usage during peak time may slow down the speeds.
Broadband & Phone and Broadband only options
M350 fibre broadband is available with or without Virgin phone line. When it is taken with phone line, free weekend UK calls are included for no extra cost. Virgin Media M350 broadband only option is also available, however, higher monthly fee and set up costs will apply to this plan.
M350 Fibre and Oomph
The new plan with 362Mb broadband includes 2GB data SIM which comes with unlimited minutes and texts. You can choose from various data options available for the SIM.
12 month and 30 days rolling contracts
Along with standard 12 month contract, 30 days rolling contract is also available. One month contract is flexible and can be cancelled at any time, however, £45.00 upfront fee applies. Standard 12 month contract will save your money with cheaper monthly cost and discounted activation fee.
One-off setup cost
£35 set up fee applies to all 12 month contracts of broadband bundles and broadband only plans.
Latest pricing and offers
Virgin Media M200 fibre broadband and calls

Unlimited

 

usage




213Mb

 

speed


Weekend calls

£38 p/m




12 month contract


More Info

Offer:

Virgin Media M350 fibre broadband & calls

Unlimited

 

usage




362Mb

 

speed




Weekend

 

calls

£43 p/m




12 month contract


More Info

Offer:
Summary
Reviewed by
Date
Provider
Virgin Media Fibre Broadband
Rating
Package
Virgin Media M350 Fibre Broadband