What is TalkTalk Fast Broadband?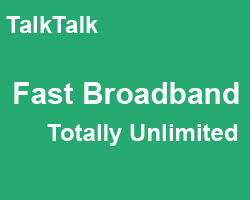 New TalkTalk Fast Broadband comes with fixed price for 18 months. The monthly price includes line rental and TalkTalk assures that its cheapest plan will have the same price for 18 month contract.TalkTalk offers an unlimited broadband plan without inclusive calls at a low price point under the package name ' Fast broadband'. This plan is so flexible that you can still make calls and pay only for them. Although there is no call plan included, you can still make free calls to other TalkTalk landline numbers.
The major selling point for this broadband only package is its totally unlimited broadband with no restriction on speed or usage. Price wise, only a few unlimited broadband plans from other ISPs can match with its lowest price and value for money features.
As such, is TalkTalk Fast Broadband really good for you, when it comes to speed, reliability, value for money and ultimately, customer support?
We review all features so you could get a full picture of what Fast broadband offers based on which you can come to a conclusion whether it is the right deal you are looking for.
What features does TalkTalk Fast Broadband come with?
Speed
TalkTalk offers average download speed of 11Mbps and  1Mbps upload speed on this plan. If you could get around 8Mbps download speed, you should be happy about it, because, that is what Fast Broadband customers get as average speed and other ISPs' similar packages also offer speed in the same range, according to Ofcom's speed report Nov 2015.
Totally unlimited usage
Fast Broadband does not have any 'hidden' usage limit so you can download as much as you wish. There is not any traffic shaping to slow down your speeds, even at peak times.
Free Super Router
Without WiFi, you can not imagine home broadband which you would like to access on multiple devices around the home. The latest Super Router is advanced, dual band wireless router which is powered by the latest WiFi technologies to offer you reliable,fast and secure WiFi connection throughout your home. There are two ethernet ports and it can be connected to YouView TV which TalkTalk offers with its triple-play packages.
No line rental  – the plan price includes it
For better clarity of pricing, TalkTalk broadband prices now include line rental. There are no such hidden costs that can mislead you. Plan price is also fixed for 18 month contract.
Free HomeSafe Internet Security
With HomeSafe, you can protect your devices and kids from bad websites and inappropriate content. It is not just website filter or parental controls, but it additionally protects you with virus alerts.
SuperSafe Boost, powered by F-Secure is also available to ensure additional protection from viruses, phishing and other malware attacks. The subscription includes protection for up to 8 devices including PCs, mobiles and tablets.
What is TalkTalk Fast Broadband good for?
Cheap unlimited broadband
It is one of the ideal plans for those who look out for cheap, reliable, unlimited broadband with all good features. New customers get great discounts on the monthly price or even cost-free broadband for the whole contract.
Best for light to moderate use, but not for high-bandwidth stuff
Simply broadband works well with homes with one or two users, or people who would mostly use internet for general things but not for high-bandwidth stuff like online gaming or HD video streaming. 1Mb upload speed is decent for uploads of photos or small files, but not suitable for business use which requires faster upload speeds. Using Super Router, you can get great WiFi speeds around the home
Flexible contract options
Both 18 month and 12 month contract options are available (which are subject to change, depending on the offer), so you can pick the one that is right for you.
Call boosts
If you need to make local calls or international calls, you can just add the specific calls boost or cancel it any time, when you don't require it. They are tailored to suit anyone's budget.
TalkTalk Fast Broadband deals
While TalkTalk Fast broadband is available to new customers as line only package, existing customers can upgrade to fibre or add call boosts such as anytime calls with an extra fee.
Limitations
Expensive call rates
TalkTalk call rates with Fast Broadband are not as cheap as Plusnet or Post Office. For example, calls on TalkTalk will cost 11.50ppm, when compared to 8.40ppm on Plusnet or 8.50ppm on Post Office.
Poor customer satisfaction ratings
TalkTalk customer service was not as good as other major ISPs like Sky or Virgin Media in 2015, according to UK broadband watchdog Ofcom. The complaints reports from the regulator also point out that the ISP needs to improve in this area.
Another event that severely hit TalkTalk reputation was the cyber-attack on its website which happened in October 2015. It was reported that more than 150k customers' personal details and 15k bank account numbers were stolen by the hackers.
No free cloud storage or free public WiFi
While its rivals BT, Virgin Media and Sky offer free public WiFi and cloud storage to their customers, TalkTalk is yet to offer these services to its customers who will rather need to look for them outside their own provider, when they have to use them.
Terms and Conditions
New customers can get speed estimate from TalkTalk to find the actual speeds they are likely to achieve at their premises.
There is no separate line rental fee. It's included.
While unlimited free calls are allowed between TalkTalk numbers, PAYG calls will cost 11.5p per minute as standard. Cheap calls to specific numbers such as 084, 087, 09 and 118 will cost 7.5p per minute. There is 17p connection fee, for other calls.
HomeSafe is free parental controls and web safety feature that helps customers protect their family and devices from the harmful online content or websites or bad websites.
Early termination charges will apply, when you cancel Fast broadband when the contract is not over. You will need to pay for the remaining months or days in the contract.
What are the current special offers and the latest price?
Price
The offer price of Fast Broadband is just £17.95 per month, including line rental.
Offers
Similar packages to consider
Plusnet Unlimited
Plusnet offers equally cheap unlimited broadband with great customer support. Plusnet offers cheap call rates and call plans and line rental saver is also available to save your money. New customers can make great savings using the discounts.
Post Office Broadband Premium
Post Office is one of the low-cost broadband providers in the UK, when it comes to standard packages. Its line rental and call rates are cheaper, when compared to TalkTalk.
EE Broadband & Weekend Calls
EE offers free weekend UK calls with  11Mb unlimited broadband. Monthly price and line rental cost is more or less same. Like TalkTalk, EE also allows you to upgrade to fibre or bundle TV to meet your requirements.