Last updated on February 23rd, 2021 at 03:36 pm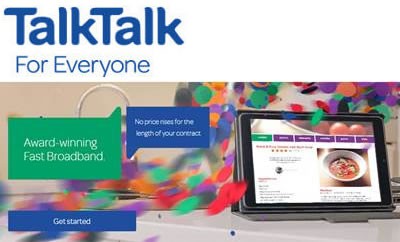 TalkTalk Fast broadband
is a low cost, 'no frills' package from TalkTalk, the UK's budget provider.
Fast broadband is a standard, ADSL broadband plan with no inclusive calls and is a perfect starter for small households with one or two internet users.
Alongside, decent speeds and totally unlimited usage, the plan comes with great features like Super router and internet security.
Features
Speed
TalkTalk fast broadband offers an average download speed of 11Mbps and  1Mbps upload speed.
While these speeds are achievable by 50% of its customers,  users actually could  receive 11Mbps during peak times (8pm – 9pm),  Ofcom's speed report 2019 revealed.
Maximum
Minimum
24 hours
Peak times
(8pm – 10pm)
TalkTalk Fast
Broadband
(average 11Mbps)
9.1Mbps – 11.3Mbps
8.1Mbps – 10.1Mbps
8.9Mbps – 11.1Mbps
8.8Mbps – 11Mbps
Totally unlimited usage
Fast Broadband comes with totally unlimited internet usage means there is no slow down, even at peak times.
TalkTalk Fast Broadband Package Details
Average speed


11Mbps download
1Mbps upload
Supersafe protection
Unlimited broadband
Free Super router
PAYG calls
£4.95 setup
Fixed price guarantee
18 month contract
Special  price

Offer price:

£22.95 a month for 18 months (including line rental)
Free Super Router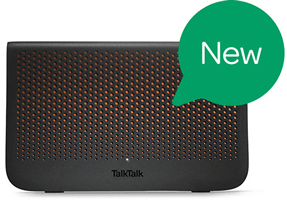 You get Super Router, an advanced, dual band wireless router designed with the latest WiFi technologies to offer you reliable,fast and secure WiFi connection at your home.  It comes with two ethernet ports and it can be connected to YouView TV which TalkTalk offers with its TV bundles.Or you can upgrade home WiFi with the new, faster
WiFi Hub for even stronger wireless signal.Free HomeSafe Internet Security
With HomeSafe, you can protect your devices and kids from rogue websites and inappropriate content. It is not just website filter and parental controls, but it additionally protects your devices malware threats.
Supersafe is free online protection for a single device. However, you can go add SuperSafe Boost, powered by F-Secure to ensure additional protection from viruses, phishing and other malware attacks. The subscription includes protection for up to 10 devices including PCs, mobiles and tablets.
Flexible contract options
Both 18 month and 12 month contract options are available (which are subject to change, depending on the offer), so you can pick the one that is right for you.
Call boosts
Fast broadband comes with PAYG calls. However, if you want anytime calls or international calls, you can just add the specific calls boost or cancel it any time.
Fixed Price Guarantee
TalkTalk offers no price rise guarantee for the entire contract.
Summing-up
Fast broadband is a great option if you look out for cheap, reliable, unlimited broadband with all essential features. There are no hidden costs such as setup fee or mid-contract price rises.
New customers usually get great discounts in the monthly price along with gifts and vouchers.
TalkTalk fast broadband is ideal for homes with one or two users, for browsing, shopping online and streaming videos.  1Mb upload speed would allow you to make quicker uploads of photos, music albums and your personal data
Summary
Reviewer
Review Date
Reviewed Item
Author Rating
Product Name