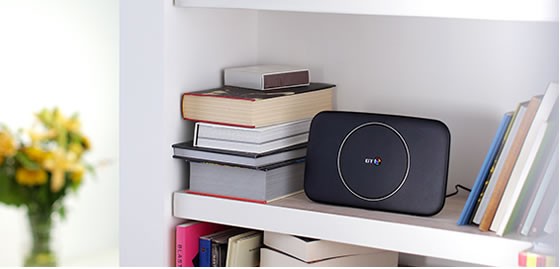 BT launched its new wireless router
BT Smart Hub
for its fibre customers.
It is quite a leap over its predecessor Home Hub 5 in every sense.Although, both are dual band wireless routers, Smart Hub (Home Hub 6) is packed with additional features like advanced filters and an awful built-in set of seven antennas.
Specifications
Fibre router compatible with ADSL, ADSL2+ and VDSL2
Data transfer speed up to 300Mbps
Compatible with IPV4 and IPV6
Dual band (2.4GHz (3 x 3 11n MIMO, 5GHz 4×4 11ac)
7 amtennas(3×2.4GHz, 4x5GHz)
4 Gigabit Ethernet ports
USB port
WPA2, WPA (Auto) Encryptions
Black colour, Dimensions: 41mm x 410mm x 192mm. Weighs 782g
Features
Most powerful WiFi signal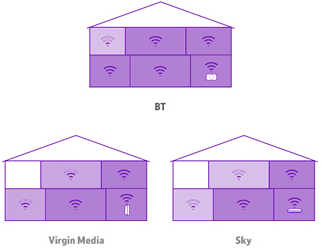 BT says home broadband users can now use wifi anywhere in home, as Smart Hub 6 is designed to send the most powerful wifi signal.In fact, the provider claims it is the best ever router that is supplied with broadband, when it comes to wifi signal reception.
As per tests, Smart Hub has an improved 500m wifi range which beats many broadband ISP routers.
Advanced Filters
There are built-in filters which make a lot of difference, when it comes to performance. BT claims that the filters are quite capable of blocking the airwaves of nearby frequencies that interfere the wifi signal reception,
Smart Scan technology
Smart Hub uses this technology to choose the best wifi signal so there will be minimum dropouts and better performance.
AC WiFi standard
Only the very latest wireless routers are compatible with 802.11ac wifi standard and Smart Hub adopts to this next generation technology to ensure that its customers get a device that can meet the needs and capacity, when more users share broadband via wifi.
Dual band router
Smart Hub, like Hub 5, uses dual band frequencies 5GHz and 2.4GHz, 4 gigabit connections and has provision for ADSL 2+ use as well. Dual band feature will help the device to pick the powerful signal available in the right channel.
Multiple Input and Multiple Output (MIMO)
Using this new feature, Smart Hub can efficiently manage the task of connecting multiple devices at the same time. This means, you can connect multiple devices simultaneously without any hassle.
Availability & price
Smart Hub is included with all BT fibre packages for no extra cost. Other BT customers can buy it for £100. The retail price for non-BT customers is around £130
Summary
Reviewed by
Date
Provider
Rating
Package