February 2, 2018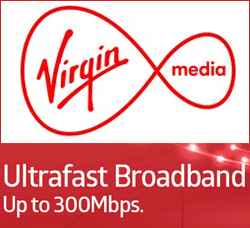 Cable operator Virgin Media has reduced the monthly price of its dual broadband and phone packages for its new customers.
The offer will help new customers get £36 discount across a range of bundles that offer up to 50Mb to 300Mb fibre broadband, with free weekend calls and Virgin Hub 3.0
VIVID 50 & calls (up to 50Mbps) will cost £29 a month ( reduced from £32). We offer an exclusive £20 credit with this package.
VIVID 100 & calls (up to 100Mbps) will have similar price reduction from £37 a month to £34 a month.
VIVID 200 & calls which offers 200Mbps ultra-fast broadband costs £39 a month (reduced from £42)
New customers who take up VIVID 300 & Calls will need to pay just £44 per month, instead of £47 per month.
Virgin Media bundle prices change to the expensive standard tariff after 12 month contract.