February 22, 2017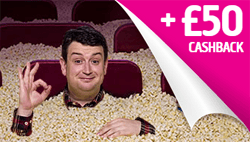 Plusnet has just announced £50 cashback for the new customers who take up  its unlimited ADSL broadband service ONLINE till the end of February 2017.
Plusnet unlimited broadband comes with 'up to' 17Mbps download speed, uncapped monthly usage, free wireless router and 365 days a year award-winning UK customer support.
All the plans on this service includes line rental and customers are allowed to add call plans suitable for their needs at extra cost. However, all users are allowed to make anytime free calls to Plusnet support and other Plusnet numbers at any time.
The basic package which is unlimited broadband with line only,  would cost £20 a month, including line rental. This price will apply to the 12 month contract. There is one-off £10.00 activation fee while the router will be delivered free of cost.
While the total cost would amount to £250 for a year, the £50 cashback offer would help new subscribers make 20% savings on their spending for a reliable home broadband service.
Customers can just choose from unlimited evening & weekend calls with mobile calls or UK anytime & mobile calls or unlimited anytime international based on their requirements. Call plans start from £4 extra a month