Here are our pick of the best broadband deals for November 2017. Compare our exclusive offers from the top broadband providers in the UK to find the right deal for you. You can find plenty of money-saving offers which also come with free vouchers, gifts and cashback.
Plusnet unlimited ADSL package now includes £50 cashback and free setup on 18 month contract deal.  Offer has been extended until 21st November 2017.
Plusnet Fibre Unlimited is one of the cheapest fibre packages with 'up to' 38Mb unlimited broadband, free setup, free Hub One  wireless router and award-winning UK based customer support.
Plusnet Unlimited Fibre Extra  deal offers 'up to' 76Mb unlimited broadband, free Hub One  wireless router and award-winning UK based customer support.
TalkTalk offers free fibre connection and free setup to help you make great savings. The great value fibre broadband with speeds up to 38Mbps now comes with a monthly price of just £27.50 including line rental.
TalkTalk TV pack comes with free TV box and 80+ channels (15 in HD) while TV Plus offers 30+ premium channels with freeview channels.
TV bundles allow customers to choose fast broadband or fibre. Call plans can be added to packages by choosing from boosts available with flexible contracts.
TalkTalk packages including fibre and TV bundles now come with fixed price for the life of your contract length. You can choose from 12 month, 18 month contract and 24 month contract options.
Award winning ISP Origin broadband has revised prices across a range of its products, offering a huge discount on its unlimited ADSL package  (£11.67 a month, including line rental) to help you save up to £311
Supsersaver deals allow you to pay in advance for 12 months or 24 months so you would pay less ( from £11.67 a month equivalent) and save up to 31% on the cost of the deals.
For more information, visit Origin broadband
BT offers free fibre activation and reward cards on its Black Friday Sale which runs until 27th November 2017.
Plus 18 month free BT Sport will be included, when you subscribe for BT Sport.
New BT Infinity 2 customers can now benefit from reduced special price offer and can also claim  £125 prepaid MasterCard. The package now costs just £39.99 a month including line rental.
Now, the fibre packages come with the UK's best router – Smart Hub (Home Hub 6), BT Virus Protect for up to 15 devices and 1000GB cloud storage.
Sky offers £50 prepaid MasterCard with new subscriptions of standard & fibre broadband packages until 7th December 2017.
Sky broadband unlimited now costs  just £18 a month which includes line rental cost too. Sky offers  fibre packages with discounts and the prices start from   £20 including line rental.
Sky TV bundles (with or without broadband) including  the Original, the Variety, the Family, Sky Sports and the Complete now come with Sky Q TV box (1TB storage) at no extra cost .
Sky Unlimited 


Offer:

 £50 prepaid Mastercard


Monthly Price:

£18

Up to 17Mbps
Unlimited data

Sky Fibre


Offer:

£50 prepaid Mastercard


Monthly Price:

£20
Sky Broadband Unlimited and TV


Offer:

  Sky Q 1TB box included


Monthly Price:

 £42

up to 17Mbps
Unlimited data
Free eve & weekend calls
120+ TV channels.
EE fibre broadband subscriptions are now available to new customers with free setup, 5GB mobile data and £50 credit, when you quit your current provider early.
EE fibre broadband prices start from £29 a month including EE phone line. All the fibre deals include free Nortan Security,  Bright Box wireless router and optional call plans.
EE unlimited broadband & calls is one of the cheapest broadband deals with a monthly price of just £21.50 which includes line rental. The package includes 'up to' 17Mb unlimited broadband, free Bright Box 2 wireless router and free weekend landline UK calls.
Virgin Media offers free Netflix for 6 months with selected triple play packages including Mix, Full House and VIP bundles.
Virgin Media Player bundle price has been reduced to just  £30 a month.
The cheapest Player bundle which includes 100Mb unlimited broadband, 70+ TV channels and free weekend UK calls now costs from just £30 a month including line rental.
Full house TV bundle now comes with 100Mb/200Mb/300Mb fibre broadband, with prices starting from just £56 a month. This top-end fibre broadband, TV and calls package offers 245+ TV channels (46 HD channels & 16 Sky channels) and unlimited weekend calls.
Post Office Premium Unlimited broadband package comes with 18 months of discount for new customers.
The package now costs just £19 a month including line rental. The dual broadband & phone package includes totally 'up to' 17Mb unlimited data usage, free weekend UK landline calls, free online protection, free wireless router and UK based customer support.
Premium Unlimited


Offer:

 Discount price


Monthly Price:

£19

Up to 17Mbps
Unlimited data
How to find the best broadband deal for you?
Compare broadband deals and providers based on features, price and other criteria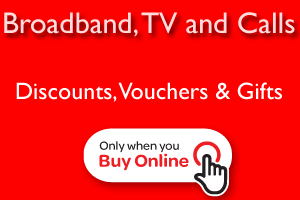 There is no dearth of good broadband providers and deals in the current UK market. However, the right way of comparing  them could help you get the perfect deal for you.
For instance,  you would find most packages come with up to 17Mbps speed while there are also fibre optic broadband plans which offer speeds from 38Mbps to 152Mbps.
However,  speed is just one of the many criteria that helps you spot the best broadband for you.
You will also need to consider other things like monthly usage allowance, contract length, pricing and other value added services that come with your package.
Unless you compare as many deals as possible from top providers, you may end up buying a wrong package.
Compare broadband deals by postcode to find the best offers to save money and time
It often happens that your location is not covered by a certain provider which offers some of the best deals at great pricing.  It is good to check the availability of packages and providers for your postcode, before you delve into other details.
It is well known that BT offers the best coverage of its broadband services for more than 95% of homes in UK.
By comparison, Virgin Media's cable based, fibre optic broadband is not available to more than a third of the UK. To get Virgin Media bundle deal,  you need to check whether the cable broadband provider covers your area.
Like wise, ISPs like TalkTalk, Sky and other small operators who offer their services via BT's infrastructure offer  exclusive deals for customers who live within their their own network areas. These selected packages come with discounts and extras that could save your money.
Broadband postcode checker  can help you find the availability of these deals in your area.
Explore all the options that broadband deals come with
Bundle deals
You can optionally add phone, TV and mobile broadband, if your provider also offer these services. This way, you can save money as these companies offer so many special offers exclusively for those who take multiple services. Bundling also helps you save your time because you deal with a single company, when it comes to making payments or asking any help regarding technical or other issues.
Broadband and phone deals
Most operators offer phone (i.e., line rental) with broadband on a single deal. When compared to broadband only plans, these bundles offer more features and extras that could add value to your money. Some of the telephone and broadband packages come with free broadband for up to 18 months and free connection, when you take broadband including line rental.
Line rental saver
You can also make great savings on line rental by paying rental for 12 months in advance.
Broadband without line rental
Fixed broadband like ADSL requires you to pay line rental. However, you may prefer to use phone line from another company, then you can opt for stand-alone deals. Remember, still you will need to pay line rental to one firm or another.
Cable broadband allows you to take broadband without line rental, if you want to reduce the cost. Only mobile broadband comes without line rental, but it uses entirely different technology. You will find the tariff and features also vary when you compare different technologies.
Broadband, phone and TV deals
Sky, Virgin Media and BT also include TV that offers on-demand vidoes, high-definition movies, sports channels, catch up TV programmes etc via your broadband connection. Usually, you are provided with free settop box to watch these contents on your TV set, when you buy these services on a bundle.
Broadband and TV deals
In this option, phone is not included. It is more likely that these offers may not include discount and special pricing that usually make broadband, phone and TV bundles more attractive, however, you can still claim free wireless router and free set-top box on these deals.
Choose unlimited broadband plans
A few packages would come with data usage restrictions. You are allowed to use certain amount of data per month that varies from one package to another and you will need to pay extra when your usage exceeds this limit.It often happens that online activities like streaming videos and downloading huge files and movies could quickly use up the set monthly data within a fortnight or even before, means you will need to use internet in the expensive territory zone for the rest of the month. This is not certainly good, especially, if you are keen on cutting additional costs.
Unlimited broadband is the wise option to choose, in such circumstances. Unlimited internet literally means you can upload or download as much data as you like. Though it sounds attractive, the unlimited access is entirely not without restrictions. There is still fair usage cap on a month and you are also not allowed to make excess downloads during peak hours. If you breach these rules, your provider is likely to reduce speeds and even warn you if you frequently violate this fair usage code.
The good news is ISPs offer generous amount of fair usage per month , so, there is no need to be panicky over exceeding the fair usage limits.
However, if you are unsure of how much data you would use in a month or download a lot of music tracks, movies and large files or watch online TVs, it is wise to go for a unlimited broadband service.
Look out for the broadband deals that come with free gifts, cashback, rewards and vouchers
We often launch  exclusive, online offers that come with  free gifts such as gift cards, cashback and shopping vouchers.  
You can find all the broadband deals with free gifts on this page or just use our broadband postcode checker to find more deals on special offers.
New customers usually get this kind of incentives such as  discounts, gifts and free broadband for up to 18 months, when they sign up online.
Make sure you consider the caveat before you decide
Speed
Don't be misled by advertised speeds such as 'up to' 17Mbps or 50Mbps. These speeds do not refer to the actual speeds received by majority of customers. Before you sign up, your provider should tell you the estimated speed that you are likely to get at your location without prompting, as per Ofcom's trade practice. It is consumer right to get this information before you enter the contract with them..
You should know, speeds drop over copper lines due to the distance between your home and local exchange. Slow broadband can also be caused by other factors like high contention (ie., when more people share the same line), traffic shaping (i.e., when ISP reduces speeds at peak hours) and technical problems (like line noise) within your premises.
From your side, make sure that you use the latest, high speed modem router, short cables and proper wiring methods.
Although the standard 17Mb speeds are enough for most of the basic online activities, fibre broadband is the best option if you get reduced speeds over copper lines or if you require faster speeds as multiple users access your broadband connection.
Usage limit
If your service comes with set monthly usage cap or limit, make sure that it allows you to do all online things without exceeding the limit. If your usage is just limited to email, browsing and occasional streaming & downloading,  20GB of data is likely to be enough for your monthly usage.
This may not be case for those who spend a lot of time in watching videos on YouTube & other streaming websites.
A high definition video or watching DVD online can use up more than 4GB in a couple of hours, this leads us to the conclusion that choosing the plan that includes the required monthly data is as much important as faster speeds.
Customer service
People often tell about frustrating experiences they had while trying to contact the support team during times of technical issues.  Poor customer service comes next to slow speeds, when it comes to top reasons for customer dissatisfaction with UK internet providers, according to latest Ofcom survey.
The good news is, the report also shows most ISPs have improved their customer support in the recent years.
Reviews, experts and customer ratings should also come of great help to identify the right service provider for your needs.
Save money and time with our shortlisted best broadband deals
Our mission is to help you find the perfect broadband deal that you are searching for. Here, on our broadband comparison site, we compare the reputed broadband providers of the UK and their best selling products. Whether cheap or fast broadband, phone & TV bundles or just broadband, you can find a wide range of packages in each category using our postcode checker.
What if, you do not have enough time for it and want to make a quick search, yet you would not want to miss the best offers?
To save your time, we have just put this separate page for such deals which come with price discounts, cashback, vouchers and free gifts like tablet, wireless speaker or even LCD TV.
And we update the special offers as soon as we get the news from providers so we do not miss them, as well.
How to make sure that your new broadband provider is reliable and the best?
All major broadband providers currently offer their services via advanced ADSL 2+ (from 17Mbps speeds) or superfast fibre networks (30Mbps+ speeds) in most areas across the UK.
If you live in areas where your chosen service is available, you can get speed estimate from your new provider, before you sign up.
A few genuine factors like how far your premise is from the exchange or cabinet and whether you access the web during peak or non-peak times can also affect the quality of broadband your receive, irrespective of specific provider.
Broadband and phone services can be affected by technical issues and other network factors. Although no provider is 100% perfect, best in the industry can offer you very reliable service with least technical and customer support related issues.
When something goes wrong with your connection like fault line for which the provider is solely responsible, you can always contact your provider's customer support which is available both on telephone and on website.
As for the dedicated 24/7 UK based customer support, Plusnet, Sky, Virgin Media and Zen offer award-winning customer service so you can be rest assured that your issues would be resolved without any delay.
Broadband Only or Bundles?
While choosing the right broadband deal for you, you will need to decide whether you want to add other related services such as home phone, TV or even mobile.
It is a proven fact that you can make significant savings and also benefit from exclusive special offers when you take a broadband & phone bundle instead of subscribing to broadband only deal.
As big providers like BT, TalkTalk, Sky and Virgin Media also offer digital TV as part of bundled packages, you can further increase savings when you take one of the triple-play packages which include broadband, TV and home phone from such providers. What's more you can also add mobile SIM from the same provider for an £5 extra a month.
Standard broadband (ADSL) or Fibre optic broadband?
After deciding which services you want to add to broadband, you have to then assess what speeds and monthly data usage you would require for your online activities.
Copper based ADSL 2+ broadband
It is the most popular and widely available broadband in the UK.
Typical achievable download speeds can be up to 11Mbps, however, the distance from exchange and the network congestion can easily affect the speeds. Upload speeds are usually less than 2Mbps even on high speed connections.
However, the selling point of ADSL 2+ broadband is its affordable cost and value for money and the availability of  wide range of pricing and specifications which can fit the needs of most homes and individuals
Fibre based superfast broadband
However, if you are a regular and heavy user with high bandwidth usage or have multiple users sharing broadband at your location, you may need superfast broadband delivered via BT's fibre networks and Virgin Media's cable network.
Can I find cheapest fibre broadband that can fit my budget?
Fortunately, fibre broadband prices are currently not as high as they were, a couple of years ago, means, you can choose a fibre broadband deal that suits your budget for monthly prices starting from just £10.
You can also save a lot in the first year through reduced price offers that come with most broadband providers.