Average Speed


59 Mb/s
download 
16 Mb/s
upload
Unlimited downloads
PAYG calls
Monthly: £25
Upfront: £0
Total contract: £450
18 month contract
What is included?
Speed Guarantee promises minimum download and upload speed for your line or your can cancel the service within 30 days without exit fee.
Superfast speeds and unlimited usage are perfect for streaming and downloads.
Includes home phone line with PAYG calls. You can add a suitable call plan
Includes the latest SkyQ hub WiFi router
Includes Sky Talk Shield to help you block the calls you don't want answer to.
Includes Sky broadband Shield protection on your devices.
Includes free, unlimited access to Sky WiFi hotspots across the UK
Features
How fast is Sky Broadband Superfast?
Sky Broadband Superfast offers an average 59Mbps download speed, however, the estimated speed can be even higher (71Mbps) depending on the area.
Sky offers the estimated speed information for your postcode during sign up.
You can connect multiple devices, stream HD videos and play games online without any hassle.
Is Sky Broadband Superfast truly unlimited?
Sky Broadband Superfast comes with truly unlimited usage as there no data caps and no traffic management rules apply.
Speeds are not managed (slowed) during peak times (8-10pm)
Sky Hub WiFi router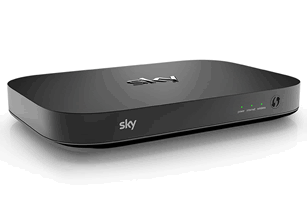 Optimised for fibre broadband, the new Sky Hub WiFi router offers super strong WiFi signal, faster speeds and the best performance using Smart Signal Technology.
Free Sky WiFi
When you are on the go, you can access Sky Public WiFi hotspots across the UK for no extra cost . You can register up to 6 devices for free WiFi, including iPhones and smartphones.
Award winning UK based customer support
Sky offers award-winning UK based customer support which is run by a dedicated Tech Team of Engineers to fix all your broadband issues.
Sky was also the least complained about broadband provider and internet provider higher customer satisfaction ratings, according to Ofcom's report on broadband ISPs performance in 2020.
Sky shield protection
Sky offers parental controls and broadband shield protection which helps you protect your family and devices from malware and phishing.
What is Sky Broadband Boost?
Sky Broadband Boost ensures that your connection speeds are fast and reliable.
When you add Sky Broadband Boost, the benefits include:
Sky Broadband Buddy app is provided to help you manage unlimited number of devices in your home.
There will be daily checks on your line and the issues like drops out and slow speeds will be fixed fast.
During broadband dropouts, you will get 2GB mobile data on your Sky Mobile account.
More deals from Sky
Prices include line rental