Last updated on January 11th, 2020 at 02:16 pm
What is student broadband deal and how to find the best deals?
Students who live off their homes and campus often need to arrange their own broadband connection at their new location.
To begin with, students have options of taking either home broadband (fixed line) or mobile broadband. As both services have pros and cons, many students may need both depending on specific needs and tasks.
Why student broadband?
University students have specific requirements when it comes to buying broadband for their needs:
Low cost plans are great money savers mean students need to look for deals with cheaper monthly price, no hidden costs and best value for money
Short term contracts such as 9 month contract best suit university term as  students need not pay during summer vacation or waste money on cancellation charges.
Packages should be flexible so they can add TV or phone or find options for broadband with no line rental
Broadband options available for students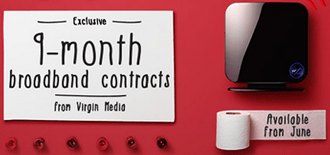 Standard ADSL 2+ broadband
ADSL 2+ which reaches premises via BT Openreach copper network is the cheapest way to get fixed broadband at your location.It is also widely available with 99% coverage. It offers standard download speeds of up to 17Mbps, however, actual speeds would be much lower depending on the distance between home and the exchange.If you share broadband with just a couple of friends, you can still expect decent speeds that should be sufficient for all your internet activities. With unlimited data plans & good wireless router, it is the best option to save money.
Virgin Media cable broadband
Virgin Media offers its own fibre optic broadband via its cable network which offers TV as well. Its standard download speeds start from 50Mbps. It is not a cheap option, though, but it offers some of the fastest speeds in the UK (up to 200Mbps) and options to bundle TV packs. You need not take phone line rental to use Virgin Media broadband. It also offers 9 month contracts exclusively for students.
Fibre optic broadband
BT and other providers like TalkTalk, Sky, Plusnet, John Lewis and Tentel offer superfast fibre optic broadband, however, all these deals require you to take phone line rental as well. Only BT offers 9 month contract broadband, while short term contracts are available with Plusnet and Tentel. Fibre is a premium type of broadband access which is best suited, when you want to make quicker downloads, share connection with others or watch HD movies online or popular online video players like BBC iPlayer or Netflix. TalkTalk broadband prices are generally affordable to any one and students might find its reasonable price fibre broadband deals suitable for them. Plusnet offers great customer support which is based in the UK while Tentel offers 6 month contract and cheap line rental.
Mobile broadband (3G & 4G)
Mobile broadband is an alternative solution to broadband needs of students, however, using mobile network for regular internet access is expensive while it could be unreliable at times due to coverage factors.  3G mobile broadband can offer decent speeds for all usual internet activities, though, it may not be ideal for watching videos online. With mobile wifi devices, you can share mobile broadband with up to 10 users.  4G mobile broadband  which can offer up to 40Mbps speeds has greater coverage although its data prices are not affordable to everyone. EE has the widest 4G coverage in the UK, while you can get 4G mobile broadband via other networks including Vodafone, O2 and Three.
Broadband without line rental
ADSL 2+ and fibre broadband via BT Openreach network requires line rental charges to be additionally paid on top of broadband cost which can really increase overall cost. So, students can go for broadband without line rental which only Virgin Media provides. However, you need to be in area covered by Virgin Media cable network.Mobile broadband is other way to get broadband with no line rental. It is also great option to consider it, when you live in area where fixed broadband does not reach or speeds are terribly low.
Broadband & Phone bundles
While broadband only plans do not include any free calls, you may find a plenty of broadband & phone bundles which add various call plans to your broadband. Most bundles would include free weekend UK landline calls, while some plans would have inclusive evening & weekend calls or anytime UK landline calls. Prices would normally vary depending on the inclusive calls that a phone & broadband package comes with.
Broadband, phone & TV packages
If you want to add TV to your broadband, Virgin Media and Sky offer some of the best triple-play bundles with unlimited broadband and a range of TV packs with great features.
BT and TalkTalk also offer TV with their broadband products but they are exclusively for their own customers.
Home broadband for students
Home broadband (also called fixed line broadband) is delivered via telephone/landline (ADSL) or Virgin Media's cable network and offers many advantages to students.
The Good
High-speed connection:

Download/upload speeds are faster, stabler and highly reliable.

Cheap:

Generous monthly usage allowance and unlimited data is available at cheaper pricing.

Wireless networking:

Many users can share a connection, wired or wireless, within the students house.  Wireless routers are the best way to connect to the internet, while speeds do not fall even when multiple users surf the web simultaneously.

Bundles:

Homephone and digital TV can be added to broadband which allows you to get free/cheaper calls plus access to digital TV channels including on-demand videos, films and sports channels.
The Bad
Phone line rental:

Broadband that requires a landline is called ADSL. This applies to broadband services from providers like BT, TalkTalk, Plusnet, O2 and EE. There is line rental fee which you have to pay every month for using broadband.

Installation:

At a new location, getting a new landline and its activation may take sometime. Although installation of broadband can be done easily, beginners may need engineer help to setup the connection. This implies some extra charges.

Long contracts:

Most broadband packages imply long term contracts – 12 months/18 months. Not only the total contract fee is much higher, there is also the danger of hefty termination fees, if you cancel the service before the expiry of contract.

Hidden costs:

There are some short term contracts (1 month/3 months/9 months) available with providers like Plusnet, BE and Virgin Media. However, these deals will require you to pay one-off installation fee and also pay for hardware like wireless router.
Factors to consider
Speed and usage
These factors directly impact the cost. Very fast service and packages with larger/download limits tend to be costlier than low-end packages. In the UK, the basic speeds of 2Mbps could enable anyone to surf the web, email and use social networking sites & online shopping sites. Unless you are a heavy user, spending more time on downloading files, music & videos or playing online game, you may not need more expensive, superfast, fibre broadband or truly unlimited broadband.
Contract length
Make sure that the contract length is suitable for your student life. 3 or 9 months length is ideal. However, shorter or no contract plans may include the cost of installation and equipment like wireless router which often come free with contracts.   You should also note that early termination fees would apply when you cancel the service before the contract ends. However, short-term contracts usually allow you to quit your provider at any time or with minimum notice period.
Bundles
Bundles are attractive options for you to add home phone or TV to broadband at competitive prices. Broadband and phone packages allow you to get lowest line rental and free, off-peak calls, while you can also bundle TV with packages from Virgin Media, TalkTalk and BT.
Superfast broadband
Fibre optic broadband is ideal for heavier use and student houses where many students often need to access the web simultaneously. Fibre optic connections offer more than 3 times faster speeds than standard ADSL broadband.
Broadband deals in your area
You can search all the broadband packages available in your area by our broadband postcode checker.
Mobile broadband for students
Mobile broadband comes with more flexible usage & contracts and pay as you go (PAYG) options that would often tempt many students to go for it. Mobile broadband is also easy to install and use and is the most convenient option for users on the go. Plus, you have various options to access it – laptops, tablets, apple ipads and smartphones
However, the downside of mobile internet is that users often depend on network coverage and data signals' strength for better user experience. Slow speeds and frequent disconnections can leave you helpless at times when you are badly in need of internet access.
However, this issue can be resolved once you ensure that you can get good coverage and the best signal at places where you plan to use. Finding the best network for your location would help you get the best, reliable mobile broadband that you are looking for.
Another common issue with mobile broadband is higher data cost on PAYG deals. This could restrain you from watching videos or downloading files on your mobile devices if you are on a strict budget.
Alternatively, you can opt for pay monthly options from Three which offers generous monthly data at affordable prices. Remember,these deals are subject to 18 months/24 months contracts. Since dongles that come free with these packages can be used anywhere, you can use them at homes as well, provided the place of use is covered by the network operator and gets the best 3G signal.
Student broadband providers
BT
BT broadband has great features for students to consider. Totally unlimited broadband and 9 month contract and a range of speeds to choose – up to17Mbps/52Mbps/76Mbps. BT Infinity offers not only superfast broadband access but also top class Home Hub 5 wireless router and internet security. BT broadband customers can access its own network of public wifi hotspots across the UK. Free BT Sport and cloud storage comes with all BT products. BT TV deals include great range entertainment like Sport and movie channels.
Virgin Media
Like BT, you can get 9 month contract with Virgin Media which offers up to 200Mbps download speeds and broadband subscriptions without home phone line rental. TV bundles include the latest TiVo box with up to 240 channels including Sky channels.
Plusnet
Plusnet offers cheapest deals both on standard ADSL 2+ and fibre and include short term contracts that can best suit students. Award winning support is available on phone and via its informative website.
Sky
Sky broadband comes with totally unlimited downloads, student-specific packages and options to add TV packages. Sky line rental will apply to all deals. Its broadband & TV services
Tentel
Tentel is a small broadband provider, when compared to BT or Sky. But it offers 6 month contract plus cheap line rental. You need not pay cancellation fee as well.
TalkTalk
TalkTalk offers low-cost deals including stand-alone, dual and triple-play packages. It offers discounts and free vouchers with new subscriptions.