Package
Average
Download speed
Average
Upload speed
Monthly
Cost
Vodafone Superfast 1
(Includes PAYG calls)
24 month contract
38Mbps
10Mbps
£19
Free setup
Vodafone Superfast 2
(Includes PAYG calls)
24 month contract
67Mbps
20Mbps
£20
Free setup
Exclusive Offer: £100 voucher included. Ends 27th January 2022.

What is Vodafone Superfast 2?
Vodafone Superfast 2 broadband is a mid-tier fibre plan which is built for connecting 2 to 5 devices in busy homes. The plan offers sufficiently faster speeds for streaming, downloading and online gaming.
Vodafone Superfast 2 speeds
Vodafone Superfast 2 broadband offers 67Mbps average download speed and 20Mbps upload speed.
Vodafone claims that Superfast 2 is ideal for simultaneous 4K streaming on 2 devices and that 4.5GB download takes just 8 minutes.
Is Vodafone Superfast 2 fibre?
Vodafone Superfast 2 is a FTTC fibre plan which uses a hybrid network built with fibre and copper. Speeds may vary depending on your address, as copper connects the street cabinet and the user end.
However, Vodafone offers speed estimate during sign up and also minimum speed guarantee based on your postcode and the address.
Use our Postcode checker
Is Vodafone Superfast 2 unlimited?
Vodafone Superfast broadband (1 and 2) comes with truly unlimited usage. There are absolutely no data caps and you will not be charged extra for excess usage.
No traffic management policy applies so the connection speeds are not reduced by Vodafone at peak times.
Vodafone Superfast 1 vs Vodafone Superfast 2
The difference between Vodafone Superfast 1 and 2 is that Vodafone Superfast 1 is the starter level fibre plan which comes with 38 Mbps average download speed and 10 Mbps average upload speed. It is a ideal plan for connecting one or two devices to stream HD videos without any hassle.
By contrast, Vodafone Superfast 2 offers two times faster speeds for better experience and connecting more devices.
Vodafone Superfast Broadband Router
Vodafone superfast 1 and 2 plans include WiFi Hub which is a fibre router built with Intelligent WiFi technology that optimises home WiFi connectivity and speeds so all the connected devices can get strong signal and reliable connection.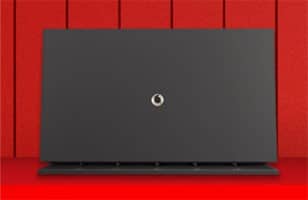 If you opt for Pro superfast broadband plans, you also get WiFi guarantee which ensures that all devices get strong signal in every room of your home.
Pro Superfast 1 and 2 which will cost extra, come with super WiFi speeds, performance guarantee, automatic 4G broadband backup and 12 months Norton 360 Premium.
What else is included in Vodafone Superfast Broadband packages?
Home phone
Landline service is included and you can make pay as you go calls or add a call plan.
Online security
Free F-Secure Safe anti-virus protection is included for 6 months.
Discount for mobile customers
Pay monthly Vodafone mobile customers can get discount and make savings when they bundle Superfast broadband from Vodafone.
Is Vodafone Superfast 2 good for gaming?
Vodafone Superfast 2 is two times faster than Vodafone superfast 1 and its speeds (63Mbps) are enough for playing online games on 1 or 2 devices at the same time.
However, Vodafone Ultrafast broadband (100Mbps – 900Mbps) is ideal for the best online gaming experience.
How good is Vodafone Superfast Broadband?
Vodafone Superfast 1 and 2 offer decent speeds, performance and ultimate broadband guarantee.
Vodafone Pro plans further ensure that you get the best service and reliable & faster broadband.
When compared to other internet providers, Vodafone offers cheaper and more affordable superfast fibre plans with attractive pricing and discount for mobile customers so you can save a lot by signing up.
More deals from Vodafone
Note: Price includes line rental