Why bundle broadband, TV and home phone?


As you get three telecom services from the same provider, you need to handle just one provider and one bill.
Bundled packages are cheaper than standalone plan or when you buy the services separately. This means you could make great savings on your bill.
Switching to new provider is easier as you deal with one provider
Most triple-play packages come with free setup and free hardware such as wireless router and TV set-top box.
Top broadband, TV and phone deals

11Mb
average speed
Unlimited
downloads
PAYG 
calls
105 TV channels

Offer:
Free setup
Cost:
£27.95 p/m
More Info

213Mb
average speed
Unlimited
downloads
Weekend 
calls

305 TV channels
Cost:
£45 p/m
More Info

50Mb
average speed
Unlimited
downloads
PAYG calls
105 TV channels
Offer:
£100 M&S voucher
(ends 21st Nov)
Cost:
£38.99 p/m
More Info
How to find the best broadband, TV and phone package?
Bundling broadband, phone and TV based on your needs and budget will help you find the perfect bundle.
Choose broadband speed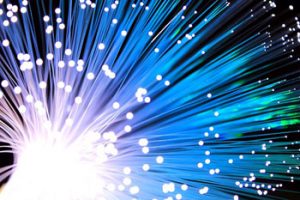 Picking superfast or ultra fast broadband makes the best bundle suited for heavy internet usage. Decide whether you want standard or fibre optic broadband. For simple and light usage, standard broadband is fine.
If you opt for fibre broadband which offers download speeds between 35Mbps and 516Mbps, choose the speed based on number of devices you want to connect at the same time. Streaming HD videos and gaming online would require faster speeds.
Do you need inclusive call plans?
If you want calls, you will need to check whether your bundle includes them. Most bundles come with PAYG calls and offer options to add call plans that would cost extra.
BT and Virgin Media offer inclusive weekend calls on their bundles. If you are a regular phone user, bundles with inclusive call plans can help you save money.
Choosing the TV pack that best suits your needs
While choosing TV, check out the set-top box, its configuration and the  number of pay TV channels that you get with the package.
If TV packs are important for you, choose the bundle that includes all the channels you want.  If needed, add all the channels and TV shows that would make your ideal package.
TV set top box features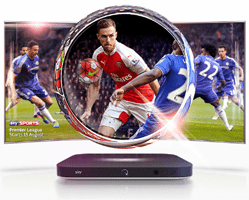 Set-top box has become the main identity of each TV provider. There are different set-top boxes – Youview, Virgin Media V6 box and Sky Q box.
BT and TalktTalk offer TV via Youview box. YouView+ box comes with recording feature.
Virgin V6 and Sky Q TV boxes come with advanced and latest features like capability to record more live channels and built-in WiFi.
Check out pricing and contract length
Make sure that contract length is suited for you. Finally, price  and cost details – compare monthly & yearly price and check out the installation and set top costs which usually apply, when you choose fibre broadband or top end TV pack.
Top broadband, TV and phone providers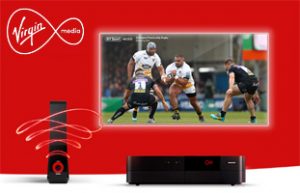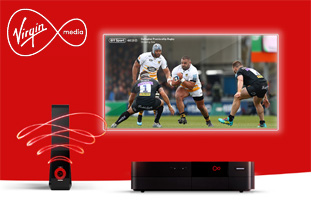 BT, Sky, Virgin Media and TalkTalk are major operators in UK's pay TV market.
We also have other choices like Now TV, EE TV and Plusnet TV which joined in this group later. Now, how to compare them, on what basis?
Sky
Sky is an unbeatable player when it comes to pay TV in the UK. It offers satellite based digital TV service to millions of UK homes.
Its Q TV box comes with a wide range of new features, including seamless watching to help users access TV channels on multiple devices.
Sky's basic TV pack offers 140+ TV channels including some of the popular Sky channels.
Alongside boxsets, Sky offers 300+ channels and its popular Sky Sports and Sky Cinema which are bundled with its top-end TV packages.
Sky Essential (11Mbps average speeed) or Sky Superfast (59Mbps average speed) broadband can be included, while anytime call plan can be added to TV bundles.
When you are on move, the free Sky Go app help you watch Sky TV channels on your mobile devices.
Virgin Media
Available in Virgin Media cable network areas, Virgin TV is as good as Sky TV.
However, Virgin Media TV & broadband bundles offer a great range of speeds starting from 54Mbps to 516Mbps.
Despite its popularity, the service is available to only 60% of areas in the UK. Further expansion of its cable network would change the scene in the coming years.
Virgin Media TV customers get 1TB V6 TV box which is the upgraded version of the previous Tivo Box.
Triple-bundles include fibre broadband with download speeds of 54Mbps, 108Mbps, 216Mbps and 516Mbps. The new Hub 3.0 wireless router allows you to access superfast, secure WiFi on multiple devices.TV packs included with bundles offer more than 300 channels while top-end packages include Sky Cinema and Sky Sports.
All Virgin Media triple play TV bundles include unlimited weekend UK calls and free calls to Virgin Mobile numbers.
BT
Broadband, phone and TV bundles from BT include YouView box, Freeview channels and BT Sport.
You can choose standard broadband or Superfast Fibre 1 or Fibre 2 plan which also includes free weekend UK landline calls. You get 50Mbps and 67Mbps download speeds on these plans.
BT broadband also includes a range of features like BT WiFi, web storage and online security.
TalkTalk
TalkTalk TV bundles are low cost option for households. Customers get two packages at affordable price, when compared to Virgin Media or Sky.
Digital TV services is received via YouView box just as BT TV. Alongside freeview channels, you can add pay channels like Sky Cinema and Sky Sport
Now TV
Now TV, launched by Sky, combines broadband and fibre with wide range of TV channels such as cinema, sports and entertainment at low price. It also allows you to take 30 day TV passes.
Frequently Asked Questions
Are broadband & TV bundles without phone line available? 
As broadband comes with basic phone line, line rental also applies to broadband and TV bundles. If you do not want to pay for line rental, you can choose broadband only plan and TV pack from Virgin Media.
Which provider offers all of BT Sport channels, Sky Cinema and Sky Sports?
Virgin Media and Sky offer BT Sport and Sky Sports as well as Sky Cinema channels on their bundles.
Which providers offer the cheapest broadband and TV deals?
TalkTalk and Now TV are good options when you want to stick to budget. They offer some low cost TV & broadband bundles.
Is Sky TV different from Virgin Media TV?
Sky offers its digital TV service via satellite dish while Virgin Media TV is delivered via cable network.
Is internet TV available all TV providers?
Internet TV or IPTV requires broadband connection to watch TV shows, movies and videos. To watch HD videos online and streaming sites like Netflix, you need superfast fibre broadband with unlimited usage.